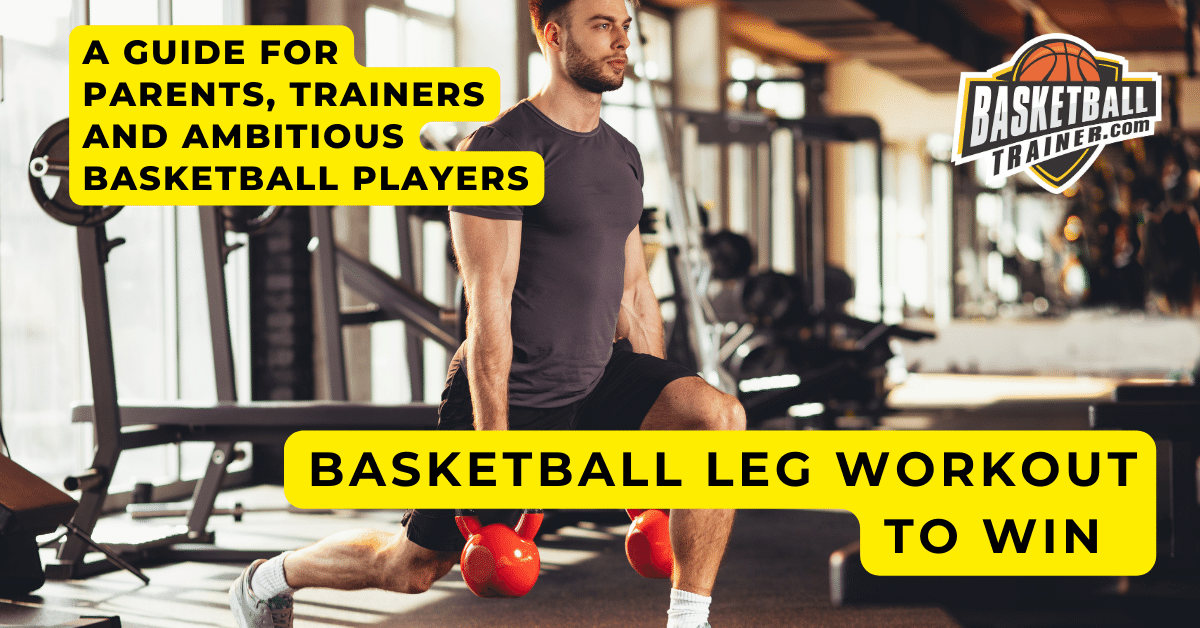 Looking to take your basketball leg workout to a whole new level? The key to unlocking your true potential on the court lies in a powerful set of legs. Welcome to the definitive "Basketball Leg Workout" – a game-changing training routine designed to unleash your athletic prowess and elevate your game to unmatched heights.
This comprehensive basketball leg workout is meticulously crafted to supercharge your performance, boost speed, enhance agility, and take your vertical jump to new heights. Whether you're an aspiring hoop star or a seasoned player seeking a competitive edge, this workout routine is your ticket to dominance on the basketball court. So, lace up your sneakers and get ready to soar above the rim as we reveal the secrets to basketball excellence through the power of a well-conditioned lower body. Let's dive into the drills and exercises that will set you apart from the competition and establish you as a force to be reckoned with on the hardwood.
Basketball players need strong legs to perform well on the court.
Leg strength is important for explosive power, lateral movement, and jump shots.
There are many great ways to improve leg strength for basketball players.
Benefits of Basketball Leg Workout Plans
Increased Vertical Jump in terms of height and quickness in jumping.
 Gains in Speed and Agility
Increased Balance and Stability
Overall Muscle Power
Reduced Injury Risk
How Often Should You Perform a Basketball Leg Workout?
Out of Basketball Season should be 3 times a week, in-season should only be twice a week.
Low-Risk Leg Workout for Basketball Players
Bodyweight exercises are a great way to improve leg strength for basketball players.

Squats are a classic exercise that can help to strengthen the quads, hamstrings, and glutes. increasing lower body strength with these exercises does come with some risk for the athlete.  Remember, we are not trying to compete at a CrossFit competition.   Scottie Pippen never won any squat competitions. And he had some pretty amazing vertical, lateral and overall amazing basketball strength.  More squat records do not produce a better player.
Lunges are another great exercise for strengthening the legs. Lunges can be done in a variety of ways, such as forward lunges, reverse lunges, and lateral lunges.  We think training sessions with these single leg exercises are some of the best exercises for your resistance training program.  Want to add difficulty? Add a resistance band or dumbbells to the basketball workouts.  This can increase the perfect balance combination of strength, with the functionality of balance while building muscle mass.
Wall sits are a great way to strengthen the quads and glutes. To do a wall sit, stand with your back against a wall and slide your body down until your thighs are parallel to the ground. Hold this position for as long as you can. Knee health can experience gains as your VMO muscle helps your patella track in an optimal fashion. For those with patella tendinitis, jumper's knee, or Osgood Schlatters Disease, we highly recomment this body weight exercise.
Plank is a great exercise for strengthening the core and lower back. To do a plank, start in a push-up position with your forearms on the ground. Hold this position for as long as you can.  Working the lower back into hamstring area is a functional way to take simple exercises and get quick gains.
Glute bridges are a great way to strengthen the glutes. To do a glute bridge, lie on your back with your knees bent and feet flat on the ground. Raise your hips off the ground until your body forms a straight line from your shoulders to your knees. Hold this position for a few seconds before lowering back down.  High level focus on this exercise and then incorporating single leg stability reps can take a basic exercise and deliver greater power output to this critical explosive posterior chain muscle.
Hip thrusts are another great exercise for strengthening the glutes. To do a hip thrust, lie on your back with your knees bent and feet flat on the ground. Place a barbell or dumbbells across your hips. Raise your hips off the ground until your body forms a straight line from your shoulders to your knees. Hold this position for a few seconds before lowering back down.  I recommend you get some serious instruction in person on this movement and work on form more than maximum strength on this lower body movement.

Dumbbell exercises can also be used to improve leg strength for basketball players.  Free weights offer more resistance than bodyweight and increase the variety of exercises.  Dumbbells in particular, offer balance productive challenges in balance that is critical in the multiplane sport of basketball.  They can also increase muscle flexibility and work tendons and fascia.

Step-ups are a great exercise for strengthening the quads, hamstrings, and glutes. To do a step-up, stand on a step with your right foot. Bring your left foot up to meet your right foot. Step down with your right foot and repeat with your left foot.  We love step ups that simulate single leg layups with the same arm and leg coming up in a layup motion as the alternative foot presses into the step.  Activating your abdominal muscles to increase your balance is a good idea on this lower body power move… both on the step… and on the actual layup in the game.  Greater strength starts with better balance on any single leg stability move.
Calf raises are a great way to strengthen the calves. To do a calf raise, stand with your feet shoulder-width apart and your heels off the ground. Raise your heels up as high as you can and then lower them back down.  Basketball athletes can add difficulty in an effective way after they have reached 40 reps with both feet and bodyweight only.  They can go to single leg, then add a dumbbell. Injury prevention means also doing tibialis work.  Doing tibialis toe pulls in a set of 40 can help increase muscular balance and also decrease the risk of shin splints.
Hamstring curls are a great way to strengthen the hamstrings. To do a hamstring curl, sit on a leg curl machine and place your feet on the pads. Bend your knees and curl the weight up as high as you can. Slowly lower the weight back down.  If you don't have access to a gym with leg machines, then look to work hamstrings using a stability ball while in a bridge position, curling the ball to your glutes and then extending out again.
Leg extensions are a great way to strengthen the quadriceps. To do a leg extension, sit on a leg extension machine and place your feet on the pads. Straighten your legs as high as you can. Slowly lower your legs back down.
Leg press is a great way to strengthen all of the major muscle groups in the legs. To do a leg press, sit on a leg press machine and place your feet on the platform. Push the platform away from you as hard as you can. Slowly lower the platform back down.  We love single leg leg press making sure the right heel presses into the machine when working right leg.  If using both legs, think about a basketball squat position and how low you go, or how low you should go.  Operate from that depth so the function supports basketball skills.  If you need to recall optimal position, then do some jump squats to get a rebound and watch how low your drop your hips.

Plyometric exercises are another great way to improve leg strength for basketball players. Plyometric exercises are exercises that involve explosive movements, such as jumping and hopping. Plyometric exercises can help to improve jumping power and quickness.

Box jumps are a great plyometric exercise that can help to improve jumping power. To do a box jump, stand in front of a box that is about knee-high. Step onto the box with both feet and then jump up and over the box.  For most athletes we recommend a low risk, medium reward strategy to get results without risking injury.  Step down, jump up.  Avoid jump downs.
Depth jumps are another great plyometric exercise that can help to improve jumping power. To do a depth jump, stand on a box that is about knee-high. Jump off the box and land with both feet on the ground. Immediately jump up as high as you can.
Single-leg hops are a great plyometric exercise that can help to improve lateral quickness. To do a single-leg hop, stand on one leg and hop as high as you can. Land with the same leg that you jumped off of. Repeat on the other leg.  Personal trainers are great at health, but remember, we play a lot of the game on one foot… single-leg exercises are critical.  And we want muscular balance, so whether strengthening, rehab, or prehab, alwyays switch sides for balance.
Lateral jumps are another great plyometric exercise that can help to improve lateral quickness. To do a lateral jump, stand with your feet shoulder-width apart. Jump to the left and land with both feet on the ground. Immediately jump to the right and left, and embrace defensive position and angage your hip flexors as you change direction and you should experience you range of motion increase as this is one of the best leg workouts for the defensive side of the court.

Vertical Jump Training

Periodization is rarely discussed when designing basketball leg workouts.  Vertical jump training programs should be executed out of the season.  Our game beats up our legs pretty badly.  Vertical jump training should follow a tear, rest, heal, grow progression.  Meaning go hard in a program, rest 48 hours.  If you are playing basketball and doing vertical training, micro tears don't rest, so they don't heal and grow… they just tear more. We have outlined proper exercises in a program of basketball leg workout exercises specifically for vertical increases thru plyometric training.  Check it out here: