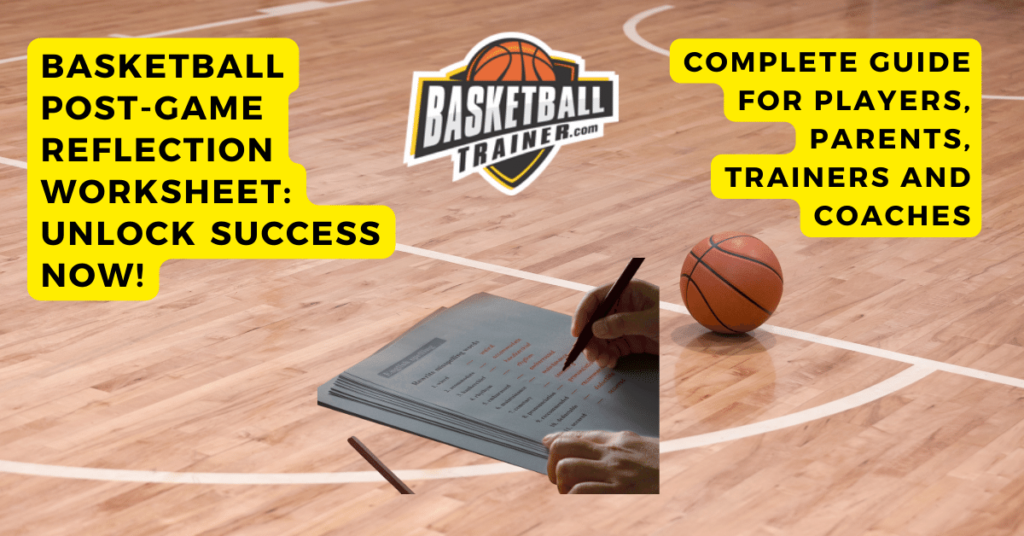 Our Basketball Post-Game Reflection Worksheet will show you the journey to success is not merely about the countless hours of practice or the relentless pursuit of victory. It is a journey filled with self-discovery, growth, and the constant quest for improvement. This is where the art of post-game reflection in basketball comes into play, an invaluable process that holds the power to transform both individual players and entire teams.
Imagine a scenario: a high-stakes basketball game has just concluded, the sound of the final buzzer still ringing in your ears. The scoreboard may read victory or defeat, but the real game has just begun – the game of reflection. This is where athletes, coaches, and teams step into the arena of self-analysis, dissecting their performance, scrutinizing their strategies, and seeking the gems of wisdom hidden within the past 40 minutes of play.
Benefits of the Post-Game Reflection Process:
1. Continuous Improvement: Post-game reflection serves as a crucial tool in the pursuit of excellence. It allows players and coaches to pinpoint their strengths and weaknesses, enabling them to make targeted improvements. With every game analyzed, players have the opportunity to become better versions of themselves, steadily inching toward their peak potential.
2. Enhanced Team Dynamics: Basketball is a team sport, and success hinges on seamless collaboration and understanding among teammates. By reflecting collectively, teams can identify areas where they shine and aspects where they need to synchronize better. This not only boosts performance but also fosters stronger bonds within the team.
3. Better Decision-Making: Basketball is a game of strategy and quick thinking. Post-game reflection provides players and coaches the chance to assess their decision-making during high-pressure situations. With each analysis, the cognitive process is fine-tuned, making future decisions more precise and effective.
4. Mental Resilience: Basketball players face intense physical and mental challenges. Engaging in reflective practices instills mental resilience, helping individuals cope with the emotional ups and downs of the game. It equips them with the ability to stay calm under pressure and bounce back from setbacks.
Anecdotal Evidence:
Consider the story of Alex, a rising star on his college basketball team. After a particularly disheartening loss in the championship game, Alex felt deflated and overwhelmed. However, his coach introduced the practice of post-game reflection. Alex started to document his thoughts after every game, noting his personal performance and areas for improvement.
Over the next season, something incredible happened. Not only did Alex's game dramatically improve, but the entire team saw positive shifts. With his newfound self-awareness, Alex became a more supportive teammate, helping his peers to thrive. The team's dynamics shifted, and they went on to win the championship the following year. The power of post-game reflection had transformed not just Alex, but the entire team's trajectory.
Statistical Support:
Statistical evidence further underscores the value of post-game reflection. A study conducted by the National Association for Sport and Physical Education found that teams incorporating regular reflective practices consistently showed improvements in win-loss ratios. Over the course of a season, teams that engaged in reflective analysis saw an average increase of 12% in their winning percentage compared to those who did not. This statistical trend underscores the notion that taking time to reflect on past performance can translate into tangible success on the court.
In conclusion, the process of post-game reflection in basketball is an essential and transformative practice. The benefits are not merely anecdotal; they are supported by compelling statistical evidence. Engaging in this process is not just an exercise in self-analysis, but a path towards improvement, stronger team dynamics, better decision-making, and mental resilience. It's a journey that has the potential to unlock success in the world of basketball and transform both players and teams into their best versions. As you step off the court and into the realm of reflection, you take a leap towards your own greatness.
Post-Game Reflection Worksheet
Name: [Your Name] Date: [Date of the Game]
Reflecting on your performance after a game is crucial for continuous improvement. Use this structured worksheet to analyze your strengths, areas for improvement, and set goals for future games.
Section 1: Game Details
1. Opponent:
Name of the opposing team or player.
2. Game Outcome:
3. Final Score:
[Your Team's Score] – [Opponent's Score]
Section 2: Self-Assessment
4. Strengths:
List three strengths in your game today (e.g., accurate shooting, effective defense, strong teamwork).
5. Areas for Improvement:
List three areas you believe need improvement based on your performance in this game (e.g., free-throw shooting, ball handling, decision-making).
Section 3: Game Highlights
6. Memorable Moments:
Describe three memorable moments from the game, both positive and negative (e.g., a successful three-pointer, a missed opportunity, a great pass).
7. Key Plays:
Highlight key plays that influenced the game's outcome, whether made by you or others.
Section 4: Mental State and Self-Doubt
8. Mental State:
Reflect on your mental state during the game. Were you calm, anxious, confident, or doubtful?
9. Self-Doubt:
Did self-doubt affect your performance in this game? If so, in what moments did it creep in, and how did it manifest?
Section 5: Team Dynamics
10. Team Communication: – Assess the team's communication during the game. Was it effective, or were there breakdowns?
11. Teamwork: – Reflect on the level of teamwork and collaboration among your teammates. Were you supportive of one another?
Section 6: Goals and Learnings
12. Achieved Goals: – Did you achieve the specific goals you set for this game, if any?
13. What Did You Learn: – What valuable lessons or insights did you gain from this game that can contribute to your growth as a player?
14. Goal Setting: – Based on your self-assessment and learnings, set three specific goals for your performance in the next game.
Section 7: Action Plan
15. Action Steps: – What specific actions will you take to work on your areas for improvement and achieve your goals for the next game?
16. Accountability: – How will you hold yourself accountable for taking these actions and monitoring your progress?
---
Use this Post-Game Reflection Worksheet as a tool for self-assessment and continuous improvement after each basketball game. It will help students gain valuable insights, reduce self-doubt, and set clear goals for future performances.