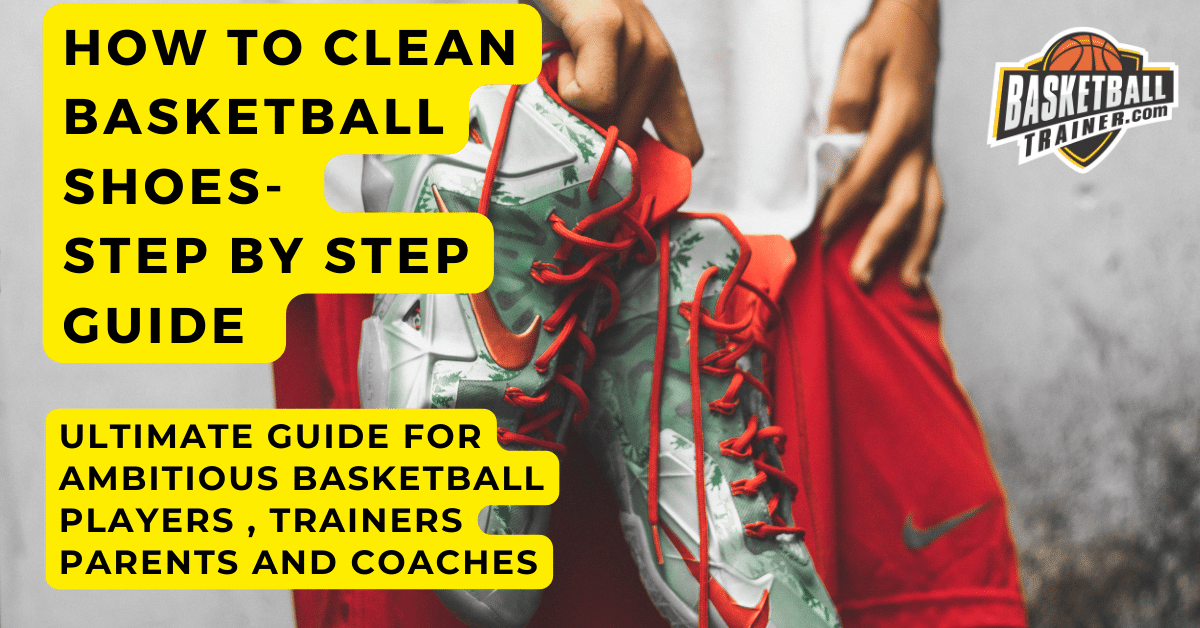 How To Clean Basketball Shoes is a skill every basketball player should master.
The condition of your footwear can significantly influence how you play on the court.
Cleaning and maintaining your basketball shoes isn't just about aesthetics, it's also about ensuring they are game-ready at all times.
The right cleaning techniques will not only keep them looking fresh but also extend their lifespan. So let's dive into how to clean basketball shoes effectively.
Table of Contents:
Introduction
Clean basketball shoes are not just about aesthetics; they are crucial for performance and longevity. A well-maintained pair offers superior traction, comfort, and durability.
The Significance of Clean Basketball Shoes for a Basketball Player
Every piece of gear matters to the dedicated player. Clean sneakers provide optimal grip on the court surface, reducing slippage or balance loss during critical game moments. Regular cleaning also prolongs shoe life by preventing material degradation from accumulated dirt and sweat.
Poor cleaning habits lead to early wear-and-tear that impacts both looks and functionality. Your gym footwear deserves extra care as it withstands high-intensity activities regularly.
How the Basketball Court Impacts the State of Your Shoes
Different courts can put varying levels of stress on your kicks. For example, outdoor courts tend to leave more surface debris than indoor hardwood floors, which may induce damaging white salt marks due to perspiration accumulation.
Your cleaning frequency should be guided by where you play most often. Hand washing is recommended if you mostly use outdoor courts because these environments expose your shoes to increased dust and grime build-up over time. Understanding this will help tailor effective maintenance practices suited specifically for your needs.
Understanding Basketball Shoe Materials
Different materials used in constructing basketball shoes necessitate distinct cleaning methods. Understanding these differences can help extend the life of your footwear.
The Importance of Different Materials: Leather, Synthetic Materials, and Mesh
Basketball shoes are commonly made from leather due to its durability and flexibility. When it comes to cleaning leather sneakers, a not-so-harsh shoe cleaning fluid is recommended as it cleans while preserving the material's integrity.
Synthetic materials offer lightweight properties along with breathability. Cleaning synthetic-made sneakers requires mild soap mixed with warm water or an all-in-one organic cleaning solution specifically designed for synthetic fabrics.
Mesh provides excellent ventilation but needs careful handling during clean-up so as not to cause damage. Frequent hand washing using gentle detergent helps maintain mesh basketball shoes over time.
Deciding The Best Method Based On Your Shoe's Material
To determine the best method for maintaining your basketball kicks' cleanliness, you first need to identify their construction material – information usually found on each shoe's inner label or online if you know their model name/number.
If they're crafted from leather, consider acquiring a complete shoe cleaner set that includes protective spray against future stains alongside potent maintenance products specially formulated for taking care of this type of material. This kit available on Amazon offers such benefits.
For those owning synthetic or mesh-based footwear, combining white vinegar with warm water should suffice when coupled with regular hand-washing routines. This will ensure your gym shoes deserve extra care without causing any unnecessary wear and tear through poor cleaning habits.
Daily Maintenance: A Key to Long-Lasting Cleanliness
Keeping your basketball shoes in optimal condition requires more than just occasional cleaning. It demands a consistent and meticulous maintenance routine that starts right after each game.
The Post-Game Ritual of Dusting Off
Your sneakers go through quite an ordeal during every match or training session, accumulating dirt and grime on their surface. Hence, it's essential to dust off this excess debris using a soft brush immediately post-game. This simple yet effective practice prevents the onset of stubborn stains over time.
Maintaining Consistency with Regular Cleaning
Cleaning basketball shoes frequently is not merely about aesthetics; it directly impacts their longevity as well as performance potential on the court. Poor cleaning habits lead to accelerated wear and tear, which could hamper both comfort levels and grip efficiency during games.
Using specialized products like Complete Shoe Cleaner Sets, you can implement comprehensive clean-up sessions at regular intervals without damaging the fabric integrity due to its all-in-one organic cleaning solution compatibility with various shoe materials, including leather, synthetic fabrics, etc. This ensures long-lasting cleanliness for your prized footwear collection.
Avoiding Damaging Elements During Storage
Besides appropriate washing techniques, storage conditions also play an integral role in maintaining a pristine appearance over extended periods for any sports gear, especially high-performance ones such as professional-grade basketball sneakers. Always store them at room temperature away from damp areas since moisture build-up within sneaker interiors might result in unwanted mold growth, thereby deteriorating the overall material quality gradually but surely over time if left unchecked regularly.
Moreover, applying protective sprays prior to storing these items helps safeguard against potentially harmful elements prevalent particularly during winter months, e.g., white salt marks, etc. This preserves the original look and feel effectively across seasons, irrespective of weather fluctuations experienced throughout the year-round sporting activities involved typically among ambitious players striving towards constant improvement via rigorous daily trainings undertaken diligently alongside school studies apart from other personal commitments adhered to religiously by dedicated individuals aiming for higher echelons within the competitive arena globally recognized universally amongst peers alike worldwide acknowledged widely respected unanimously regardless of cultural diversities existing inherently inherent nature of human
Key Takeaway:
Keep your basketball shoes game-ready with a daily maintenance routine that includes post-game dusting, regular deep cleaning using specialized products, and proper storage away from damaging elements. This not only preserves their look but also enhances longevity and performance.
Cleaning the Exterior Surface of Your Basketball Shoes
For ambitious basketball players, maintaining a clean pair of shoes is about more than just appearance. It's about ensuring peak performance on the court and extending the lifespan of your shoes.
Prepping the Shoe: Getting Rid of Loose Dirt with a Dry Brush
The initial step in cleaning basketball shoes involves removing surface debris. Utilizing a dry brush with soft bristles will help you dislodge loose dirt without scratching or damaging your sneakers during subsequent washing.
The Best Way to Clean Basketball Shoes Based on Their Material
Different materials necessitate different care methods for effective cleaning that doesn't compromise their integrity.
Caring for Leather Shoes with Leather Cleaner
If you're sporting leather-based kicks, consider using a shoe cleaning fluid designed specifically for this material. These maintenance products remove grime while preserving the natural texture and coloration of the leather.
Tackling Synthetic Materials and White Basketball Shoes
Synthetic materials are typically easier to handle – hand washing basketball shoes frequently in warm water mixed with mild soap should do the trick. For white synthetic footwear, combining white vinegar and baking soda works wonders as it helps eliminate those stubborn salt marks common among gym shoes that deserve extra care.
Maintaining Mesh Areas
Gently brushing mesh areas using soapy water prevents compromising its delicate nature but effectively cleanses them of any accumulated dust particles.
Avoid using a clothes dryer after washing to ensure they maintain their shape longer, even if frequent washing goes wrong.
Prioritize applying protective sprays post-cleaning procedure for desired results; these act like sealants, keeping future stains at bay.
Remember: Proper care guarantees game-ready condition and longevity. However, knowing when to invest in new sneakers becomes necessary too; watch out for signs such as excessive wear, tear, and upper sole separation.
Key Takeaway:
Keep your basketball shoes game-ready and long-lasting by properly cleaning them. Brush off loose dirt, then wash according to the shoe's material – leather cleaner for leather kicks, warm soapy water for synthetics. For white shoes, a vinegar-baking soda mix can tackle stubborn salt marks. Remember to gently clean mesh areas with soapy water and avoid using a clothes
Tackling Stubborn Stains
Despite diligent cleaning, basketball shoes can sometimes fall victim to stubborn stains. These could be anything from grass smears to greasy residues that resist traditional cleaning methods.
A Deep Dive into Tough Stains
The first step in handling tough stains is understanding their origin. Grass and mud marks necessitate a different approach than oil or grease-based ones. A complete shoe cleaner set often provides specialized solutions for various types of blemishes.
In the case of grass and mud, warm water mixed with mild soap typically does the trick while an all-in-one organic cleaning solution may be needed for grease or oil-based spots as it breaks down these without causing harm to your precious sneakers' material.
Cleaning White Basketball Shoes Effectively
Maintaining white basketball shoes clean presents its unique challenges since they tend to show dirt more easily compared with darker hues. However, by combining white vinegar, baking soda along with warm water you create a not-so-harsh shoe cleaning fluid which effectively eliminates most common sneaker discolorations.
To utilize this homemade mixture, apply it gently using either a soft cloth or sponge until you see visible improvement. Then, rinse thoroughly under lukewarm water before allowing them to air dry naturally away from direct sunlight. Follow the proper drying process guidelines provided earlier on preserving shape after washing goes wrong.
Laces: Ensuring Your Shoes Look and Feel Great
The condition of your basketball shoes is not solely dependent on the material or soles. The laces, often overlooked in cleaning processes, play a crucial role too.
Why Clean Laces Complement Clean Shoes
Clean laces are necessary to maintain both the aesthetic appeal and functionality of basketball shoes, as well as reduce potential risks during play. Dirty or frayed laces can detract from the look of clean sneakers while also posing potential risks during intense games due to the risk of breakage.
Washing Laces: Mild Soap, Cold Water, and Hand Washing Basketball Shoes Frequently
To keep them looking fresh and new, it is recommended that you regularly wash your shoelaces using mild soap combined with cold water. This method effectively removes dirt without causing damage to the lace fabric itself.
Avoid throwing them directly into a washing machine as this could lead to tangles or even broken threads, which would then require replacement – something best avoided if possible.
Poor Cleaning Habits Lead To Damaged Shoelacing
Poor cleaning habits result in damaged shoelaces, negatively affecting both functionality and aesthetics. Following these pro tips ensures effective shoe maintenance, leading to optimal game readiness at all times.
Maintain regular hand washing: Regularly hand-wash basketball shoes using non-harsh shoe-cleaning fluid, such as warm water mixed with mild soap.
Drying properly: After rinsing off any residue from the cleaning process, make sure the drying process is done correctly, avoiding high heat sources like a clothes dryer and instead opting for room temperature air-drying out of direct sunlight.
Safeguard against future stains: Applying protective sprays after every deep-clean session helps shield against future staining, ensuring longevity alongside cleanliness.
Key Takeaway:
Don't overlook your laces when cleaning basketball shoes. They're not just for show, but crucial to shoe performance and aesthetics. Regular hand-washing with mild soap keeps them fresh, while avoiding the washing machine prevents damage. Proper drying and protective sprays help ensure longevity.
The Shoe Sole Saga: Maintaining Good Traction
Imagine a basketball game where your traction is compromised due to unclean shoe soles. Unthinkable, right? This brings us to the significance of clean shoe soles in maintaining good traction during games.
Why Clean Shoe Soles Are Crucial For Basketball Games
Clean shoes provide better friction with ground surfaces, enhancing player performance by enabling swift movements and quick direction changes without slipping or losing balance. Furthermore, dirt accumulation can cause uneven wear over time, which affects both the quality and lifespan of basketball shoes.
A Detailed Step-By-Step Guide For Cleaning The Bottom Of Your Shoes
Basketball players should start the cleaning process by dusting off loose debris using an old toothbrush or stiff brush suitable for such tasks. Once that's done, it's time to tackle stubborn stains; warm water combined with mild soap creates a potent yet gentle all-in-one organic cleaning solution perfect for this task.
Rinsing under running water is essential as residue left behind could affect traction once dried up. As part of the drying process after washing, avoid high heat sources like a clothes dryer. Instead, use absorbent material like paper towels. Always ensure they are air-dried at room temperature away from direct sunlight. Applying protective sprays post-cleaning yields desired results while adding an extra layer of protection against future grime build-up.
The Effective Methods Using A Stiff Brush Vs A Soft-Bristled Brush
A stiff brush works wonders in removing hard-to-reach mud particles lodged within crevices, whereas soft-bristled brushes cater well towards delicate materials found on some elite sports footwear designs.
This, however, doesn't mean you dive straight into scrubbing the entire sole area – always test out these methods first before proceeding further, ensuring potential damage caused by inappropriate brushing techniques isn't inflicted upon valuable gym shoes deserving extra care.
Key Takeaway:
Maintaining clean basketball shoe soles is crucial for optimal traction and performance. Use a stiff brush to remove debris, then wash with mild soap and warm water. Avoid high heat when drying; air-dry at room temperature instead. Test brushing methods before full application to prevent potential damage.
Advanced Cleaning Methods for Pristine Basketball Shoes
It involves an advanced level of care and maintenance, which might seem challenging but is essential in maintaining your game-ready sneakers.
1. Creating Your Own Shoe Cleaner Set
You don't need a harsh shoe cleaning fluid or expensive cleaners to achieve clean basketball shoes; you can create your own all-in-one organic cleaning solution with eco-friendly laundry detergent and warm water. Combine these two ingredients until they form a soapy mixture that's perfect for tackling stubborn stains and surface debris on your footwear.
Nike suggests using this homemade cleaner as it's both effective and environmentally friendly.
2. Applying The Solution Using a Soft Brush and Circular Motions
To effectively apply this self-made solution, use a soft brush (like an old toothbrush) and gently move in circular motions across the shoe's material. This technique helps lift off dirt without causing any damage.
3. Drying Techniques: Right Place & Avoiding Direct Sunlight
Avoiding high heat sources like direct sunlight during the drying process preserves the color vibrancy of basketball shoes. The best place would be a cool, well-ventilated area where air circulates freely. Nike, a leading brand in sports gear, emphasizes the importance of avoiding a clothes dryer or other artificial heat sources when drying gym shoes.
Another pro tip includes stuffing crumpled paper towels inside each sneaker to absorb excess moisture, thereby preserving their original shape. Remember, persistence pays off here – let them dry naturally instead of rushing things along with unnatural heating.
Deodorizing and Freshness: More than Just Clean Looks
The unpleasant odor often associated with basketball shoes is a result of sweat accumulation, creating an ideal environment for bacteria growth. This microbial activity results in the smell that players frequently encounter.
A natural method to combat this issue involves using baking soda, which has proven effective due to its moisture-absorbing properties and ability to neutralize pH levels. Baking soda can effectively eliminate bad smells by destroying bacteria.
Natural Deodorization Method Using Baking Soda
To leverage the power of baking soda for shoe deodorization, sprinkle it generously inside your basketball shoes after each game or training session. Allow it to sit overnight while you rest; as time passes, its absorption capabilities become more potent.
In preparation for your next wear or cleaning process, tap out any remaining powder from each shoe outside – not over indoor surfaces where people may walk barefooted. The tiny particles are powerful enough to absorb both moisture and odors even within hard-to-reach areas inside your shoes.
Potent Maintenance Products We Recommend
If home remedies like baking soda aren't quite cutting it when combating stubborn odors found in athletic footwear, we recommend elite sports deodorizers such as Sof Sole Sneaker Balls Shoe Deodorizers. These products have been specifically designed without damaging their construct. It's important gym shoes deserve extra care because they face intense conditions during playtime on the court. Proper attention towards cleanliness ensures longevity while maintaining optimal performance levels.
Remember that good maintenance practices extend beyond just cleaning; drying at room temperature away from direct sunlight helps preserve shape, applying protective sprays provides additional protection against future stains, and ensuring proper storage all contribute towards keeping sneakers fresh smelling ready whenever game day arrives.
Key Takeaway:
Keep your basketball shoes fresh and odor-free by using baking soda, a natural deodorizer that absorbs moisture and neutralizes pH levels. If odors persist, consider professional sports deodorizers like Sof Sole Sneaker Balls. Remember, proper shoe maintenance extends beyond cleaning – it includes drying, applying protective sprays, and correct storage.
10. Drying and Preserving Shape
The drying process of your basketball shoes is as vital to their longevity as the cleaning itself, with improper techniques leading to material degradation or color fading.
Importance of Avoiding High Heat and Clothes Dryer
Avoid using high heat sources like clothes dryers for drying your cleaned basketball shoes. This can weaken the glue that holds different parts together in constructing basketball shoes, causing them to separate over time.
Using Paper Towels as an Absorbent Material
To kickstart the shoe maintenance through proper drying, utilize absorbent materials such as paper towels. Insert these into your freshly washed sneakers; they will help draw out excess moisture from inside, which could otherwise lead to odors later on if not properly addressed during this stage.
Drying at Room Temperature: Not in Direct Sunlight
Your gym shoes deserve extra care even when it comes down to air-drying. Always ensure you are letting them dry naturally at room temperature away from direct sunlight exposure that may cause discoloration over time due to its harmful UV rays' effect on certain materials used in making most athletic footwear today, including leather and synthetic fabrics alike.
Applying Protective Sprays for Desired Results
If you are looking forward to preventing future stains after going through all those steps above, then consider applying a protective spray once completely dried off post-cleaning session – just make sure the product chosen doesn't alter the texture or colors present within said pair so results remain consistent across the entire surface area covered by the same throughout the use period ahead, regardless of external conditions faced along the way, especially considering how much wear and tear is typically experienced during any given game season depending upon the player's individual performance level plus the overall team strategy employed therein among other factors involved here too, perhaps?
Key Takeaway:
Key Takeaway: Drying your basketball shoes correctly is crucial to their longevity. Avoid high heat sources, instead use absorbent materials like paper towels and air-dry at room temperature away from sunlight. Consider applying a protective spray post-cleaning for future stain prevention, ensuring it doesn't alter the shoe's texture or color.
FAQs in Relation to How to Clean Basketball Shoes
What is the best way to clean basketball shoes?
The ideal method involves dusting off dirt, cleaning the exterior based on shoe material, tackling stubborn stains, washing laces separately, and maintaining soles for good traction. Always dry at room temperature.
Is it OK to Wash your basketball shoes?
Yes, but avoid machine washes as they can damage the shoe's structure. Instead, hand-wash using a soft brush and mild detergent solution.
How do you clean the bottom of basketball shoes without ruining them?
Clean soles with a stiff brush or toothbrush using warm water and soap. Avoid soaking in water as this may weaken adhesive bonds.
Are Nike basketball shoes machine washable?
No, most Nike sneakers are not designed for machine washing. Hand-washing is recommended to preserve their shape and functionality.
Conclusion
Knowing how to clean basketball shoes is a game-changer. Not only is it important for appearances, but also to ensure optimal performance on the court.
Different materials require different cleaning methods – leather, synthetic, or mesh, each has its own care routine.
Regular maintenance and proper storage are key for long-lasting cleanliness. Remember that your shoe laces and soles need attention too!
Tough stains can be tackled with simple household items like dish soap or even toothpaste. A bit of elbow grease goes a long way in keeping those sneakers pristine.
Advanced cleaning techniques using eco-friendly solutions help maintain their condition while being kind to our planet. Don't forget deodorizing – freshness matters as much as cleanliness!
Drying properly ensures shape preservation and avoids damage from high heat exposure. And if things go wrong? You've learned when it might be time to invest in new kicks.
Finally,
, offers more than just tips on maintaining your gear; we connect ambitious players like you with expert trainers, top-notch teams, camps, training products, and apps – all aimed at helping you reach your full potential! So why wait? Jump