Austin Basketball Trainer #1
Trainer:  Chris Corbett – Austin Youth Basketball
Playing Experience:  University of Maine Fort Kent Varsity Basketball Letterman.
Training Experience:  I have had the honor of training over 3000 ambitious young basketball players.  Years of training and playing with NBA players as well as observing the training of NBA players in the skill development environment.   I devote my life to my family and to high impact basketball training both in person and in the internet world.  My portfolio of experience includes:
Youth Basketball Coach – Manhattan Beach, CA.
Supervisor of Basketball Training – LIFETIME  FITNESS, South Austin.
Director "Edge Basketball Camp" – Dripping Springs.
Director of Dripping Springs Youth Sports Basketball Academy (4 years running)
Founder Austin Youth Basketball – Player Development
Principal & Web Strategist www.BasketballHQ.com – 70,000 visitors per month to view our development drills.
Founder Buzzworthy Basketball Marketing – Helping basketball trainers nationwide increase their impact.
Founder BasketballTrainer.com – Connecting ambitious basketball players to great trainers.
Advisor – Coachtube.com Where coaches come to share knowledge via video for you to learn.
Founder of Austin Youth Basketball
Website:  http://austinyouthbasketball.com/
Phone: 512-921.4444
Training Location:  Various but primarily at Fitzhugh Baptist Church Gymnasium:
 Austin Basketball Trainer #2
Trainer:  Chris Price – Austin Youth Basketball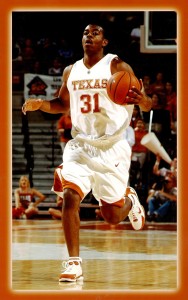 Basketball is a passion for many, including Coach Chris Price.  Over his 20 year involvement with the game, Chris has played, coached, instructed and even refereed the game of basketball.  In Austin he is making his mark as one the top
basketball trainers
and instructors in the city.
Chris Price was born in California but calls Houston, TX his hometown.  He started playing basketball at a young age and eventually grew into a good basketball player.  At 6'6" 230 pounds, Chris was a forward on the University of Texas Men's Basketball team under head Coach Rick Barnes.  While there, he got to compete with the best and hone his approach to the game.
As an Austin Basketball trainer, Chris enjoys working with kids of all ages.  He jokes that he loves giving the younger players a foundation just as much as he loves lacing his shoes up and rocking the foundation of the older players he works with.  Chris is definitely still having fun with the game of basketball.  He loves providing a fundamental base for players and then building advanced skills on top of those.  He has said that the reason he was able to be an effective player at any level he played at was not because of athleticism, but because he knew how to play the game.  Athleticism is something you're born with, but "game" is something you have to build.  He takes the approach of taking a player's natural abilities, athleticism, and talent and adding skills and know-how to equip players for optimal effectiveness.
By all accounts, young players love working with Coach Chris Price because of his encouraging attitude, his patient communication style, and his willingness to get into the fire with his students.  It's not uncommon to see Coach Price competing in a shooting drill with players and submitting himself to wind sprints or push-ups if someone gets the best of him.  He loves competition, and loves to maintain a fun atmosphere in the gym.  Young players in Austin, TX are fortunate to have Coach Chris Price as a dedicated trainer and coach, and he feels just as fortunate to be serving in that capacity.
Austin Basketball Trainer #3
Trainer:  Bernell Murray – Austin Youth Basketball
Playing Experience:  Fairleigh Dickinson University
Training Experience:  Multi State, 5 years
Bernell's Story:  
Bernell Murray is a basketball trainer with over twenty years of basketball experience as a player, coach and now trainer. Bernell graduated from Stillwater High School, Stillwater, OK in 2004. There he was a four-time letter winner on the men's basketball team (2001-2004), two-time all-Frontier Conference selection, and a two-time All-State selection. He also was an honorable mention McDonalds All American selection for basketball (2004). Bernell accepted a Division 1 basketball scholarship to Fairleigh Dickinson university in Teaneck, NJ in the spring of 2004.
At Fairleigh Dickinson University, Bernell was a four-year letter winner and a three year starter. There he played in two NEC championship games and two NCAA tournaments. Losing to eventual national runner up Illinois by single digits in the first round of the 2005 NCAA tournament.
After he graduated from FDU in 2008, Bernell had numerous tryouts and opportunities to play professionally. He participated in a Mexican summer league but decided after all he would pursue a career educating the future of America in the classroom and on the basketball courts. In the fall of 2008, Bernell started helping out with the basketball program the Boys & Girls Houston, TX area. He mentored and coached for the Houston Hoops AAU team.
In the summer of 2009, Bernell moved back to Jersey City, NJ to continue his career in education and coaching. There he was able to work under Naismith basketball hall of fame coach, Bobby Hurley. Coach Hurley inspired Bernell to help basketball players of all ages improve their skills and most importantly fundamentals in the sport.
Bernell has been a successful trainer in numerous states. Training the likes of high level pro and college players like Rico Thompson of North Dakota State University, Kyle Anderson of UCLA, Al McGuinness formerly of the New Jersey Nets, along with many others.
Bernell's passion and love for the game brought him to Austin to grow the sport of basketball with the youth here. He is very grateful for this opportunity to be apart of Austin Youth Basketball culture!