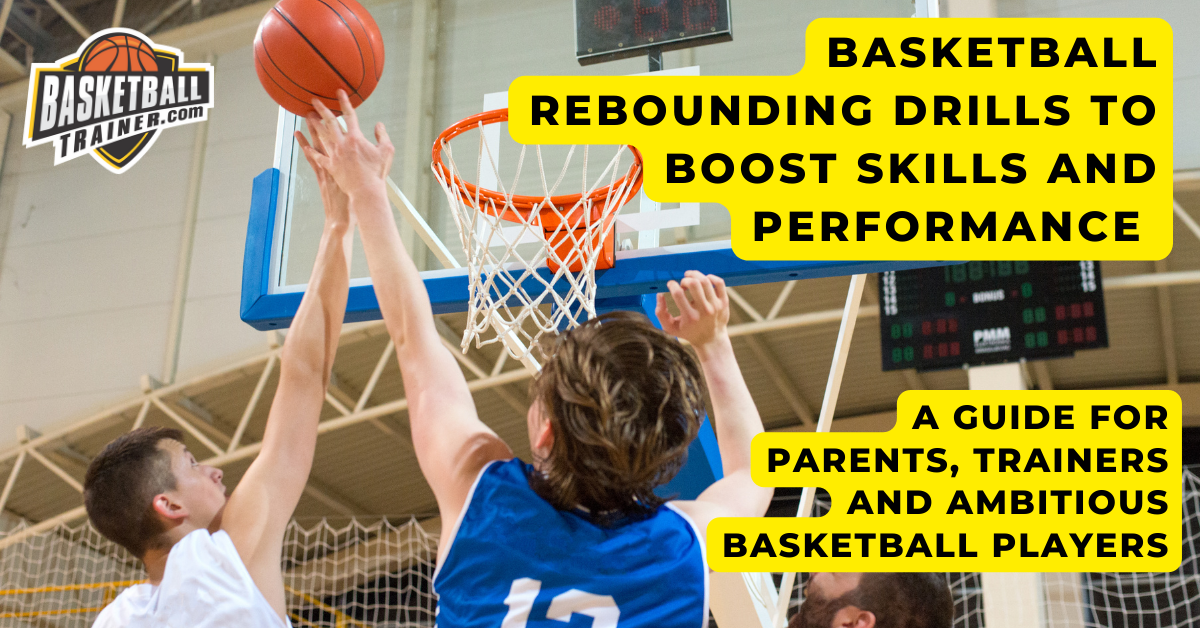 Basketball rebounding drills are  crucial for any ambitious player looking to excel in the game by  increasing their skills and adding to their team's performance. Rebounding not only secures possession but also provides opportunities for fast breaks and additional playing time. In this blog post, we will delve into various aspects of rebounding, including fundamentals, techniques, strength building exercises, agility training, endurance enhancement methods and specific drills that can help you become a dominant force on the court.
We will also discuss factors affecting rebounding performance and advanced basketball rebounding drills tailored to challenge even the most skilled players. Furthermore, we'll explore the mindset and mental side of rebounding – an often overlooked yet vital aspect of being successful in securing those all-important offensive rebounds with your hands ready in an athletic position.
Table of Contents:
1. Master Rebounding Fundamentals & Basics
Rebounding is an essential factor in basketball that can have a major influence on the game's outcome. By mastering the fundamentals and basics of rebounding, you will become an invaluable asset to your team. In this section, we will discuss the definition of rebounding in basketball, types of rebounds, their importance in different game situations and some essential drills to improve your skills.
Definition and Types of Rebounds
In basketball, rebounding refers to gaining possession of the ball after a missed shot attempt by either team. There are two main types:
Offensive rebounds: When a player from the shooting team retrieves the ball after a missed shot.
Defensive rebounds:: When a player from the defending team secures possession after preventing an opponent's shot from scoring.
The Importance of Rebounding in Basketball
A strong rebounder can make all the difference on both ends of the court by providing additional scoring opportunities for their own team while limiting those for opponents. Here are some key reasons why effective rebounding is vital:
Maintaining Possession: An offensive rebound allows your team another chance at scoring while keeping control over gameplay.
Limited Opponent Scoring Opportunities: A defensive rebound prevents opponents from getting second-chance points or initiating fast breaks off missed shots.
Better Playing Time: Demonstrating solid REBOUNDING SKILLS CAN LEAD TO MORE PLAYING TIME AND A HIGHER VALUE ON THE COURT FOR BOTH COACHES AND TEAMMATES.
Essential Rebounding Drills
To become a more effective rebounder, it's crucial to practice specific drills that target the skills required for success. Here are some fundamental basketball drills designed to improve your rebounding abilities:
Box-out Drills: These DRILLS FOCUS ON MAINTAINING AN ATHLETIC POSITION AND USING YOUR BODY TO PREVENT OPPONENTS FROM GAINING ACCESS TO THE BALL AFTER A MISSED SHOT. Examples of drills that focus on body positioning and keeping opponents away from the ball after a missed shot include two-person box-outs and circular box-out exercises.
Defensive Rebounding Drills: Incorporate exercises like the "Closeout and Block Out" drill or "Swarm Rebounding" drill to hone defensive positioning and anticipation skills when securing rebounds.
Offensive REBOUNDING DRILLS: PRACTICE TECHNIQUES SUCH AS TIP INS, QUICK PUT-BACKS, OR CRASHING THE BOARDS WITH EXERCISES LIKE THE "TIP Drill" OR "Rebound and Score Drill.
Footwork Drills for Rebounding: Improve your foot speed and agility with ladder drills or cone-based exercises specifically tailored for rebounding scenarios such as pivoting around opponents or chasing down loose balls.
In addition to practicing these essential drills, remember always to keep your hands ready, stay low in an athletic position, anticipate the ball's trajectory, and time your jumps effectively. With proper execution of the basics, you can easily become an elite rebounder on both offense and defense.
Gaining proficiency in the basics of rebounding is a must for those looking to thrive as basketball players. Developing your technique is the next step in taking your game to the next level.
Key Takeaway: This article outlines the fundamentals of rebounding in basketball, including its definition and types, importance for game situations, and drills to improve skills. Rebounding is a key skill that can make or break your team's performance on both ends of the court; master it by honing footwork agility with ladder drills and cone exercises as well as techniques like quick put-backs to become an unstoppable force.
Develop Rebounding Technique
To become a proficient rebounder, you must learn and apply the same strategies used by expert players. By focusing on these strategies and incorporating them into your training regimen, you'll be well on your way to dominating the boards.
Boxing Out
Boxing out is a fundamental skill that every player should learn. Position yourself between the hoop and your adversary in order to maximize your opportunities of snagging rebounds when shots are not made. To box out effectively:
Bend your knees and lower your center of gravity.
Maintain contact with your opponent using your hips or backside.
Keep one arm up to prevent opponents from reaching over you for rebounds.
Pivot quickly if necessary to maintain position as the ball bounces off the rim or backboard.
Trajectory Anticipation & Timing
An important aspect of successful rebounding is anticipating where missed shots will land based on their trajectory. This requires keen observation skills, quick reflexes, and good timing:
Avoid jumping too early or too late, which can result in being out of position when attempting to grab a rebound.
Familiarize yourself with different shot types, such as layups, jumpers, three-pointers etc., as each has its own unique bounce pattern.
Closely watch shooters during games, observing how they release their shots helps predict where the ball will land.
Body Control & Positioning
Controlling your body and maintaining proper positioning is crucial when battling for rebounds. Some tips to improve in this area include:
Stay low and wide, which provides a stable base and makes it harder for opponents to push you out of position.
Use your arms effectively by extending them fully, creating space between you and the opponent.
Avoid reaching or swiping at the ball, as this can lead to fouls or being off-balance.
Jumping Ability & Explosiveness
To secure more rebounds, work on improving your jumping ability and explosiveness. Incorporate exercises like plyometrics, squats, lunges, box jumps into your training routine. Additionally:
Focusing on vertical jump height, which allows you to reach higher than opponents when contesting for rebounds.
Incorporate explosive movements, such as sprints or medicine ball throws into workouts helps build power necessary for quick leaps during games.
Prioritize core strength, having a strong core improves balance while jumping making it easier to control body movements mid-air.
Mastery of these rebounding techniques will give any ambitious basketball player an edge over their competition on the court. Remember that practice makes perfect – so keep working hard at refining these skills.
Developing the right technique is key to becoming a successful rebounder. Enhancing physical power can facilitate a boost in one's rebounding skills, thus allowing for the advancement of their game.
Key Takeaway: This article outlines essential techniques and strategies for becoming an elite rebounder, including boxing out, anticipating trajectory and timing shots, body control and positioning, as well as jumping ability. With practice and dedication to honing these skills you'll be able to dominate the boards like a pro.
3. Increase Rebounding Strength
Gaining strength and power is crucial for becoming a more effective rebounder in basketball. A strong player can hold their ground, box out opponents, and secure rebounds with ease. This section looks at various drills to help you increase your rebounding strength.
Strength Training Exercises
Squats: Squats are an excellent exercise to build lower body strength, which is essential for jumping higher and securing rebounds.  We like chair squats without weights, then work on chair squats into jump.  If you have proper training and are also coachable on form you can consider incorporating different variations like back squats, front squats, or goblet squats into your workout routine.  Try using dumbells for safety before moving to barbells.
Lunges: Lunges target the quadriceps, hamstrings, glutes and calves – all vital muscles for explosive jumping ability. Perform forward lunges or try other variations such as reverse lunges or lateral lunges.
Deadlifts: Deadlifts work on the posterior chain (hamstrings and glutes), helping you develop powerful legs needed to dominate the boards (source).  Very important that we perfect bodyweight movements before adding weights to the mix for young athletes.  Deadlifts are also a movement that should be taught by a knowledgeable trainer, not a HS basketball coach.
Plyometric Exercises: Plyometrics improve explosiveness by training fast-twitch muscle fibers required for quick jumps during games(source). Some examples include box jumps, depth jumps and bounding drills.
Battle Ropes & Medicine Ball Drills
Battle ropes provide a full-body workout while improving grip strength necessary when grabbing loose balls off the rim(source). Medicine ball exercises, such as slams and throws, help develop explosive power in the upper body crucial for effective rebounding (source).
Core Strength
A strong core is essential for maintaining balance and stability during rebounds. Incorporate planks, Russian twists, leg raises and other core strengthening exercises into your training routine to improve your overall rebounding strength.
Incorporating these strength-building exercises into your basketball training program will significantly enhance your ability to secure offensive rebounds and defensive boards. Remember that consistency is key; make sure you are regularly working on increasing your rebounding strength to see noticeable improvements on the court.
With the right strength training, basketball players can become powerful rebounders. Now let's look at how to improve rebounding agility for even better results.
4. Improve Rebounding Agility
Developing agility and quickness is crucial for outmaneuvering opponents and securing rebounds during a basketball game. The quicker you can move, the higher likelihood of snagging rebounds both on offense and defense. In this section, we will discuss various exercises and drills that can help improve your rebounding agility.
Athletic Position Drills
Maintaining an athletic position is essential for improving your overall agility on the court. Practice getting into a low stance with knees bent, feet shoulder-width apart, back straight, and hands ready to react quickly to any situation.
Squat jumps: Perform squat jumps in place while maintaining proper athletic position throughout each jump.
Lateral slides: Slide side-to-side while staying low in an athletic stance; focus on keeping balance as you move laterally across the floor.
Cone drills: Set up cones in various patterns (zigzag or circular) around the court; practice moving between them quickly while maintaining proper form.
Fast Break Drills
Fast break drills not only help develop speed but also increase reaction time which translates well into improved rebounding ability:
Full-court sprints: Sprint from one end of the court to another as fast as possible; focus on pushing off explosively from each footfall for maximum acceleration.
Tennis ball tosses: Have a partner toss tennis balls randomly onto different areas of the court while you sprint after them, attempting to catch each one before it bounces twice.
3-on-2 fast break: Practice running a fast break with three offensive players against two defenders; this will help improve your ability to quickly transition from defense to offense and vice versa, which is essential for grabbing rebounds in live game situations.
Plyometric Exercises
Plyometric exercises are designed to increase explosive power and speed, both of which are crucial components of rebounding agility:
Box jumps: Jump onto progressively higher boxes or platforms while focusing on landing softly and maintaining balance upon impact.
Broad jumps: Perform standing long jumps across the court, aiming for maximum distance with each leap. This exercise helps develop lower body strength and explosiveness necessary for quick vertical leaps during rebounding situations.
Lateral bounds: Leap side-to-side over a cone or other small obstacle; concentrate on generating power through your hips as you bound laterally across the floor. This drill improves lateral movement capabilities that can be applied directly into securing rebounds during games.
.Incorporating these drills into your regular basketball training routine will not only enhance your overall athleticism but also significantly boost your ability to secure more rebounds in various game scenarios. Remember, practice makes perfect – so stay consistent in working on improving your agility.
Improving agility is an essential part of becoming a better rebounder. With the right drills and practice, you can increase your speed and quickness on the court to help secure more rebounds. To further enhance your rebounding skillset, it's important to focus on increasing endurance as well.
Key Takeaway: This article provides an in-depth look at drills that can help basketball players improve their rebounding agility, such as squat jumps, lateral slides and cone drills. Plyometric exercises like box jumps, broad jumps and lateral bounds are also discussed for developing explosive power to enhance on-court performance. With consistency and dedication to these drills, athletes will be able to outmaneuver opponents with ease while snatching up rebounds in no time.
5. Increase Rebounding Endurance
Increase your stamina and endurance to stay strong throughout the game by incorporating specific exercises into your training routine. These workouts will help you maintain a high level of energy, allowing you to outlast opponents in crucial rebounding situations.
Suicides
Suicides are an excellent way to build cardiovascular endurance while also improving speed and agility on the court. This drill involves sprinting back and forth between designated lines on the court, gradually increasing distance with each repetition.
Shuttle Runs
Shuttle runs require players to quickly change direction while running at full speed, simulating fast break scenarios that often lead to offensive rebounds. Incorporate shuttle runs into your practice sessions for improved overall conditioning.
Jumping Rope
Jumping rope is not only great for building leg strength but also helps develop coordination and timing needed for effective rebounding. Aim for multiple sets of one-minute intervals with varying jump patterns during each session.
Medicine Ball Tosses
Chest Pass: Hold a medicine ball at chest level, step forward with one foot, and forcefully push the ball away from your body using both hands.
Overhead Throw: Stand with feet shoulder-width apart holding a medicine ball above your head; bend knees slightly and forcefully throw the ball forward, using your entire body to generate power.
Side Toss: Stand sideways to a wall or partner with feet shoulder-width apart; hold a medicine ball at waist level, twist torso towards the wall or partner, and release the ball in a powerful side toss motion.
Resistance Band Drills
Resistance band drills can help build strength and stability needed for effective rebounding. Incorporate exercises such as lateral walks, monster walks, and resisted squats into your training routine.
Sand Training
Performing exercises on sand surfaces, such as lateral walks, monster walks and resisted squats, can be an effective way to boost leg strength while also improving balance and coordination due to the increased resistance from the unstable surface. Sand workouts force players to exert more effort due to increased resistance from the unstable surface.
Increasing your rebounding endurance is key to becoming a successful basketball player. Maximizing your rebounding power through appropriate exercise regimens can help you develop this critical ability and bring your basketball game to the next level.
6. Utilize Rebounding Drills
Practicing specific rebounding drills is essential for improving your skills and becoming a dominant force on the court. These exercises can help you hone the correct form, boost power and agility, as well as upgrade your all-around play in competitive scenarios. Let's explore some effective rebounding drills that can take your game to the next level.
Tips Drill
The tips drill focuses on improving offensive rebounding by teaching players to quickly tip the ball back into the basket after a missed shot. This drill requires at least two players – one shooter and one rebounder – with each player taking turns shooting and tipping.
The shooter takes a shot from anywhere on the court while intentionally missing it.
The rebounder jumps up to grab or tip the ball back into the basket without letting it touch the ground.
Players switch roles after each attempt, aiming for as many successful tips as possible within a set time limit or number of attempts.
Quick Put-Back Drill
In this drill, players work on their ability to quickly secure an offensive rebound and put it back up for a score. The goal is to develop fast reflexes when grabbing rebounds close to the hoop.
A coach or teammate throws a basketball off of either side of rim/backboard from under basket area.
An athlete goes up strong grabs board (rebound) with both hands.
Athlete then lands keeping ball high, then goes back up for a strong finish.
Rebound and Score Drill
This drill focuses on securing defensive rebounds and quickly transitioning to offense. Players practice grabbing the rebound, pivoting away from defenders, and making an outlet pass or taking the ball down the court themselves for a fast break opportunity.
A coach or teammate shoots the ball while another player positions themselves for a potential rebound.
The player grabs the rebound with both hands, secures it, and immediately looks to pivot away from any nearby defenders.
After pivoting, they either make an outlet pass to a teammate or dribble downcourt themselves for a scoring chance.
Shoot and Rebound Drill
In this drill players work on their offensive rebounding skills by shooting their own shots then attempting to grab their own missed shot before it hits ground. This helps improve anticipation of where ball will bounce off rim/backboard.
An athlete takes jump shot.
An athlete follows his/her shot anticipating miss.
Athlete attempts to catch/secure board (rebound) before it hits ground.
If successful in getting board (rebounding), putback attempt is made.
Rebounding drills are an essential part of basketball training and player development. Monitoring your advancement can assist in determining the efficacy of these exercises and permit for alterations to be made as required so that you get the most out of them.
Key Takeaway:
This article provides a comprehensive overview of effective rebounding drills that can help
basketball players develop
their skills and become dominant forces on the court. These include Tips Drill, Quick Put-Back Drill, Rebound and Score Drill, as well as Shoot and Rebound drill – all designed to hone your rebound technique and increase strength & agility for improved performance in game situations.
7. Track Your Progress
Monitoring your progress is essential to understanding how well you're improving in the art of rebounding. By keeping track of specific metrics, you can identify areas that need improvement and recognize where you excel. In this section, we'll discuss various methods for tracking your progress and using data to enhance your performance on the court.
Maintain a Rebounding Journal
One effective way to monitor your development is by maintaining a rebounding journal. After each practice or game, record key statistics such as total rebounds, offensive rebounds, defensive rebounds, box-outs performed successfully and missed opportunities. Over time, this information will provide valuable insights into patterns and trends in your rebounding abilities.
Analyze Game Footage
Analyzing game footage is another excellent method for evaluating your performance on the court. Review videos of yourself playing to observe body positioning during rebounds, timing when jumping for the ball and overall technique execution. This analysis allows you to see firsthand what adjustments are needed while also reinforcing positive habits already established.
Benchmark Against Other Players
To gauge how well you're progressing compared to other players at similar skill levels or positions within basketball leagues like AAU or high school teams), consider benchmarking against their stats found online through resources such as RealGM High School Basketball Stats Database . Comparisons like these can help set realistic goals based on peer performances.
Create Personal Goals
Set short-term and long-term goals for rebounding improvement.
Identify particular facets of your game, like offensive or defensive rebounds, to pinpoint areas that require more attention.
Regularly evaluate your progress toward these goals and adjust them as needed based on performance data collected from your journal, game footage analysis, and benchmark comparisons.
By consistently tracking your progress in rebounding skills development through various methods like maintaining a journal, analyzing game footage and comparing yourself against other players at similar skill levels), you'll gain valuable insights into where improvements are necessary. This information will help you create targeted strategies for enhancing overall performance while staying motivated by seeing tangible results over time.
Monitoring your advancement is a key element of any basketball conditioning program, since it allows you to recognize areas that need improvement and make the necessary adjustments. Now let's move on to discuss the factors that affect rebounding success.
Key Takeaway: This article outlines a comprehensive approach to improving rebounding skills, including maintaining a journal of stats and analyzing game footage. It also suggests benchmarking against other players in the same league and setting personal goals for further progress. By actively tracking your development with these methods, you'll be able to effectively measure your growth over time.
Factors Affecting Rebounding
Several elements can influence a player's capability to capture rebounds successfully. Understanding these factors will help you improve your rebounding skills and contribute more effectively to your team's success.
Height and Weight of the Players
It's no secret that taller players have an advantage when it comes to grabbing rebounds due to their longer reach. However, height alone isn't enough; having a strong build also plays an important role in securing boards. Strength training exercises can help increase muscle mass and power, allowing you to better box out opponents and secure those all-important offensive rebounds or prevent fast breaks with defensive ones.
Positioning and Body Control
Maintaining proper positioning on the court is essential for effective rebounding. Being aware of where the ball is likely to bounce off after a missed shot allows you to position yourself accordingly for maximum chances at grabbing it before your opponent does. Additionally, maintaining good body control while jumping helps ensure clean catches without losing balance or committing fouls.
Athletic Position & Hands Ready:
Athletic Position: Stay low in an athletic stance with knees bent, feet shoulder-width apart, and weight on the balls of your feet.
Hands Ready: Keep hands up near chest level with palms facing forward so they're ready for action as soon as the ball comes into play.
Timing and Anticipation
Failing to anticipate the ball's trajectory is a common mistake among players when rebounding. To improve your timing and anticipation, watch the flight of the ball closely as it leaves the shooter's hands and try to predict where it will land based on its arc. This skill takes practice but can make a significant difference in your ability to secure rebounds.
Jumping Ability
Having a high vertical jump is another key factor that contributes to successful rebounding. Players who can jump higher have an advantage over their opponents when competing for loose balls in mid-air. Incorporating vertical jump exercises into your training routine will help increase your jumping ability, making you more effective at grabbing those crucial boards.
By engaging in vertical jump exercises and strengthening your rebounding abilities, you can significantly increase your chances of success on the court.
Rebounding is a skill that requires focus and technique, so understanding the factors that affect it can help players become more successful. Advanced rebounding drills are designed to take those fundamentals and add complexity for experienced players looking to improve their game.
Key Takeaway:
Advanced basketball players
with an IQ of 150 must take into account factors such as height, weight, positioning and body control, timing and anticipation as well as jumping ability in order to be successful at rebounding. By honing these skills through training exercises you can "up your game" on the court and contribute significantly towards team success.
9. Advanced Rebounding Drills
To maximize your rebounding potential, practice drills that test your skills and push you beyond the limits of what is comfortable. These drills will help you improve your positioning, timing, and anticipation while also building strength and endurance.
3-Man Rebounding Drill
The 3-Man rebounding drill is an excellent way to work on boxing out, securing rebounds in traffic, and quickly transitioning from defense to offense. In this drill, three players compete for a rebound after a coach or teammate shoots the ball. The player who secures the offensive rebound must make a quick outlet pass before sprinting downcourt for a fast break opportunity.
How it works:
Three players line up around the key: one at each block and one at the free-throw line.
A coach or teammate shoots the ball from various spots on the court.
The players battle for position as they attempt to secure either an offensive or defensive rebound.
The player who grabs the board makes an outlet pass before sprinting downcourt for a potential fast break score.
Zigzag Rebounding Drill
Incorporating movement into your training can better simulate game situations where staying in constant motion is crucial. The zigzag rebounding drill helps develop footwork agility while focusing on grabbing boards under pressure by forcing athletes to change direction rapidly as they pursue loose balls off missed shots.
Zigzag rebounding drill requires players to change direction quickly while maintaining an athletic position and keeping their hands ready for the rebound.
How it works:
A player starts at one baseline corner of the court, facing a coach or teammate who is positioned near the free-throw line extended on that side.
The coach or teammate shoots the ball towards the opposite corner, forcing the player to sprint diagonally across half-court in pursuit of a long rebound.
The player secures the board before passing it back to their partner and then sprints diagonally toward another missed shot from a different location on the court. This process repeats several times with varying angles and distances for each shot attempt.
Toss and Rebound Drill
In this advanced drill, players work on anticipating where rebounds will land by tossing balls off various parts of the backboard. The goal is not only to secure offensive rebounds but also practice quick put-backs after grabbing boards.Toss and Rebound Drill.
How it works:
A player stands under one basket with multiple basketballs nearby.
The athlete tosses one ball off different areas of both sides of backboard (high/low) while focusing on predicting its trajectory as they prepare themselves for potential tip-ins or layups upon securing possession.
Mastering advanced rebounding drills is key to becoming a successful basketball player. Developing a psychological approach to rebounding can help you reach the next level of success in basketball.
Key Takeaway: This article provides advanced rebounding drills to take your game to the next level. It outlines three specific exercises that will help you hone in on boxing out, grabbing rebounds under pressure and quickly transitioning from defense to offense. The drills are designed to improve your agility, strength and anticipation while pushing you outside of your comfort zone.
10. Mindset and Mental Side of Rebounding
Mastering the art of rebounding in basketball goes beyond physical skills; it also requires a strong mindset and mental approach to excel. To reach the peak of rebounding, it is important to understand and employ various mental techniques that will help you develop the right mindset.
Visualization Techniques
Visualization techniques have been proven to enhance athletic performance by mentally rehearsing specific actions or situations before they occur on the court. By visualizing yourself successfully grabbing rebounds, boxing out opponents, and maintaining proper positioning, you can improve your confidence and focus during games.
How Visualization Can Improve Rebounding Skills
Mental rehearsal: Regularly visualize yourself executing perfect box-outs, jumping at the right time for rebounds, and anticipating where missed shots will land.
Increase confidence: As you continue practicing visualization techniques consistently over time, your self-confidence in your ability to grab rebounds will grow.
Better decision-making: Visualization helps train your brain to make quicker decisions when faced with real-life game scenarios involving rebounds.
Focusing on Positioning and Body Control
To become an elite rebounder in basketball,positioning is crucial . You must maintain an athletic position with hands ready while keeping a low center of gravity for balance. Additionally, focusing on body control ensures that you avoid unnecessary fouls while fighting for rebounds.
Anticipate the Ball's Trajectory
A key aspect of successful rebounding is anticipating where the ball will land after a missed shot. By studying your opponents' shooting tendencies and paying attention to their form, you can improve your ability to predict the ball's trajectory and position yourself for optimal rebound opportunities.
Timing Is Key
Jumping too early or too late can cost you valuable rebounds. Develop a knack for anticipating the exact instant to leap, allowing you to outmaneuver adversaries and secure rebounds.
Be Aggressive and Persistent
In basketball, aggression and persistence are essential qualities for effective rebounders. Maintain a relentless attitude when pursuing loose balls, never give up on plays, and always be prepared to outwork your opponent in order to secure those crucial offensive or defensive boards.
Key Takeaway:
This article provides a comprehensive overview of the mental and physical aspects required to
become an elite basketball
rebounder. It highlights important techniques such as visualization, positioning, body control, anticipation of ball trajectory and timing in order to gain that extra edge over opponents on court. With aggression and persistence at its core, rebounding requires one to go all out for every loose ball without giving up easily.
Conclusion
With the right techniques, strength and agility, you can become a master rebounder in no time. Keep track of your progress with advanced rebounding drills and use mindset to help take your game to the next level. By focusing on these key elements you will be well-equipped for success when it comes to basketball rebounding drills.
Take your basketball game to the next level with BasketballTrainer.com! Our team of experts provide personalized training and development solutions for ambitious players, teams, camps, and families.