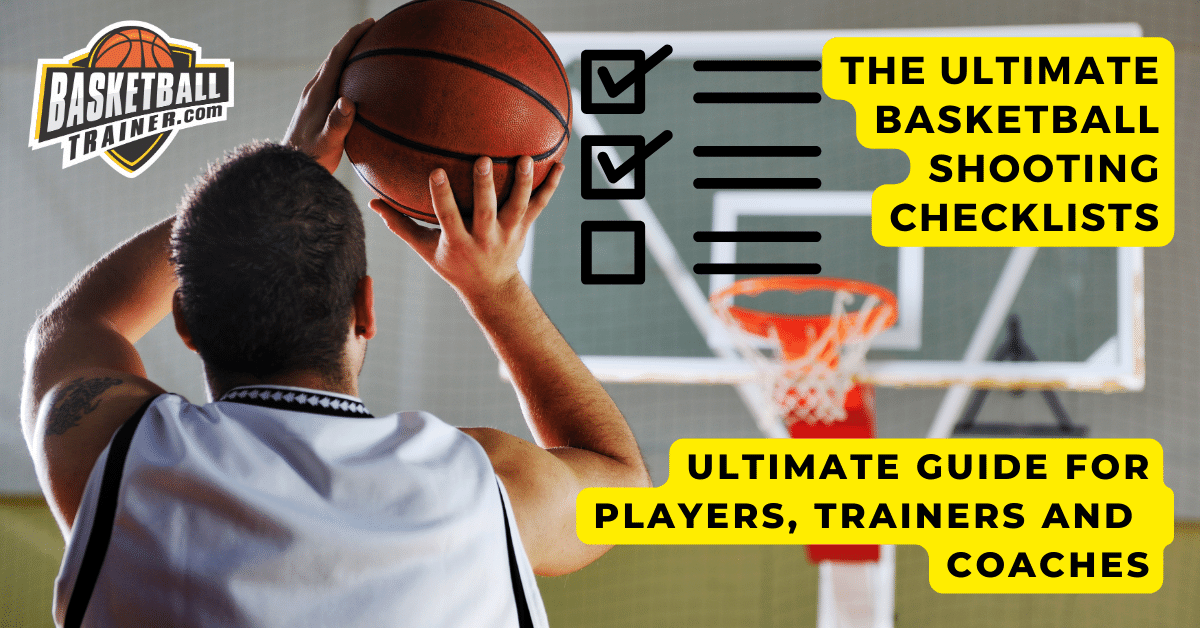 Certainly, becoming a great three-point shooter in basketball requires a combination of skills, practice, and the right mindset. You need a framework and mindset for your solo shooting workouts. Here's a checklist to help high school players develop their three-point shooting skills through intentional, growth-oriented, and self-aware solo workouts:
Set Clear Goals:

Define specific, measurable, and achievable goals for your shooting performance. Example: "I want to make 80% of my three-point shots from the corner in my next game."

Mindset and Motivation:

Embrace a growth mindset, understanding that improvement comes through effort and learning.
Remind yourself of your motivation and why you want to excel as a three-point shooter.

Shot Mechanics:

Break down your shot into components (stance, grip, balance, release) and ensure they are fundamentally sound.
Work on consistency in your shooting form.

Footwork:
Shot Selection:

Focus on taking high-percentage shots during workouts. Start close to the basket and gradually move back to the three-point line.

Shot Repetition:

Shoot a high volume of shots, focusing on proper form and technique. Quality over quantity.

Game Simulations:

Incorporate game-like scenarios into your workouts, such as catching and shooting off screens or simulating defenders.

Shot Release Speed:

Work on releasing the ball quickly, as this can make your shot harder to defend.

Self-Feedback:

Record your shooting sessions and review the footage to identify areas for improvement.

Consistency:

Maintain a consistent routine and schedule for your shooting workouts to build muscle memory.

Variation and Challenge:

Add variations to your workouts, like shooting on the move, off balance, or with defenders (even if imaginary).

Tracking Progress:

Keep a shooting log to track your shooting percentage and performance over time.

Mental Toughness:

Practice maintaining focus and composure, even when you miss shots. Learn to embrace failure as an opportunity to learn and grow.

Fitness and Conditioning:

Ensure you have the stamina and endurance to maintain your shooting form throughout a game.

Recovery and Rest:

Allow your body to recover between workouts to prevent injury and fatigue.

Nutrition and Hydration:
Seek Guidance:

Consider working with a shooting coach or seeking feedback from experienced players to refine your skills.

Visualize Success:
Stay Positive and Patient:

Understand that improvement takes time. Stay positive, stay patient, and trust the process.

Celebrate Progress:

Recognize and celebrate your achievements and improvements, no matter how small they may seem.
By following this checklist and consistently working on your three-point shooting skills with an intentional and growth-oriented mindset, you'll be well on your way to becoming an amazing three-point shooter in high school basketball. Remember, the journey to excellence is as important as the destination, so enjoy the process of improving your game.
Micro Shooting Form Checklist
Complete Physical Shooting Form Points Checklist
Stance and Balance:

Ensure your feet are shoulder-width apart with your lead foot slightly forward, pointing towards the basket.
Maintain proper balance with a slight forward lean on the balls of your feet and shoulders over your toes.
Keep your knees bent for stability and power, leaning slightly forward on the balls of your feet.
Footwork is essential; use the 1-2 step for balance.
Body awareness is crucial to executing proper footwork.

Grip and Hand Placement:

Display the palm of your hand as your target.
Create a comfortable grip with fingers spread wide but the palm not touching the ball.
Form a "T" shape with your thumbs.
Bring the ball directly to your shot pocket.
Maintain a straight shooting arm, forming an "L" above your lead foot.
Cock the wrist until skin wrinkles.
Ensure that, during the follow-through, your elbow is above your eyes, and your wrist is the highest point of your arm.

Guide Hand:

Place your guide hand on the side of the ball to hold the ball in place on your shooting hand.
After the shot, ensure that your guide hand's fingers point straight up.
Avoid any twisting, turning, or dropping of your guide hand.

Head and Eye Position:

Keep your head still, leaning slightly forward and in front of your shoulders and above the knees.
Maintain a focused gaze on the target.

Shooting Mechanics:

Focus on proper shot mechanics with fluid one-motion shooting.
Work on releasing the ball quickly, as this can make your shot harder to defend.
Release the ball at the peak of your jump.
High and relaxed follow-through is essential for accuracy.
Aim for a high, gentle arc on your shot.

Shot Selection and Consistency:

Be aware of shot selection, focusing on high-percentage shots within your range.
Ensure that every shot should be mechanically the same.
Maintain consistency in your shooting form.

Shooting Variations:

Learn to shoot off the dribble with the correct footwork and timing.
Incorporate off-balance shooting into your practice to simulate game situations.

Self-Analysis and Improvement:

Continuously evaluate yourself, focusing on progress rather than dwelling on mistakes.
Embrace a growth mindset and understand that good form is correctable.
Remember, you are your own best coach—be your own SHOT DOCTOR.

Practice Drills and Repetition:

Perfect your shooting form without a ball to work on timing, ball placement, and follow-through.
Concentrate on perfect footwork drills.
Spin pass into a shot to check follow-through and feet.
Record your practice sessions for later self-analysis.
Practice a few minutes each day on a wall or backboard to focus on and improve your skills.

Additional Techniques:

Master the lay-up technique, focusing on proper footwork and ball control.
Understand the mechanics of the bank shot, especially in the low post.
Practice a 1-dribble jump shot for quick scoring opportunities.

Mental Toughness:

Develop mental resilience and the ability to stay low and composed during shots, even under pressure.
Visualize success by imagining yourself making successful three-point shots in a game.

Regular Practice and Review:

Maintain a consistent practice routine to build muscle memory.
By consistently following this comprehensive checklist, you can refine your shooting technique and become a more accurate and effective three-point shooter in basketball. Remember, the journey to excellence is as important as the destination, so enjoy the process of improving your game.
Kyle Korver Basketball Shooting Checklist
In the 2009-2010 NBA season Kyle Korver shot the highest record Percentage from the 3 Point Line.  Kyle shot 53.6%.  So when Kyle revealed he had a checklist he went thru every day it spurred us all to look at our intentionality, focus and self awareness.  Here is Kyle's checklist for those interested in taking a peek into the process of greatness
Conclusion of Basketball Shooting Checklists To Consistent Process and Results
Hey there, it's Chris Corbett from BasketballTrainer.com. We've covered quite a bit of ground today, haven't we? From nailing your shooting stance to mastering the mental game, we've really dived deep into the world of becoming an outstanding three-point shooter. Now, let's put the finishing touches on this.
I understand your passion for basketball; it's more than just a sport, it's a way of life. We all share that dream of hitting that game-changing three-pointer. It's about skill, precision, and the unwavering commitment to hone your craft.
So, what's the big takeaway? Well, we've learned that your shooting form is like your secret weapon. It's not just about how you stand or grip the ball; it's about perfecting every single detail. But there's more to it than just the physical stuff; it's about your mindset too. Embrace that growth mindset, and you'll turn every missed shot into a chance to improve.
Now, it's time to put all of this knowledge into action. Keep practicing, but practice smart. Work on that footwork, become a lay-up maestro, and don't neglect those bank shots. Repetition is your ally; it builds muscle memory. Visualize your success, stay focused, and remember, it's not just about the shots you make, but the journey you're on to become the player you've always aspired to be.
So, step onto that court with confidence, grip that ball just right, and let every three-pointer you make showcase your dedication, discipline, and undeniable skill. Your journey to becoming an exceptional three-point shooter starts right here, right now. Aim high, my friend.
Keep playing, keep practicing, and keep chasing those dreams. This is Chris Corbett, signing off. I'll see you on the court, and remember, the next game-changing three-pointer could be yours.