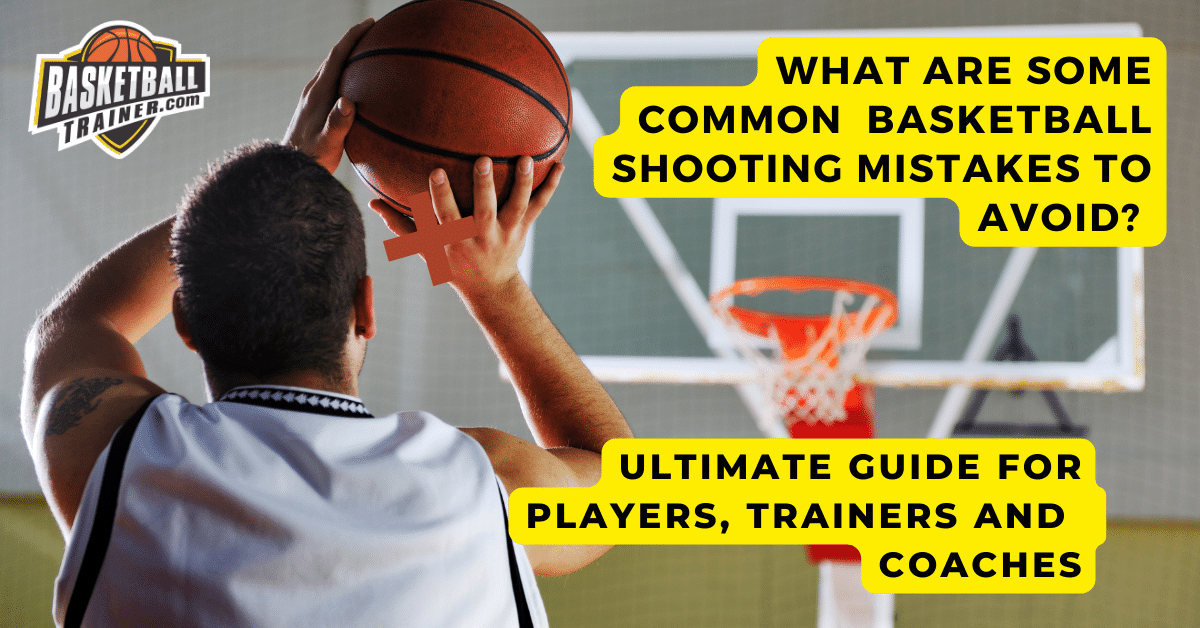 What are some common basketball shooting mistakes to avoid, you wonder. It can feel like an unsolvable puzzle.
Ever been in a basketball game, your heart pounding as you line up for that crucial shot? You release the ball and…it's off target. Why?
You're not alone – many players grapple with this challenge. But there's good news! By understanding what goes wrong, we can fix it.
This article is your guide through the maze of common shooting errors, from poor stance to mental preparation mishaps. Whether you're a newbie or seasoned player aiming to improve their free throws, this piece promises practical tips and insights into mastering your shot.
Table Of Contents:
Introduction to Common Basketball Shooting Mistakes To Avoid
Basketball, a game of skill and precision, demands players master the art of shooting. Tossing the ball towards the basket isn't enough; to make a shot with precision and style, you need to pay attention to every detail.
The Importance of Accurate Shooting in Basketball
A basketball player's shot accuracy can make or break their performance on court. Whether you're attempting free throws or three-pointers, each shot counts. In fact, according to Basketball For Coaches, successful teams typically shoot above 45% from field-goal range and above 70% for free throws. Missing shots due to common mistakes isn't just disappointing – it can cost your team valuable points.
This article is created to aid in recognizing errors that could be impacting your performance without you even being aware of it.
Overview of Common Basketball Shooting Mistakes
We've all seen it: a player steps up for what seems like an easy bucket but instead sends the ball careening off course. What went wrong? Chances are they fell prey to one (or more) common shooting mistakes.
In this guide we'll take a deep dive into some typical errors players make when taking their shots – things like incorrect stance and balance, improper hand placement on the ball, faulty follow-through techniques – all these contribute significantly toward missed opportunities at scoring goals.
What Readers Can Expect from this Article
If mastering your jump-shot sounds appealing then keep reading. We'll delve into both physical mistakes related with posture & technique along with psychological ones arising out self-doubt or lack of preparation. Additionally, we'll discuss how these errors impact your shooting motion and timing, as well as conditioning and training pitfalls to avoid.
We'll also share some expert advice from professional basketball trainers on how you can improve your game by avoiding these common mistakes. Recognizing errors is important, but it's even more vital to know how to correct them.
Remember – no one becomes a sharpshooter overnight; persistence is key. So gear up for some insightful pointers that will help elevate your game to the next level.
Key Takeaway: 
Mastering the art of shooting in basketball requires finesse and attention to detail. Avoid common pitfalls like incorrect stance, improper hand placement, or faulty follow-through techniques that can lead to missed shots. Understand both physical and psychological mistakes impacting your game. Remember, improving isn't just about spotting errors but knowing how to fix them.
Understanding the Basics: Core Mechanics of Shooting the Basketball
The game of basketball hinges on effective shooting. To get the shot right, focus on four key components.
The Proper Stance and Balance
A solid foundation is vital for accurate shooting. Your feet should be shoulder-width apart to give a stable base. Distribute your weight evenly across both feet but slightly more towards the balls than heels. Breakthrough Basketball offers some great advice on achieving perfect balance while shooting.
Hand Placement on the Ball
Your hands play an essential role in controlling the ball during a shot. The ball should rest in your hand with fingertips spread wide enough to grip it securely, yet not too tight to impact flexibility or comfort. Hoop Skills explains this concept beautifully.
The Role of the Non-Shooting Arm
Your non-shooting arm isn't just along for the ride – it plays a critical part in guiding and balancing your shot as well. This "guide hand" should stay flush against the side of your basketball until release. ProSkillsBasketball delves into more detail about this important technique.
The Follow-Through
This might seem like an afterthought but trust me, follow-through is crucial for consistency and accuracy when you shoot hoops. When you've released that ball, your shooting hand should be pointing towards the basket with a relaxed wrist. CoachUp explains why this step is so important.
In basketball, as in life, getting back to basics often reveals the path forward. By focusing on these core mechanics of shooting – stance and balance, hand placement on the ball, role of non-shooting arm, and follow-through – you can start hitting those shots more consistently.
Physical Mistakes in Stance and Balance
Let's face it, a perfect shot starts with the right stance. But so many players get this wrong. At BasketballTrainer.com, we often witness some common errors in shooting form.
Mistake 1: Feet Too Close Together
Your feet serve as your foundation when you shoot a basketball. Having them too close together can affect balance, stability, and power in your shots.
If you've ever felt like you're losing control while shooting or missing shots due to lack of strength, check out how far apart your feet are. You'll want them roughly shoulder-width apart for optimal balance.  My own daughter, can make this mistake, almost looking like a unipod with her feet close to each other.
Mistake 2: Leaning Back or Forward (Fading Backwards, and to the Left or Right)
The lean is real. Many shooters unintentionally lean back during their shot release because they think it gives them more range – but trust me; it doesn't.  Others almost hurl their body toward the rim and the defense when they shoot.
A backward leaning posture may actually rob you of accuracy since aiming becomes difficult from such an angle. Instead, aim for straight-up body alignment where possible.
Mistake 3: Poor Weight Distribution (Footwork causing imbalance)
This mistake often flies under the radar but has massive impacts on shooting consistency – poor weight distribution.
It might sound complicated initially but all I'm saying is that if there's uneven pressure between both legs when taking a shot – say one leg bears much more weight than another – then expect inconsistencies.
This isn't just about evenly spreading weight across both feet though; make sure also that your foot placement lines up with your target.
There's no magic fix here other than practice—footwork drills will help correct these issues over time.
By being aware of these common physical mistakes, you're already a step ahead of the game. Remember that mastering the basics can make all the difference between being an average player and becoming one of those who shine on court.
Remember, we've got more tips coming your way from BasketballTrainer.com – keep reading to stay in-the-know.
Key Takeaway: 
Master the Basics: Your shooting game starts with your stance. Avoid common errors like feet too close together, leaning back or forward during shots, and poor weight distribution between legs. These may seem minor but can greatly affect balance, power, and accuracy in basketball shooting. Remember to practice footwork drills regularly to fix these issues over time.
Hand and Arm Mistakes in Shooting the Basketball
Making shots consistently requires a fine-tuned balance of hand and arm positioning. Here, we'll focus on four common mistakes players make with their hands and arms while shooting.
Mistake 4: Palming the Ball (Thumb on Shooting Hand)
The way you grip the ball matters immensely for accuracy. One error many players make is resting their thumb on the ball when they shoot, essentially palming it. This can disrupt your shot's trajectory by pushing it off course or causing inconsistent release patterns.
To fix this mistake, aim to position your fingers around the circumference of the basketball instead of under it. The palm should not be touching the ball; there needs to be a small space between them.
Mistake 5: Shooting with a Stiff Wrist
A stiff wrist during shooting often leads to poor control over directionality and power—two key factors that determine whether your shot goes in or bounces out.
Flicking your wrist smoothly at just before releasing allows for more backspin which helps soften any contact with rim giving better chance to drop into netting below.
Mistake 6: Blocking Your Own Shot with Guide Hand
Your guide hand plays an important role—it keeps your basketball steady as you take aim—but remember its job ends once you start launching forward towards hoop.
If left lingering too long though might block path so keep disciplined about removing quickly after stabilizing task has been accomplished.
Mistake 7: Thumb Flicking from Guide Hand
This happens when shooter uses extra push-off action coming mainly from guiding non-dominant side adding unnecessary force potentially throwing precision off mark.
Practicing one-handed shots can help to break this habit. It allows you to focus on shooting with just your dominant hand, without the influence of a flicking thumb from your guide hand.
Hey, everyone makes mistakes – it's part of the game. Keep an eye on your mistakes and strive to correct them; this will improve your accuracy over time. You'll notice your accuracy getting better with time. And remember, practice is everything, so don't let yourself get down.
Key Takeaway: 
Playing basketball isn't just about natural skill. It's a game of accuracy, consistent practice, and steering clear of typical hand and arm blunders. Avoid palming the ball or shooting with a rigid wrist; rather, hold it correctly and keep your movements smooth for enhanced control. After you've lined up your shot, quickly pull away your guiding hand to prevent obstructing it yourself. And remember – no thumb flicks.
Elbow Position and Follow-Through Mistakes
Perfecting your shooting technique in basketball is a fine art, with every element playing its part. A couple of common mistakes can throw off the entire shot – they relate to elbow position and follow-through.
Mistake 8: Elbow Positioned Away from the Side of the Body
The angle between your upper arm and forearm plays a crucial role in accuracy. Many players make the mistake of letting their elbows fly out to the side, leading to inconsistent shots. The ideal position for your elbow is tucked into your body at about a 90-degree angle.
This isn't just about looking good on court; it's physics. Keeping that elbow close helps you maintain control over ball direction because you're working with more stable joints (shoulder & wrist). It's akin to holding an apple under water – if you let go, it shoots straight up due to focused energy.
Mistake 9: Not Following Through with the Shot
A proper follow-through makes sure all that power doesn't go waste but rather gets directed towards the hoop accurately. You've probably seen pro players' hands hang in the air after releasing the shot – like they're reaching into the cookie jar on the top shelf. That's not showboating; it's sound mechanics.
Your fingers should be relaxed during this process while the thumb points downwards as though screwing a light bulb counterclockwise (if right-handed). This "gooseneck finish" aids spin control, making the ball trajectory more predictable.
Mistake 10: Poor Rotation on the Ball
A well-shot basketball spins in the air – that's what gives it its stable, straight path. But poor follow-through can lead to minimal or inconsistent spin, which is like trying to drive a car with one flat tire – it just doesn't go straight.
Keep your focus on pushing through with your index and middle fingers during the release. They're the final touchpoints.
Key Takeaway: 
Getting your basketball shooting technique down pat calls for a keen eye on details like elbow placement and follow-through. Don't let your elbow stray away; keep it snug to your body to gain more control over the ball's trajectory. Make sure you nail that follow-through after letting go of the shot – this isn't just about looking good, but solid mechanics. Lastly, concentrate on giving the ball a nice spin by
Mistakes in Shooting Motion and Timing
One of the most overlooked areas when it comes to basketball shooting mistakes is the motion and timing involved. Let's explore some common errors players make.
Mistake 11: Throwing the Basketball Rather Than Shooting It
Rather than pushing or lobbing, shooting requires a level of finesse and technique that throwing does not. While throwing involves pushing or lobbing, shooting requires finesse, precision, and technique. When you shoot by just tossing up the ball towards the hoop (like playing catch), accuracy suffers.
This mistake usually stems from trying to generate power for long-distance shots using arms alone rather than incorporating legs into your shot. So remember – we're not playing baseball here; aim for smooth shots that sail through the air like poetry instead of being thrown forcefully.
Mistake 12: Longer Than 1 Second Release Time
A quick release time can be crucial in game situations where defenders are closing in on you rapidly. But if it takes longer than one second to get off your shot after catching or dribbling stoppage, you're asking for trouble.
A slow release gives opponents more opportunity to block or disrupt your shot attempt while also reducing overall scoring opportunities due to increased possession time without effective results.
Mistake 13: Lack of Rhythm
Shooting isn't about forcing things; it's an art form requiring rhythm much like dancing. If you're rigidly following steps without understanding flow and pace, then chances are high that consistency will evade you. Breakthrough Basketball explains, "Every great shooter has a rhythm to their shot…a certain cadence or 'beat'… It's smooth and flows from one step to the next."
When you understand your unique shooting rhythm, shots feel natural and effortless. Ignoring this important element could lead to inconsistency in making baskets.
Key Takeaway: 
Getting your basketball shot right is more than just strength, it's a mix of grace and timing. Don't shoot as if you're hurling the ball; instead, let accuracy and skill guide your shots for smooth arcs that sail through the air. Make sure to release within one second – anything longer could lead to blocks or interruptions from opponents. Finally, don't forget about maintaining rhythm in your
Psychological and Situational Mistakes
The mind is a powerful tool in basketball. It can be your greatest ally or your worst enemy, depending on how you use it.
Mistake 14: Self Doubt (Not Being Mentally Prepared for the Shot)
Fear of failure and having little faith in oneself can be two major psychological impediments that keep players from attaining their peak performance. Believing in yourself, even when the pressure is high, will significantly improve your shooting accuracy.
To combat this mistake, visualize making the shot before taking it. Mental preparation helps to foster confidence and reduce performance anxiety during game time situations.
Mistake 15: Not Practicing Shooting from Game-like Situations
Shooting practice isn't just about standing still at different spots around the court tossing balls into the net. You need to simulate real-game scenarios as much as possible while training – this means practicing shots off dribbles, layups under pressure or free throws with fatigue setting in after a long session. This link provides some useful drills you can try out.
Mistake 16: Not Adjusting to The Defense
You won't always have an open shot; there will be defenders ready to block every attempt you make. So rather than forcing shots against tight defense, learn how to adjust based on what's happening around you.
Find ways like using fakes or screens effectively to create space for clean attempts at goal.
The best shooters aren't those who only score when left unguarded – they're ones able find holes within defenses consistently by adapting quickly according circumstances presented by their opponents.
Remember, you're not just playing against the hoop. You're also up against a team that's trying to prevent you from scoring. This makes basketball such an exciting and dynamic sport because it requires both physical skills and strategic thinking. Here are some tips on how to outsmart your defenders.
Key Takeaway: 
Overcoming psychological barriers like self-doubt and fear of failure can greatly improve your basketball shooting accuracy. Also, practicing game-like situations, adjusting to defense tactics, and using strategic thinking will enhance not just your physical skills but also your overall performance on the court.
Pre-Shot and Catching Mistakes
Catching the ball correctly is crucial in setting up a successful shot. It's more than just grabbing the ball; it involves timing, positioning, and control.
Mistake 17: Double Catching
One common mistake players make is double catching. This happens when you catch the ball but fumble or adjust your grip before shooting. Not only does this take away valuable moments on the clock, but it also throws off your tempo and concentration.
To avoid this mistake, work on developing a solid grip and confident catches during practice drills. Be aware of where your fingers are positioned on the ball as soon as you catch it to ensure a quick transition into your shot motion. BreakThrough Basketball provides great resources for improving these skills.
Mistake 18: Bad Catch, Don't Shoot
If you don't secure an optimal catch – don't shoot. Forcing a bad shot from an awkward or rushed catch often leads to missed opportunities at best – turnovers at worst.
The key here is decision-making; knowing when not to take that risky shot can be equally important as making them. The right call will help maintain possession while potentially creating better scoring chances down the line. Coaching Toolbox has some excellent tips about understanding game situations like these.
Mistake 19: Consistently Catching on Wrong Side of Your Body
Finally, consistently catching the ball on the wrong side of your body can limit your shooting options and effectiveness. It forces you to adjust before taking a shot, giving defenders an extra split second to close in.
To fix this mistake, make sure you're moving towards the pass as much as possible. This helps get into position for optimal catches and quicker shots. Additionally, communicate with teammates about where you want the ball passed. Stack offers some practical drills that emphasize correct catch-and-shoot mechanics.
Key Takeaway: 
Perfecting your basketball shot starts with the catch. Avoid double catching, as it disrupts rhythm and wastes time. If you don't secure a good catch, hold off on shooting to avoid turnovers. Also, be mindful of where you're catching – consistently grabbing the ball on the wrong side limits your options and gives defenders an edge.
Conditioning and Training Mistakes
Mistake 20: Not Using the Legs to Generate Power. The power of your shot isn't all in your arms, it's actually mostly from your legs. Your lower body is crucial for creating a strong, stable base and generating force that transfers up through the rest of your body into the ball.
Think about how you jump; most people don't just use their calves but rather bend at their knees and hips to get more height. That same principle applies when shooting a basketball – squat down slightly before releasing so that you can spring upwards as you shoot.
Mistake 21: Not Keeping the Eyes on the Target
Maintaining a visual focus on the desired destination of your shot is critical for shooting accuracy. When we're focused elsewhere or rushing our shots under pressure, we often forget this basic rule.
Your eyes are one of your greatest tools in any sport because they help guide every other part of our bodies – including hands which release the basketball towards its target. This article elaborates further on why maintaining focus during play matters significantly.
Mistake 22: Not Having a Pre-shot Routine
A pre-shot routine serves as a kind of mental checklist before taking each shot – it helps ensure consistency and reduces errors by helping us remember what works best for us individually. Just like free throw shooters bounce or spin balls certain ways prior to making their attempts; having rituals can make sure there's less variability between shots thus increasing accuracy rates over time.
If these mistakes sound familiar, don't worry. Many players, even experienced ones, fall into these traps. But the good news is they're all fixable with awareness and dedicated practice. Let's hit the ground running and begin to implement those changes.
Key Takeaway: 
Power up your basketball shot by using your legs, not just your arms. Always keep an eye on the target and don't rush under pressure. Adopt a pre-shot routine to ensure consistency and reduce errors. If you're making these mistakes, it's cool. Awareness and practice can fix them.
10. Expert Advice and Basketball Trainers To Help Avoid Basketball Shooting Mistakes
Basketball shooting mistakes can hinder your performance, but the good news is they're fixable with the right advice and training.
10.1 Expert Tips for Correcting Mistakes
You might ask, how do I start fixing my basketball shooting errors? Well, you'll need a combination of video analysis, coaching from experienced trainers, and specific drills tailored to correct your issues.
10.1.1 Importance of Video Analysis
Video analysis, believe it or not, plays a crucial role in identifying where things go wrong during shots – kind of like having an extra set of eyes that don't blink. It allows us to slow down every move we make on court; pinpoint our mistakes; then get them fixed.
10.1.2 The Role of a Skilled Coach
A skilled coach, besides being your motivator also serves as a mirror reflecting what needs improvement in real-time during practice sessions. Their guidance is invaluable because they've seen it all before and know exactly what steps will lead to improvements.
10.1.3 Specific Drills to Improve Shooting Technique
Certain drills, when practiced consistently can drastically improve your shooting technique. It's like magic, but the kind that comes with hard work.
10.2 Summary of Common Shooting Mistakes to Avoid
Mistakes in basketball shooting can range from incorrect stance and hand placement to poor follow-through and timing issues.
Footing mistakes: Your feet too close together or leaning back during a shot can throw off balance.
Hand and arm errors: Palming the ball, having a stiff wrist or blocking your own shot are all big no-nos.
Poor follow through: Not following through after release affects accuracy, as does an elbow positioned away from body side.
FAQs in Relation to What Are Some Common Basketball Shooting Mistakes to Avoid
What are five mistakes to avoid when shooting the ball?
Avoid these: feet too close, leaning back or forward, palming the ball, not following through on shots, and doubting yourself.
What is a common error made in the sport of basketball?
A frequently seen mistake is poor weight distribution leading to imbalance during shooting. It can really muck up your shot accuracy.
Why is my shooting so bad basketball?
Poor form like stiff wrists or incorrect hand placement might be sabotaging your shots. Also, check if you're blocking your own view with the guide hand.
What is the proper way to shoot a basketball?
To nail that shot, maintain a balanced stance and correct arm position while releasing smoothly with follow-through. Keep your eyes on the target.
Conclusion
There you have it – a roadmap to avoiding the common basketball shooting mistakes that trip up many players. You've now got the inside scoop on improving your game.
You know how crucial stance and balance are, and how feet too close together or leaning back can disrupt your shot. Hand placement isn't something to overlook either.
Mindful of these points? Good! Because correcting such errors is key in answering what are some common basketball shooting mistakes to avoid.
Don't forget about mental preparation and situational awareness either; they're just as vital for nailing those shots under pressure.
In essence, improvement comes from understanding where we go wrong. So grab that ball, keep practicing with these tips in mind, and see your game soar!