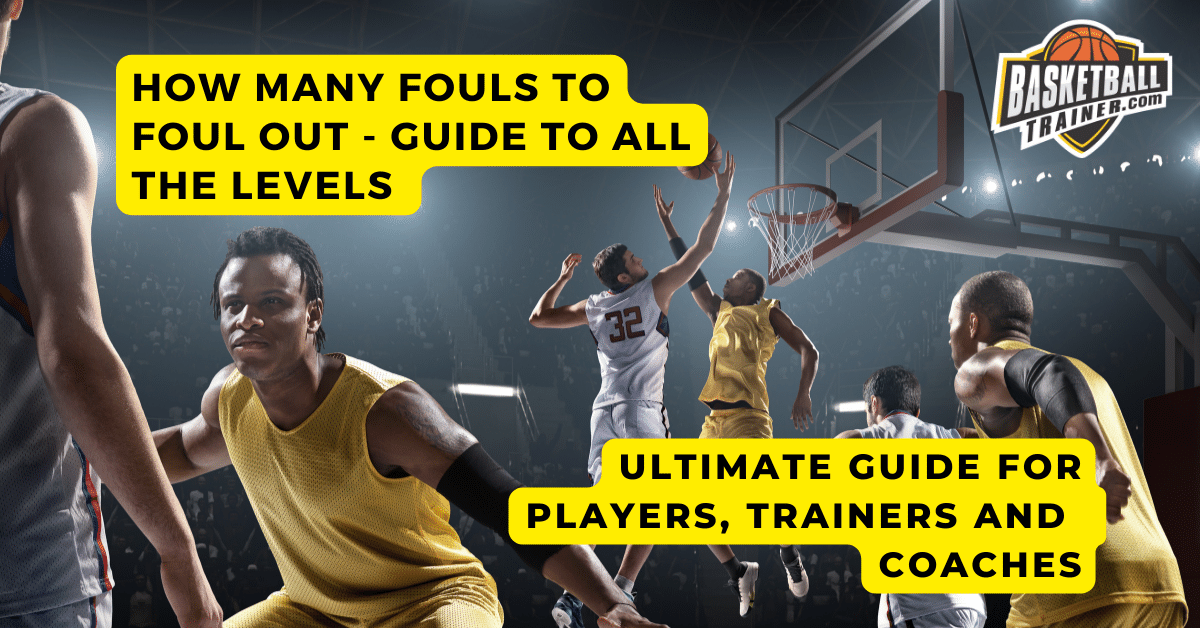 Understanding how many fouls to foul out in basketball is crucial for any player, coach, or avid fan. It's not just about the numbers – it's a strategic game within the game.
This rule can significantly influence the course of play and requires tactical management from both players and coaches. But here's what separates an average understanding from a deep one: knowing how this rule varies across different leagues and levels of play.
Let's say you're well-versed with NBA rules where six personal fouls mean you're out. Now imagine watching a college-level match without realizing that five personal fouls are enough to get disqualified there! Confusing, right?
So, getting a grip on the number of fouls that result in a foul-out in basketball, and understanding how it impacts strategy and gameplay, is crucial to fully enjoy the game.
Table of Contents:
Understanding the Importance of Foul Counts in Basketball
In basketball, every move counts, and fouls are no exception. They play a significant role in shaping game strategies and influencing player actions on the court. It is essential to comprehend how many fouls can result in a player being ejected or disqualified.
The number of fouls allowed differs across leagues. In NBA games, players are allowed six personal fouls, while in college matches, only five fouls are permitted. This distinction has a direct impact on defensive aggression levels and the risk-taking decisions made by players.
NBA Players: Walking the Tightrope
An NBA match is an arena where every choice carries weight. A player's foul count not only affects their own performance but also influences team tactics. Avoiding fouls that are not needed can enable key players to stay on the court for longer, giving them an opportunity to display their abilities when it is most important. Athletes need to have a clear understanding of what constitutes a foul under NBA rules and be mindful of nearing their limit.
College Basketball: Different Rules at Play
At the collegiate level, a player is removed from play after incurring five personal fouls as stipulated by NCAA regulations. For rising stars transitioning from collegiate play to the professional ranks, knowing this distinction becomes crucial for their success. Therefore, it is essential to familiarize oneself with the unique regulations of any given league.
This highlights why coaches across all tiers, from youth teams to varsity squads, must have a clear understanding of these details. The foul count rules dictate tactics during matches and practice sessions. To learn more about NCAA-specific rules, you can explore the NCAA Men's Basketball Tournament Records And Statistics.
Fans Also Need to Be Informed
Knowing the foul-count rules can really boost your enjoyment of live or broadcast basketball games. It lets you dive deeper into commentator chats and stats, appreciating all those little complexities that make the sport so fascinating.
Key Takeaway:
In basketball, fouls are a strategic game-changer. NBA players get six personal fouls before being benched while college ballers only have five to spare. This influences defensive tactics and risk-taking decisions on the court. Whether you're an aspiring athlete or an avid fan, understanding your league's foul-count rules can amp up your performance or enjoyment of the game.
Understanding the Number of Fouls Required to Foul Out in Basketball
For basketball players to be successful, it is essential to comprehend the regulations surrounding fouls. Let's delve into the various aspects that can determine the outcome of a game.
Types of Fouls: Illegal Contact, Illegal Physical Contact, and Illegal Screen
One type of foul is Illegal Contact, which occurs when a player obstructs an opponent without making a play for the ball. Examples include holding or pushing another player.
Another type is Illegal Physical Contact, which involves actions such as excessive hitting or elbowing with force. This type of foul is typically penalized more severely due to its higher risk.
The last type we'll discuss is an Illegal Screen. A screen becomes illegal if it fails to adhere to specific rules set by organizations like the FIBA (International Basketball Federation). For instance, moving while setting a screen can lead to trouble.
Differentiating Unsportsmanlike Conduct: Common Fouls vs Technical Fouls
A common foul typically refers to physical misconduct during gameplay, such as improper blocking or personal fouls. These fouls may result in free throws for the opposing team, as outlined by organizations like the NBA (National Basketball Association).
In contrast, technical fouls cover unsportsmanlike conduct outside of direct gameplay. This includes disrespect towards officials, inappropriate language or gestures, and even violations of uniform attire. In the NBA, accumulating too many technical fouls can result in fines, suspension from future matches, or even ejection from the current game.
In professional games, six personal fouls per match are allowed, whereas college-level matches permit up to five. Additionally, two technical fouls result in automatic ejection. For example, college-level games permit up to five personals, while professional games allow six per match.
Key Takeaway:
Getting a grip on basketball's foul rules can really turn the tide. You've got three kinds: Illegal Contact, Illegal Physical Contact, and Illegal Screen – each carrying different penalties. Regular fouls are about physical missteps during the game, while technicals tackle poor sportsmanship outside of direct play. Hit five to six personal fouls or two technical ones
Understanding Foul Limits in Different Basketball Leagues
Mastering the intricacies of basketball rules, especially when it comes to fouls and their consequences, is crucial for players, coaches, and fans alike. The complexity deepens when we explore how foul limits vary across different leagues.
The NBA: Foul Limit in a 48-Minute Game
In the National Basketball Association (NBA), where games last for 48 minutes, each player can commit up to six personal fouls before being disqualified or "fouled out." For more detailed NBA foul regulations, click here.
This rule goes beyond disqualification; it also has significant strategic implications. Teams may have to substitute key players who have accumulated excessive fouls, greatly impacting the flow of the game.
College Ball: Fouling Out in a 40-Minute Game
When it comes to college basketball under NCAA guidelines, there is a slight change. Players are only allowed five fouls before they must leave the game. To learn more about NCAA rules, visit this link.
This lower limit demands that collegiate athletes exercise extra caution to avoid committing too many fouls during gameplay, adding another layer of strategic thinking at this level of competition.
FIBA: Different Definition of Maximum Fouls
The International Basketball Federation (FIBA) introduces another twist with its own maximum number of allowable personal fouls per player in each match, which also stands at five.
Middle School Games Across the USA
When it comes to middle school basketball games in most regions of the United States, they commonly adopt youth-oriented adaptations that align with high school regulations, allowing five individual fouls before ejection.
High School in the USA
Usually, American high schools stick to the rules laid out by the Federation which determines five fouls to foul out.
Understanding the Connection Between Fouls and Free Throws in Basketball
The game of basketball is more than just shooting hoops. It involves a complex web of strategies, where a deep understanding of fouls and free throws can be crucial for achieving victory.
Fouling Out: How Team Fouls Lead to Free Throw Attempts for the Opposing Team
Committing team fouls in basketball is like playing with fire – it can result in free throw attempts for your opponents. The rules governing fouls and free throws vary depending on whether you're playing under NBA regulations or in an NCAA arena.
Once a squad has accumulated four fouls in one quarter of an NBA match, each additional non-offensive infraction results in the opposing team being awarded "bonus" free throws. This rule not only impacts the score but also significantly affects gameplay tactics.
NCAA college basketball has its own twist. Teams enter "the bonus" after accumulating seven team fouls per half, which grants them one free throw unless they were already attempting a shot when they were fouled. However, if a team accumulates ten personal or technical fouls, they are awarded two free throws regardless of any shot attempts made before the foul.
Pivot Point: The Role of the Free Throw Line and Free Throw Lane in Foul Calls
The area around both ends of the court, inside the paint area known as the "free throw lane," holds immense significance when it comes to foul calls. Violations in this area can lead to uncontested free throw attempts, allowing players to score without the risk of having their possession stolen immediately after the foul.
To further illustrate, let's consider a common situation often seen during matches. Suppose a player with the ball decides to drive towards the net but gets unlawfully blocked midway through their motion. Upon the whistle blow, they would have the right to convert the successful penalty execution into additional points, favoring their team's scoreboard count. The severity and nature of the circumstances surrounding the event determine the outcome.
Not only can nailing those free throws boost your overall score, but they're also game-changers in crucial moments. They have a talent for dramatically transforming the course of the competition.
Key Takeaway:
Getting a handle on fouls and free throws in basketball can really turn the tide. It's similar to chess, where every move has big implications for the game's momentum. In NBA games, if your team gets four fouls per quarter, you're giving your rivals bonus free throws. But in NCAA matches, seven fouls will only give them one shot at a free throw.
Strategy and Management of Fouls
Fouls in basketball aren't just rule violations; they're strategic elements that coaches have to master. Comprehending how many fouls it necessitates for a participant to be disqualified is fundamental for both attacking and defensive tactics. For instance, the NBA allows up to six personal fouls before disqualification, while college-level games under the NCAA's jurisdiction only permit five.
Head Coaches' Strategy for Managing Key Players Close to the Foul Limit
The role of head coaches isn't limited to merely guiding players on the court; they must also vigilantly monitor their key players' foul counts. This dual strategy ensures that star athletes remain available when needed most and helps exploit situations where opposing team members are close to their own limit.
A clever play might be directing aggressive plays towards an opponent with four or five fouls in hopes of getting them off the field, giving your team an edge over competitors who fail to effectively manage this aspect during games.
How Foul Trouble Affects the Offensive and Defensive Teams
In contrast, excessive fouling can significantly hamper both the offense and defense teams. On one hand, losing its best scorer early due to reaching the foul limit could leave an offensive team crippled. On the other hand, drawing fouls may become part of the scoring strategy through free throws awarded after non-shooting defensive violations or shooting attempts interrupted illegally by defenders.
Likewise, if a defensive team loses key defenders because they've racked up too many personal fouls, then its ability to fend off attacks weakens substantially, and fewer opportunities for steals and blocks arise due to a cautious approach aimed at avoiding additional penalties. To further understand these dynamics, teams can visit our dedicated section here.
Key Takeaway:
Getting a grip on basketball fouls isn't just about the rules, it's a game-changing strategy. Coaches need to balance their star players' foul counts—six in NBA games and five in NCAA matches. Smart plays can take advantage of opponents close to their limit, gaining an upper hand over those who ignore this detail. But remember, too many fouls can backfire.
Understanding Foul Consequences and Penalties in Basketball
When playing b-ball, fouls aren't only about penalties – they can greatly affect the outcome of a match. So what happens when a player crosses that line too many times? The answer lies within understanding NBA and NCAA rules.
"A player who accumulates six personal fouls in an NBA match or five in college basketball under NCAA regulations has 'fouled out'."
The impact is immediate: once a player hits their foul limit, they're benched for the rest of that game. This sudden loss can throw off team strategies and shift momentum on the court.
The Domino Effect When Players Foul Out
Fouling out doesn't only affect one person – it sends ripples through both teams involved. Let's break down how this plays out:
Teammates have to adjust tactics without their disqualified comrade's skills (an even bigger issue if multiple players are close to fouling out).
Opponents may target vulnerable players with high foul counts, trying to draw more violations.
This strategy could backfire by increasing penalty counts dangerously close to critical thresholds themselves.
Navigating Through Games With High Penalty Counts
Apart from changing gameplay dynamics on the court, frequent disqualifications due to excessive personals might lead to suspensions or fines depending on league regulations – adding another layer to each coach's decision-making process during matches as well as across seasons. That makes managing individuals' and teams' overall foul count crucially important over an entire season.
Finesse Over Force: A Strategic Approach To Fouls In Basketball
It's not always about dodging penalties. Sometimes, it's smart to take them on purpose. But that needs a deep understanding of your rival's strengths and weaknesses.
Key Takeaway:
Think about basketball, and you realize how big a deal fouling out can be. It's not just benching a player – it could change the whole game plan and shift momentum. In NBA or NCAA games, keeping an eye on foul counts is key because penalties might result in suspensions or fines. And sometimes, intentionally fouling might actually be part of the strategy.
Mastering Overtime and Special Cases in Basketball
Navigating the intricacies of basketball, particularly fouls and their implications during special circumstances such as overtime periods, is essential for aspiring players. Let's look into the amount of fouls required to be disqualified in basketball, approaches for controlling fouls, and how penalties can affect the game.
Foul Limits: The Overtime Twist
Understanding personal fouls is crucial for staying on top of your game, especially during overtime. In most leagues, including the NBA (National Basketball Association), players are allowed up to six personal fouls before they are disqualified or "fouled out." However, the rules can get tricky during overtime.
The specific regulations vary depending on the league. For example, in the NBA, there are no extra allowances for personal fouls during an overtime session. If a player has already racked up five fouls by the conclusion of regulation, one more would lead to disqualification regardless of whether it's in regular or overtime play.
Diving Deep into Dead Ball Situations & Shot Clocks
In addition to understanding foul limits, mastering other aspects of the game such as dead ball situations and shot clock dynamics can significantly improve your gameplay. A "dead ball" scenario occurs when play halts due to reasons like scoring baskets or committing violations/fouls. On the other hand, the "shot clock" refers to the timer that dictates the possession duration before shooting attempts.
In the NCAA (National Collegiate Athletic Association), similar protocols exist where both the game clock and the 24-second shot clock pause whenever there's a whistle-blow, signaling violations, baskets, or timeouts. This ensures fair play and allows teams to strategize effectively throughout quarters and overtimes.
Gaining insights into these intricate details not only helps athletes refine their strategic approach but also aids them in avoiding unnecessary penalties, leading to improved court performance. Understanding the rules and regulations surrounding fouls and special cases in basketball is essential for individual and team success.
Key Takeaway:
Understanding basketball's intricate rules, such as foul limits and their effects in overtime or unique situations, can offer players a competitive advantage. It goes beyond simply knowing that six personal fouls usually mean you're 'fouled out' in most leagues. Grasping the subtleties of dead ball scenarios and shot clock strategies is key. Indeed, success often lies in mastering these finer details.
Team Fouls and The Bonus at Each Level
The basketball court is a battlefield, where fouls are inevitable. From high school games to the NBA, how these fouls are handled can vary significantly.
"Understanding team fouls and bonuses isn't just about knowing when a player might get benched. It's also about strategic game planning."
Middle and High School Games: Five Strikes You're Out.
In middle school and high school hoops under National Federation of State High School Associations (NFHS) rules, five personal fouls mean a player is disqualified. However, teams also need to keep track of their total foul count.
Once a team reaches seven fouls in one half, they enter the 'bonus' territory. This means that any defensive foul will result in the opposing team getting one-and-one free throws. If a team accumulates ten or more fouls in a half, it's double bonus time – two free throws for every subsequent defensive foul.
College Ball: Offensive Foul Doesn't Count?
In NCAA college basketball, the rule remains the same – five personal fouls per player per game. Though there is a distinction in terms of bonuses, it does not involve the number of personal fouls per player.
In NCAA play, only defensive infractions contribute to the team's foul count for reaching bonus scenarios. Contrary to popular belief, offensive penalties do not count towards the team's foul count. This information is outlined in the official NCAA Men's Basketball Rule Book. If a team commits ten or more defensive fouls within a period, they enter double-bonus territory.
NBA Playoffs: Six Ain't Just A Number Here.
When it comes to NBA playoffs, players get six personal fouls before they're out. But, after a team racks up four fouls in any quarter – doesn't matter if they're on offense or defense – that's when the penalty phase kicks in. From foul number five and beyond, well, let's just say the other team
Key Takeaway:
Getting the hang of fouls in basketball isn't just about avoiding penalties, it's a clever tactic. In high school matches, five personal fouls mean you're out while seven team fouls give opponents bonus free throws. College games follow similar rules but only count defensive slips for bonuses. The NBA raises the stakes with six personal fouls and extra consequences after.
FAQs in Relation to How Many Fouls to Foul Out in Basketball
How many fouls does it take to foul out in the NBA?
In the NBA, a player will foul out after committing six personal fouls.
What happens after four personal fouls in basketball?
After four personal fouls, no immediate disqualification occurs. However, each subsequent foul brings the player closer to being disqualified or "fouling out".
Do you foul out with five fouls?
In college and high school basketball games, a player is disqualified or 'fouled out' after committing five personal fouls.
What happens after 16 technical fouls?
In the NBA season, once a player accumulates 16 technical fouls, they are suspended for one game. For every two additional techs thereafter, they receive another suspension.
Conclusion
Understanding the number of fouls required to foul out in basketball can have a significant impact on your game. Different leagues, from the NBA to college and even middle school competitions, have varying rules in this regard. The accumulation of different types of fouls, such as illegal contact or unsportsmanlike conduct, can result in a key player being benched. Additionally, each foul brings the opposing team closer to attempting free throws. Managing fouls effectively is a crucial strategy for coaches and players who want their team to come out on top. It's also important to consider overtime periods and special cases, as they can affect the number of fouls required for ejection.
If you're looking for more insights like these, whether you're a player aspiring to make it to the big leagues or a fan seeking a deeper understanding of the sport you love, BasketballTrainer.com is here to help. Dive into our expert training guides, connect with seasoned trainers, and explore advanced strategies that will elevate your skills. Make every play count!