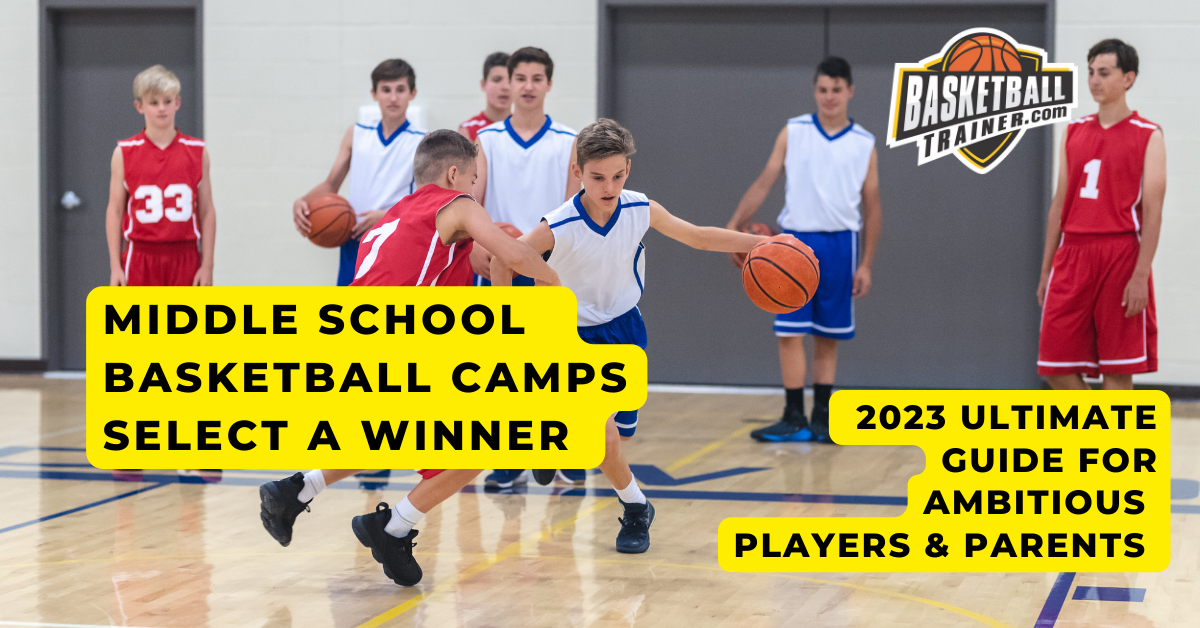 Aspiring to be a better basketball player, you envision the perfect way to hone your skills and make an impact on the court – attending a Middle School Basketball Camp.
A Middle School Basketball Camp seems like the perfect opportunity to do just that. But how do you choose the right camp for your needs?
By following this guide, you can find a Middle School Basketball Camp that will not only help boost your game but also provide valuable experiences away from the court to suit your individual needs.
We'll discuss understanding your goals, researching various camps, considering costs, evaluating coaches and facilities, analyzing training programs and philosophies, and ultimately making an informed decision.
By following these steps, you can ensure that you select a camp tailored to meet your specific needs as a young athlete looking to excel in basketball.
Table of Contents:
1. Understand Your Goals
Gaining clarity on your desired outcomes is essential for choosing the right camp.
Knowing what you want to achieve from attending a basketball camp for middle school students is crucial for selecting the right one.
Let's break it down:
Goal #1: Improve specific skills such as shooting, dribbling, or man-to-man defense.
Goal #2: Gain exposure to college scouts and coaches for future opportunities.
Goal #3: Experience high-level competition with other ambitious basketball players in full-court games.
Goal #4: Create lasting memories while having fun and learning valuable life lessons through sportsmanship and teamwork.
Evaluating basketball camps based on these goals will help you find the perfect fit.
Subheader 1: Set Realistic Expectations
To avoid disappointment, ensure that your expectations align with the camp's offerings and level of competition present at the camp dates selected.
Subheader 2: Prioritize Your Goals
Determine which goals are most important to you – skill development? Exposure? Competition?
Subheader 3: Align Camp Selection With Goals
Select a basketball camp for middle school students that best matches your prioritized goals by researching their programs thoroughly before committing time and money into them.
2. Research Camps
Alright, let's dive in.
If you're an ambitious basketball player looking for the perfect basketball camp, it's essential to do your homework. Start by browsing through BasketballTrainer.com to discover a wide variety of basketball camps and compare their offerings.
Don't forget to check out online reviews from fellow basketball players and their families who have attended these sports camps before. You may also want to consult with your current coaches or trainers for recommendations on reputable basketball camps that align with your goals.
Pro tip: Keep an eye out for camp dates that fit into your schedule without conflicting with other important commitments like family vacations or academic events.
In addition, consider reaching out directly to the organizers of each camp on social media platforms such as Facebook or Instagram. They often share valuable insights about what sets their basketball camps apart from others.
Don't hesitate to inquire. Find out if there will be full-court games at the basketball camp and whether they focus on man-to-man defense strategies during training sessions. The more information you gather, the better equipped you'll be when making a decision about which basketball camp is right for you.
3. Consider Cost
Let's talk money, honey.
Middle school basketball camps can range from affordable to expensive, so it's crucial to understand the costs involved.
Research various camp options and compare their prices before making a decision.
Keep in mind that cheaper doesn't always mean better – you get what you pay for.
Affordable Camps: These may offer basic amenities and coaching but could still provide valuable experience for young players.
Premium Camps: Higher-priced camps typically include top-notch coaches, state-of-the-art facilities, and more personalized training programs.
Budgeting is essential when selecting a middle school basketball camp; consider factors such as travel expenses, lodging (if applicable), meals, and any additional fees like equipment or uniforms.
If cost is an issue, look into scholarships or financial aid opportunities offered by some camps – every aspiring athlete deserves a shot at greatness.
In summary: weigh your options carefully while keeping your budget in mind. Remember that investing in the right camp can be invaluable for player development and future success on the court.
4. Evaluate Coaches: Finding the Right Mentor for Your Basketball Journey
Alright, let's talk coaches.
A great basketball camp for middle schoolers is only as good as its coaching staff, so it's crucial to evaluate their qualifications and experience.
Here are some key factors to consider when assessing coaches:
Past Experience: Look for coaches with a proven track record in developing young basketball players or those who have played at a high level themselves.
Credentials: Check if they hold any coaching certifications, such as from USA Basketball or other reputable organizations.
Communication Skills: A good coach should be able to effectively communicate complex concepts and provide constructive feedback to help players improve their game.
Dedication & Passion: Seek out coaches who genuinely care about player development and demonstrate enthusiasm for teaching the game of basketball.
To gather this information, you can visit the basketball camp's website, read online reviews from past attendees, or even reach out directly to ask questions about the coaching staff.
Finding an experienced coach who aligns with your goals will make all the difference in your basketball camp experience for middle schoolers – so don't skip this step.
5. Assess Facilities
Alright, let's talk facilities.
The quality of a basketball camp's facilities can make or break your experience, especially if you're a middle school basketball player.
So, how do you determine which basketball camps have the best facilities suited for your needs?
Let me guide you through the process:
Step #1: Check out the camp's website and look for photos or descriptions of their courts, locker rooms, and other amenities.
Step #2: Read reviews from previous attendees to get an idea of what they thought about the facilities.
Step #3: Consider factors like court surface (indoor vs. outdoor), number of courts available, and seating capacity for spectators.
Step #4: Determine if there are any additional features that matter to you – such as access to a weight room or swimming pool.
If possible, visit the facility in person before committing to a basketball camp so you can see everything firsthand.
A quality basketball facility has the potential to not only boost your overall experience, but also sharpen your abilities by giving you a pleasant atmosphere in which to hone and progress as an athlete.
In summary: don't underestimate the importance of assessing each basketball camp's facilities when making your decision. This is especially important for ambitious basketball players, their families, basketball training business owners, and basketball coaches looking for sports camps that offer full-court games and man-to-man defense. So, make sure to check the camp dates and facilities before signing up.
6. Analyze Training Programs
So, you've found a few middle school basketball camps that piqued your interest. But how do you know which one offers the best training program for your ambitious basketball player? Fear not. We're here to help you evaluate and compare these programs like a pro.
A. Skill Development Focus
Verify if the camp has a concentration on honing fundamental capabilities, for instance shooting, passing, dribbling, getting back and man-to-man defense.
B. Camp Structure & Activities
Next up: analyze their daily agenda. Determine what percentage of time is spent on skill development drills versus full-court games or scrimmages.
C. Customization & Personal Attention
A great basketball camp should offer personalized attention and adapt its program to each player's needs and abilities.
D. Player Evaluations & Feedback
Last but not least: find out if they provide regular evaluations and constructive feedback throughout the camp duration.
Now that we've covered analyzing training programs, let's move onto understanding the philosophy behind each basketball camp.
Make an Informed Decision: Choosing the Perfect Middle School Basketball Camp
Having diligently researched camps, evaluated coaches, assessed facilities and analyzed training programs – it's time to make a well-informed decision. You've researched basketball camps, evaluated coaches, assessed facilities, and analyzed training programs. Now it's time to make that all-important decision on which middle school basketball camp is right for you or your ambitious player. Let's break down the process:
Step #1: Revisit Your Goals. Ensure the basketball camp aligns with what you want to achieve – skill development, exposure, competition?
Step #2: Compare basketball camp options, considering factors like cost and location. Is it worth traveling farther for a better experience?
Step #3:: Evaluate the Camp Philosophy. Does their approach match your priorities? Are they focused on fun and inspiration or intense skill-building?
Step #4:: Examine the Camp Agenda. What percentage of time is spent on the court? Will there be enough focus on drills, competition, and scrimmages?
Step #5:: Assess potential Skill Development. Can this basketball camp help improve specific skills needed for middle school success and beyond?
Taking these steps will ensure that when selecting a basketball camp for middle school, both players' needs are met while also addressing family goals.
6. Camp Philosophy: Exposure, Competition, Skill Development, Fun, and Inspiration
Let's talk about camp philosophy.
Understanding the core values of a middle school basketball camp is crucial for selecting the right one that aligns with your goals.
So, what are some common philosophies?
Exposure: Showcase your skills to coaches and scouts while gaining valuable experience against top competition.
Competition: Improve by playing against talented players in intense full-court games and man-to-man defense situations.
Skill Development: Focus on refining fundamental skills through drills and expert coaching from experienced trainers.
Fun & Inspiration: Create lasting memories while being inspired by guest speakers or professional athletes sharing their journey to success.
To find out more about a specific camp's philosophy, check their website or reach out directly to ask questions.
Key Questions To Ask About Camp Philosophy
"What is the primary focus of this camp? Is it exposure, competition, skill development, or fun?"
"How does this camp balance between teaching new skills vs. applying them in game situations?"
"Are there any unique aspects of this particular middle school basketball camp that set it apart from others?"
In conclusion, selecting a basketball camp with a clear philosophy aligned with your ambitions will help you make significant strides towards becoming an exceptional player.
Decoding the Middle School Basketball Camp Agenda
Let's get to the heart of the matter.
If you're considering a basketball camp for your middle schooler, it's important to understand the camp's agenda and priorities. Ask for a basketball camp agenda.  Here are some things to look for:
Court time: Make sure the camp dedicates the majority of its schedule to on-court activities like skill development, drills, competition, and scrimmages. After all, that's what your child is there for.
Skill development: Look for camps that focus on improving specific skills, such as shooting technique or man-to-man defense. These skills are essential for middle school players looking to advance their game.
A balanced approach: A good camp will strike a balance between instruction and full-court games so players can apply what they've learned in real-game situations while having fun.
Take the time to analyze each camp's agenda carefully before making your choice. It'll pay off when your ambitious basketball player comes out with newfound skills and confidence.
Want to learn more? Check out our comprehensive guide on choosing the best middle school basketball camps here.
10. Skill Development: What to Expect at Middle School Basketball Camp
So, you're eager to level up your basketball skills. But what can you expect from a middle school basketball camp? Let's break it down for you:
Dribbling: Master the art of dribbling techniques, essential for navigating the court with confidence.
Shooting: Refine your shooting form and accuracy through targeted drills and practice sessions.
Passing: Learn how to make crisp, accurate passes that set up teammates for success on offense.
Defense: Develop solid man-to-man defense skills, including footwork, positioning, and anticipation strategies.
Basketball IQ: Understand game strategy by analyzing plays and learning decision-making processes on both ends of the court.
In addition to these core skills, basketball camps also focus on teamwork dynamics – because after all, basketball is a team sport.
Above all else, basketball camps prioritize full-court games to help players apply their newly acquired skills in a game setting. So, if you're ready to take your game to the next level, check out the camp dates and sign up for a basketball camp today.
FAQs in Relation to Middle School Basketball Camp
How Do I Advertise My Basketball Camp?
To effectively advertise your basketball camp, use a combination of online and offline marketing strategies. Create a website with detailed information about the camp, utilize social media platforms to engage potential attendees, distribute flyers at local schools and community centers, collaborate with local sports organizations or teams for promotion, and consider running targeted ads on search engines like Google.
What Does Middle School Basketball Camp Mean?
A basketball camp is an organized program designed to teach participants various skills related to playing the sport. These camps often focus on improving individual abilities such as shooting technique, dribbling skills, defensive tactics, teamwork principles, and overall fitness levels. Camps can cater to different age groups and skill levels from beginners to advanced players. In this case, it usually caters to ages 11,12,13,14.  Or grades 6,7,8.
What Is the Best Offense for Middle School Girls' Basketball?
The best offense for middle school girls' basketball depends on the team's strengths and capabilities. A popular choice is motion offense which emphasizes player movement without relying heavily on set plays. This approach allows young athletes to develop their decision-making skills while learning fundamental offensive concepts such as spacing, ball movement, and screening actions.
How to Coach Basketball to Middle School Girls Basketball Camps?
I get this question a lot.  We coach girls the same as boys.  Our camps offer player centered coaching and training so we learn about the individual .  To coach middle school girls in basketball effectively:
Foster a positive environment that encourages growth
Focus on teaching fundamentals before implementing complex strategies
Prioritize skill development through drills that emphasize proper techniques
Incorporate game-like situations during practice sessions
Maintain open communication lines between coaches, players, and parents
Austinyouthbasketball.com offers middle school basketball camps for ambitious basketball players. Our camps cater to middle school basketball players and provide full-court games and man-to-man defense training. Check out our website for camp dates and more information on our sports camps.
Conclusion
Choosing the right middle school basketball camp can be a daunting task, but by following these seven steps, you can make an informed decision that will benefit your aspiring athlete. Remember to consider your goals and research camps thoroughly before evaluating coaches, facilities, and training programs.
Once you have analyzed all of these factors, you can make an informed decision about which camp aligns with your goals and offers the best value for your money. Once you have identified your goals, research various camps to find one that offers the best value for money and provides the specific skills or strategies you are seeking.
If you're ready to take the next step in improving your basketball skills at a basketball camp this summer, then visit BasketballTrainer.com. Our experienced trainers are dedicated to helping basketball players reach their full potential on and off the court. We offer a variety of sports camps, including middle school basketball camps, for ambitious basketball players and their families. Check our website for camp dates and more information.