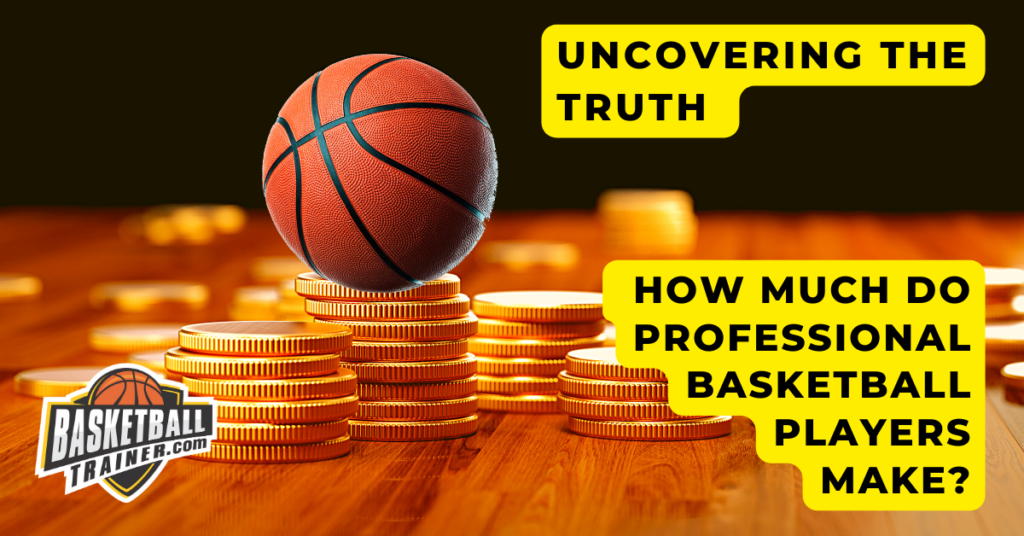 Professional basketball players are some of the highest-paid athletes in the world, but how much do they actually make? Answering the question of how much professional basketball players make is complex due to various factors, such as salary caps and other sources of income. From salary caps, to other sources of income such as endorsements and investments, there is no simple answer when it comes to understanding professional basketball player salaries. In this blog post we'll dive deep into the rules surrounding NBA salaries and provide an overview on average wages for these elite athletes. We'll also look at which players earn top dollar both inside and outside of their sport – all while attempting to uncover just how much do professional basketball players make?
Table of Contents:
Understanding Professional Basketball Player Salaries
Professional basketball players make some of the highest salaries in all of sports. The NBA is renowned for its star athletes, who are handsomely rewarded due to the league's high salary cap and lucrative contracts. Pay for NBA players can be drastically different, contingent on multiple aspects such as the team's salary limit, individual productivity and contract duration.
The average salary for an NBA player is around $7 million per year. However, certain players who have extraordinary talent and are valuable to their teams receive much more than the average salary of $7 million. LeBron James from the Los Angeles Lakers currently holds the title as highest-paid player with an annual salary just over $35 million per season. Other top earners in the NBA include James Harden of the Houston Rockets at $30 million, Russell Westbrook from Washington Wizards with a salary of $29 million, Kevin Durant from Brooklyn Nets earning an annual wage of $31 million and Stephen Curry from Golden State Warriors receiving approximately $34 million.
In addition to these enormous salaries paid by NBA teams, many professional basketball players also have other sources of income such as endorsements or investments outside of basketball which can help them reach even higher earnings levels than what they receive through their contracts alone. Larry Bird, formerly of the Boston Celtics, was renowned for his basketball skills and post-retirement business accomplishments.
Motivated professionals with overseas experience can capitalize on their popularity to access lucrative markets like China, allowing them to earn millions in the Chinese Basketball Association without ever having been an All-NBA Team member or playing in a college program.
With fewer restrictions on team payrolls compared to those found in North America's professional leagues such as the NBA and EuroLeague Basketball circuit, these international stars have potential to rake in higher salaries than any active NBA player – Milos Teodosic (CSKA Moscow) at $13M , Nando De Colo (Fenerbahce Istanbul) at $11M , Sergio Llull (Real Madrid )at $10M , Kyle Hines (Crvena Zvezda Belgrade )at $9M, and Nick Calathes (Panathinaikos Athens) at$8M are prime examples.
Moreover, it is noteworthy that many former professional basketball players have gone on to become successful entrepreneurs after leaving the game, spanning across multiple industries such as media and entertainment, technology start-ups, apparel companies and real estate investing. Examples span multiple industries such as media, tech ventures, clothing firms and real estate investment. This demonstrates how important financial literacy is when making decisions about career paths within any profession, including professional athletics.
Grasping the intricacies of a pro baller's wages may be daunting, yet with suitable data it is attainable. Shifting our focus from salary structures, let us now delve into the nuances of NBA Salary Cap regulations and their consequences for teams and players.
Key Takeaway: High-earning professional basketball players can take home hefty paychecks, from seven million to over thirty-five million a year for the most popular stars like LeBron James. Some savvy international stars have also found success by taking advantage of overseas markets, and many former professional athletes have gone on to become successful entrepreneurs.
NBA Salary Cap Rules
The NBA has implemented a salary cap system to ensure parity among its teams by limiting their spending on player salaries each season, based on the total income of all 30 franchises. The NBA salary cap is the maximum amount of money each team can spend on players' salaries during a season. It is calculated based on the total income of all 30 teams combined and is adjusted annually.
In order for teams to stay within their allotted salary cap, they must be mindful of how much they pay their players and make sure it doesn't exceed the limit set by the league. Players whose agreements go over the cap may have their salaries trimmed, or even be released from the deal. This ensures that no one team can sign an entire roster full of superstars and dominate other teams with superior talent alone.
LeBron James is the NBA's highest-paid player, commanding an annual salary of around $40 million from his contract with the Los Angeles Lakers. However, he isn't necessarily making more than any other top-tier player; rather, his enormous salary comes as part of a larger package deal which includes endorsements and investments outside of basketball itself. Notable players such as Stephen Curry, Kevin Durant, James Harden, Russell Westbrook and Larry Bird all receive hefty salaries in the NBA due to their immense value as skilled athletes.
Despite these large figures being paid out by some clubs, there are still many lower-paid players earning significantly less than those at the top end – even if they're just as talented or important for their respective team's success. The lowest paid player in 2023 was Gilbert Arenas who earned just $150K over two 10 day contracts with Memphis Grizzlies – far less than most people would expect given his pedigree within popular sports leagues like the NBA.
The NBA salary cap rules are complex and ever-changing, but they provide a framework for teams to stay competitive. Examining the typical earnings of pro basketball players, let's explore what their average salaries are.
Average NBA Player Salaries
NBA players often receive some of the most lucrative salaries in sports, with an average salary estimated to be around $7 million per year and top earners making over $30 million annually. The average salary for an NBA player is estimated to be around $7 million per year, with the top earners making over $30 million annually.
NBA players' wages are determined by various elements, from their on-court feats to separate agreements and team salary caps. Bonuses based on a player's on-court performance can have an impact on their salary. For instance, exceptional performances such as MVP or Defensive Player of the Year awards can increase a player's salary by up to 20%.
Salaries vary greatly depending on position and experience level as well. Point guards tend to make less than centers due to their smaller size and lower physical demands; however experienced veterans often make more money than younger rookies regardless of position due to their greater value and skill set.
It's not uncommon for certain star players to make significantly higher salaries than other players at similar positions or experience levels as well; this is because teams are willing to pay premium prices for proven talent that will help them win games or championships. Superstars like LeBron James, Stephen Curry, Kevin Durant and Russell Westbrook all currently earn upwards of $30 million per season despite playing similar positions as other lesser-known stars who may only make half that amount annually based on market forces alone.
The average wage of NBA players is a testament to the commitment and effort they expend on a daily basis in pursuit of their ambitions. Next, let's examine the superstars of the NBA who are collecting all that compensation as the highest-paid players.
| Year | Average NBA Salary | Television Revenues | Other Revenues |
| --- | --- | --- | --- |
| 2002 | $4.37 million | $767 million | $1.4 billion |
| 2003 | $4.59 million | $768 million | $1.4 billion |
| 2004 | $4.92 million | $768 million | $1.4 billion |
| 2005 | $5.18 million | $768 million | $1.4 billion |
| 2006 | $5.36 million | $768 million | $1.4 billion |
| 2007 | $5.36 million | $768 million | $1.4 billion |
| 2008 | $5.36 million | $930 million | $3.8 billion |
| 2009 | $5.85 million | $930 million | $3.8 billion |
| 2010 | $5.85 million | $930 million | $3.8 billion |
| 2011 | $5.79 million | $930 million | $4.0 billion |
| 2012 | $5.15 million | $930 million | $4.0 billion |
| 2013 | $5.55 million | $930 million | $4.6 billion |
| 2014 | $5.53 million | $1.03 billion | $4.9 billion |
| 2015 | $5.54 million | $1.03 billion | $5.2 billion |
| 2016 | $6.44 million | $1.03 billion | $5.9 billion |
| 2017 | $7.15 million | $1.31 billion | $7.3 billion |
| 2018 | $7.87 million | $1.47 billion | $7.8 billion |
| 2019 | $7.72 million | $1.49 billion | $8.3 billion |
| 2020 | $7.97 million | $1.52 billion | $8.3 billion |
| 2021 | $9.32 million | $2.66 billion | $9.5 billion |
The 2016 NBA television contracts reached cause a steady rise in player salaries due to the collective bargaining agreement and revenue sharing programs in place.
"The NBA and NBPA have mutually agreed to extend the deadline to opt out of the current collective bargaining agreement from Feb. 8, 2023, to March 31, 2023, as the two sides continue negotiations to reach a new agreement," they said in a joint statement.
Highest-Paid NBA Players
The NBA boasts some of the most lucrative sports figures on Earth. Professional basketball players' wages can range drastically, with major stars such as LeBron James and Stephen Curry bagging huge paychecks while others receive much less. However, all NBA teams must adhere to a salary cap set by the league that limits how much they can spend on their rosters each year.
At the peak of the hierarchy lie superstars like James and Steph Curry, who have been selected for multiple All-NBA Teams throughout their careers. These two players, James and Curry, have been highly regarded in recent years and make huge salaries -over $40 million- from the Lakers and Warriors. Other highly-compensated players, such as Kevin Durant, Russell Westbrook, James Harden and Damian Lillard, have also established themselves among the NBA's elite.
The average NBA salary of $7 million annually is heavily influenced by the outliers at both ends, with a median income closer to $2 million. The median salary for an NBA player is approximately $2 million per year which still places them above most professions in terms of earnings potentials but far below what superstar athletes take home every season.
It's not just domestic leagues that pay well either; talented overseas basketball players make significantly higher wages compared to those playing domestically in Europe or Asia. Gilbert Arenas was one example when he signed a deal with Chinese team Shanghai Sharks worth nearly $8 million dollars after his career ended prematurely due to injury issues here in America
High-paid NBA players make millions each year, but there are additional methods of revenue that they can access to bolster their salaries. Let's explore the various methods by which these players can generate revenue beyond their NBA salaries.
Key Takeaway: LeBron James and Stephen Curry may make millions each season, but the average NBA player earns a median salary of $2 million annually. However, the average NBA player makes around $7 million annually, with a median salary of approximately $2 million; talented overseas basketball players can even rake in higher wages compared to those playing domestically.
Other Sources of Income for Professional Basketball Players
Professional basketballers can potentially accrue sizeable profits from their sport. In addition to their salaries, there are several other sources of income available for NBA and overseas players alike. Endorsements and sponsorships are one way that many professional basketball players make extra money. These deals can be lucrative for talented players who become popular in the league or even outside of it. For instance, LeBron James has reaped substantial financial rewards through his partnerships with Nike and Beats by Dre, as well as other corporations such as Coca-Cola and Samsung. Luka Doncic has deals with companies like BioSteel sports drink.
Players can gain financial benefits beyond their salary by appearing on TV, giving talks, authoring books, signing autographs and selling memorabilia. This can massively increase their base salary and keep their income rising until their next contract extension.
Kevin Durant recently signed a deal with Apple Music which included both an endorsement fee as well as royalties for any music he produces under the label's name. Stephen Curry has also capitalized on his popularity by signing numerous endorsement deals over the years including ones with Under Armour shoes and Chase Bank credit cards among others.
Due to salary cap regulations imposed by governing entities like FIBA Europe and USA Basketball, NBA teams may not always be able to give in to the demands of star players wanting to pursue overseas ventures during the off-season. EuroLeague Basketball and FIBA Asia League, with their higher salaries than those found in the NBA, provide an attractive option for professional basketball players seeking to increase their income.
Professional basketball players have many sources of income beyond their salaries, including endorsements and investments. A variety of elements, including market size, team success, experience and performance all contribute to the amount of money these athletes can receive.
| Player Name | Sneaker Company | Contract Value (in millions of dollars) |
| --- | --- | --- |
| LeBron James | Nike | 32 |
| Kevin Durant | Nike | 26 |
| Stephen Curry | Under Armour | 20 |
| James Harden | Adidas | 15.4 |
| Damian Lillard | Adidas | 10 |
| Kyrie Irving | Nike | 11 |
| Zion Williamson | Jordan Brand | 13 |
| Giannis Antetokounmpo | Nike | 10 |
| Paul George | Nike | 5.5 |
| Klay Thompson | Anta | 9 |
| Russell Westbrook | Jordan Brand | 5 |
| Joel Embiid | Under Armour | 5 |
| Luka Doncic | Jordan Brand | 5 |
| Kawhi Leonard | New Balance | 5 |
| Donovan Mitchell | Adidas | 4.8 |
| P.J. Tucker | Nike | 4 |
| Jayson Tatum | Jordan Brand | 4 |
| Bradley Beal | Jordan Brand | 4 |
| Deandre Ayton | Puma | 4 |
| Trae Young | Adidas | 3 |
Key Takeaway: Professional basketballers can make a considerable amount of money through their wages, endorsements and sponsorships, TV spots and book deals. Overseas leagues like EuroLeague Basketball offer even higher paychecks than the NBA which makes it an attractive opportunity for those looking to make some extra cash.
Factors Affecting Basketball Salaries
Salaries for professional basketball players are affected by a variety of factors, including performance and statistics, market size and team revenue, and collective bargaining agreements. Performance is a major element in setting pay for professional basketball players. Talented players who consistently perform well on the court can expect to earn significant salaries compared to those who do not have as much success or notoriety. Salaries in the NBA are heavily influenced by a player's performance, as well as statistical measures such as points per game, rebounds per game, assists per game, steals per game and blocks per game.
Market size is another major factor that affects player salaries in the NBA. Teams situated in larger markets typically have higher incomes than teams located in smaller areas, which permits them to pay their players more money compared to those with lower revenues. For example, superstars like LeBron James and Stephen Curry make enormous salaries playing for large-market teams like the Los Angeles Lakers and Golden State Warriors respectively due to their high revenue streams from ticket sales and television deals among other sources of income.
Salaries of pro b-ballers are impacted by various elements, including their play, squad triumph and commercial viability. Moving on to the next heading, we will explore how salaries vary based on position in the NBA.
Key Takeaway: Professional basketball players' salaries are largely based on performance and statistics, market size and team revenue, as well as collective bargaining agreements. In large markets such as Los Angeles or Golden State Warriors where the income streams from ticket sales and television deals are greater than smaller markets, superstars like LeBron James can make bank due to their success on the court.
Salaries by Basketball Position
The salaries of professional basketball players vary greatly by position. Compensation for pro ballers can differ drastically depending on what spot they play from the point guard to the center, with variations based on ability and tenure.
Point Guards are typically the smallest players on the court but they often handle the ball more than any other player. They usually have excellent dribbling skills and passing abilities which makes them invaluable to a team's offense. The average point guard salary in the NBA is around $7 million per year with some of the top earners making upwards of $30 million annually.
Shooting Guards are expected to be able to score from anywhere on the court as well as play good defense against opposing shooters. Shooting guards tend to make slightly less money than point guards due to their lack of ball handling duties but can still command salaries in excess of $20 million per season for elite talent.
Small Forwards are versatile players who must be able to shoot from outside while also being able to mix it up inside with bigger opponents under the basket. Average salaries for small forwards hover around $8-10 million depending on how much value they bring off-the-court such as endorsements or media appearances etc., although some stars like LeBron James make over $40 million a year in total earnings including endorsements and bonuses etc
Power Forwards typically have to do the dirty work down low near the rim, where size is king. If you measure up tall enough then you can expect a hefty paycheck; however, not all power forward positions require height so even shorter players may rake in good money if they possess certain skills that teams need such as rebounding or shot blocking prowess. The salary range for Power Forwards usually hovers around 6-15 million dollars depending on their skill set and production levels throughout each season/career span respectively.
Pay for professional b-ballers differs significantly depending on their position, with point and shooting guards typically earning more than centers or forwards. Moving on to top earners in international leagues, there are some major differences in salaries across countries.
Key Takeaway: Professional ballers can see paychecks ranging from near $7 mil for point guards to as high as $40 mil for the game's elite, such as LeBron James. Power forwards can expect to rake in anywhere between six and fifteen million dollars depending on their skill set and performance levels.
WNBA Player Salaries
WNBA players like Breanna Stewart, Diana Taurasi reached a new collective bargaining agreement after the 2019 WNBA season. Those two players made $228,094 in 2022.
The lowest-paid player was the Mercury's Kaela Davis. The 27-year-old has the 151st-ranked salary in the league at $1,607.
Top Earning Players Basketball Players Overseas
With many talented players competing in international leagues and tournaments, overseas basketball can be an even more profitable venture for those willing to take the risk. While it's no secret that some of the biggest names in the NBA are among its highest earners, there are plenty of lesser-known stars who have made significant salaries playing abroad.
Following in the footsteps of Gilbert Arenas, who secured a $20 million contract with Turkish club Besiktas in 2010, other prominent NBA players have pursued similar lucrative opportunities abroad.
Gazing ahead to 2023 and beyond, we can anticipate that these numbers will keep on rising as more elite-level athletes look outside of the typical US sports franchises like MLB, NFL and NHL hockey for chances. These athletes may not receive competitive offers due to team salary caps or lack thereof on lower budget teams that cannot afford them financially within those respective organizations' structures. As long as this trend persists, so too will these large paydays for some of today's most talented athletes who choose pursue professional success abroad over domestic stardom here at home in The United States Of America.
Professional basketball players can make a great deal of money overseas, with some top earners making millions per year. Off-court earnings such as endorsements and sponsorships are also becoming increasingly lucrative for many NBA stars.
Professional Basketball Overseas Salaries Table:
Professional Basketball Leagues
Average Salaries
Highest Paid Player and Salary
National Basketball Association (NBA)
$7.7 million per year
Stephen Curry, $43.8 million per year
China Basketball League (CBA)
$1 million – $3 million per year
Yi Jianlian, $3.2 million per year
Europe (EuroLeague)
$500,000 – $800,000 per year
Shane Larkin, $3 million per year
Spain (ACB)
$250,000 – $500,000 per year
Nikola Mirotic, $5 million per year
Turkey (BSL)
$250,000 – $475,000 per year
Shane Larkin, $1.9 million per year
Russia (VTB United)
$200,000 – $450,000 per year, but up to $4 million per year
Alexey Shved, $4.2 million per year
Italy (Serie A)
$150,000 – $350,000 per year, up to $2 million per year
Mike James, $1.7 million per year
Israel (Premier League)
$140,000 – $350,000 per year
Amare Stoudemire, $110,000 per month
Germany (BBL)
$100,000 – $300,000 per year, and can reach as high as $1 million per season
Maodo Lo, $1 million per year
France LNB Pro A
$80,000 – $200,000 per year
Nando De Colo, $2.5 million per year
Taiwan (T1 Basketball League)
$30,000 – $50,000 per year
None available
Australia (NBL)
$100,000 – $150,000 per year
Bryce Cotton, $1.4 million per year
Denmark (Basketligaen)
$35,000 – $50,000 per year
None available
Ireland (Basketball Ireland Super League)
$15,000 – $25,000 per year
None available
ABA (American Basketball Association)
No available information
No available information
G-League
$35,000 – $125,000 per year
No available information
Mexico (Liga Nacional de Baloncesto Profesional)
$15,000 – $30,000 per year
Paul Stoll, $27,000 per month
Uruguay (LUB)
$1,000 – $2,000 per month
None available
Argentina (LNB)
$15,000 – $50,000 per year
Facundo Campazzo, $1.5 million per year
Poland (PLK)
$10,000 – $50,000 per year
None available
Big 3 League
$100,000 – $200,000 per year
Joe Johnson, $1 million per season
Thailand (TBL)
$1,000 – $5,000 per month
None available
Philippines (PBA)
$20,000 – $30,000 per year
June Mar Fajardo, $237,000 per year
Canada (Canadian Elite Basketball League)
$10,000 – $20,000 per season
None available
Iran (Iran Super League)
$2,000 – $5,000 per month
Hamed Haddadi, $600,000 per season
Saudi Arabia (Saudi Premier League)
$1,500
| Women's Professional Basketball Leagues | Average Salaries | Highest Paid Player and Salary |
| --- | --- | --- |
| Women's National Basketball Association (WNBA) | $75,000 per year | Breanna Stewart, $215,000 per year |
| Women's Chinese Basketball Association (WCBA) | $75,000 – $100,000 per year | Maya Moore, $1.5 million per year |
| Women's EuroLeague | $50,000 – $100,000 per year | None available |
| Women's Korean Basketball League (WKBL) | $50,000 – $80,000 per year | Jisu Park, $200,000 per year |
| Women's Turkish Basketball Super League (TKBL) | $30,000 – $70,000 per year | Courtney Vandersloot, $330,000 per year |
| Women's Basketball League Australia (WNBL) | $10,000 – $15,000 per year | Liz Cambage, $100,000 per season |
| Women's French Basketball League (LFB) | $10,000 – $25,000 per year | None available |
| Women's Liga Femenina de Baloncesto (Spain) | $5,000 – $10,000 per year | Laia Palau, $45,000 per season |
| Women's Italian Basketball League (LBF) | $5,000 – $10,000 per year | None available |
| Women's Japanese Basketball League (WJBL) | $3,000 – $6,000 per year | None available |
Key Takeaway: Professional basketball players are cashing in on lucrative contracts abroad, with Stephen Curry currently holding the record for highest salary at $2 million per month. NBA stars such as James and Durant have capitalized on the trend of lucrative overseas contracts, allowing them to maintain their high performance while earning additional income. These figures look set to increase as more elite athletes opt out of traditional American sports leagues in pursuit of professional success overseas.
Off-Court Earnings
Beyond their on-court salaries, pro basketball players often make considerable sums from off-court earnings, which can be a major source of income. Endorsement deals are one of the most popular sources of off-court income for NBA players. Many of the highest-paid sportspeople globally possess sponsorship deals and endorsements with major firms such as Nike and Adidas, which can generate them additional revenue far beyond their regular salaries. Investment opportunities are also available to many NBA players, such as real estate investments or stock portfolios that can help build wealth over time and increase annual earnings.
Retirement planning is also key for any athlete looking to ensure financial security after leaving the game; this could include opening up retirement accounts or investing in insurance policies that will protect them if they suffer injuries on or off court. For some of the most talented and valuable players in the league, these off-court earnings can be enormous – LeBron James recently signed a lifetime deal with Nike worth $1 billion dollars. While not all NBA stars have access to such lucrative deals, it's clear that understanding how to maximize your earning potential beyond just playing basketball is essential for anyone hoping to make it big in professional sports leagues like the National Basketball Association (NBA).
Off-Court earnings can be a great source of income for professional basketball players, however the real money comes from business success after their playing career is over. Business savvy and smart investments are key to achieving financial freedom post retirement, so it's important to understand how successful athletes have achieved this.
Professional basketball players can make millions off-court through endorsement deals, investments & retirement planning. Maximize your earning potential to become an NBA star. #NBA #Basketball
Business Success After Basketball
Basketball players can bring in hefty paychecks, both from the NBA and other international leagues. But what happens when their playing days are over? Many talented players transition into successful business owners after they hang up their sneakers. Entrepreneurship is one of the most popular paths for former basketball stars, with franchises ranging from restaurants to car dealerships.
Players can also make money through speaking engagements and personal brand building activities like endorsements or appearances on television shows. Basketball legend Larry Bird has done just that since retiring in 1992, becoming a part owner of the Indiana Pacers and an analyst for ESPN's Sunday Night Basketball broadcasts. Other former players such as Gilbert Arenas have found success by investing in technology startups or launching their own clothing lines.
LeBron James, the highest-paid NBA player ever with earnings of $154 million from his time with the Lakers, has leveraged his wealth to become a savvy investor. He has used his wealth to become a savvy investor, buying stakes in companies like Beats Electronics and Blaze Pizza as well as founding Uninterrupted Media Group which produces content across various platforms including film and digital media outlets.
Kevin Durant has followed suit by investing heavily into tech startups such as Acorns Grow Inc., a micro-investing app designed to help users save small amounts of money at regular intervals throughout each month while earning returns on those investments overtime Stephen Curry recently became an investor himself when he purchased shares of Golden State Warriors stock following his retirement from professional basketball last year – making him one of only three current NBA players with ownership stakes within teams they once played for.
Venture Capital Funds and Professional Basketball Players
| Player | Fund Name | Estimated Worth |
| --- | --- | --- |
| Kevin Durant | Thirty Five Ventures | $500 million |
| Steph Curry | SC30, LLC | $130 million |
| Andre Iguodala | F9 Strategies | $25 million |
| Carmelo Anthony | M7 Tech Partners | $70 million |
| Kobe Bryant | Bryant Stibel | $2 billion |
| LeBron James | SpringHill Co. | $750 million |
| Chris Paul | Oh Dipp!!! | $10 million |
| Kevin Garnett | Big Ticket Ventures | Unknown |
As you can see, many NBA players are also successful entrepreneurs and investors, with venture capital funds worth millions and even billions of dollars. These funds represent the players' ability to leverage their brand and business acumen to create additional sources of income and build long-term wealth beyond their playing careers.
Key Takeaway: Professional Basketball Players can acquire considerable sums, both in the NBA and abroad. After retirement, many former stars go on to become successful entrepreneurs or leverage their brand for lucrative speaking engagements and endorsements. The highest paid player of all time is LeBron James who has accumulated a massive fortune through investments as well as his own media company Uninterrupted Media Group – talk about cashing in.
FAQs in Relation to How Much Do Professional Basketball Players Make
How much can a professional basketball player make?
A professional basketball player's salary can vary greatly depending on their team, experience level, and performance. On average, an NBA player can make upwards of $7 million annually in salary and endorsements, with the potential to earn much more through bonuses and other incentives. Top players, though, can take home hefty sums – potentially up to $40 million or higher annually through salaries and sponsorships. Elite players also have the potential to make even more money through bonuses and other incentives.
How do the NBA players get paid?
NBA players receive remuneration via a mix of salary, rewards, and sponsorships. Salaries vary based on the player's experience level and performance. Bonuses may be awarded for reaching certain milestones or playing in All-Star games. Endorsements from sponsorships with companies can also provide additional income to NBA players. All of these sources combine to form the total salary package for each NBA player.
What is the starting salary for a professional basketball player?
Salary for a pro baller can vary, based on the association and squad they ink with. Salaries typically span from half a million to more than ten mil annually. However, many players earn more than that depending on their skill level and experience in the sport. Additionally, bonuses are often offered based on performance or other criteria set by the team or league.
How are basketball players paid so much?
Basketball players are paid large salaries due to the immense popularity of the sport. Professional teams and leagues compete for top talent, creating a market where athletes can demand high wages. The combination of lucrative television contracts, ticket sales, sponsorships, and merchandise sales drive up player salaries even further. Additionally, star players often receive endorsement deals that add to their income.
Conclusion
In conclusion, professional basketball players can make millions of dollars in salary and endorsement deals. The amount a player earns depends on their individual talent level, the team they play for, and the position they hold. Despite the surge in NBA salaries due to higher demand for tickets and TV rights, athletes can still earn more money playing abroad or investing in other ventures outside of sports. Ultimately though much do professional basketball players make will depend on how well an athlete performs on court as well as off-court investments that provide additional income streams beyond traditional contracts with teams.
Take the next step in your basketball career by connecting with expert trainers, teams, camps and training products through BasketballTrainer.com. Learn how much professional players make and gain access to invaluable resources for success!  Who knows… maybe you are the next professional basketball player!