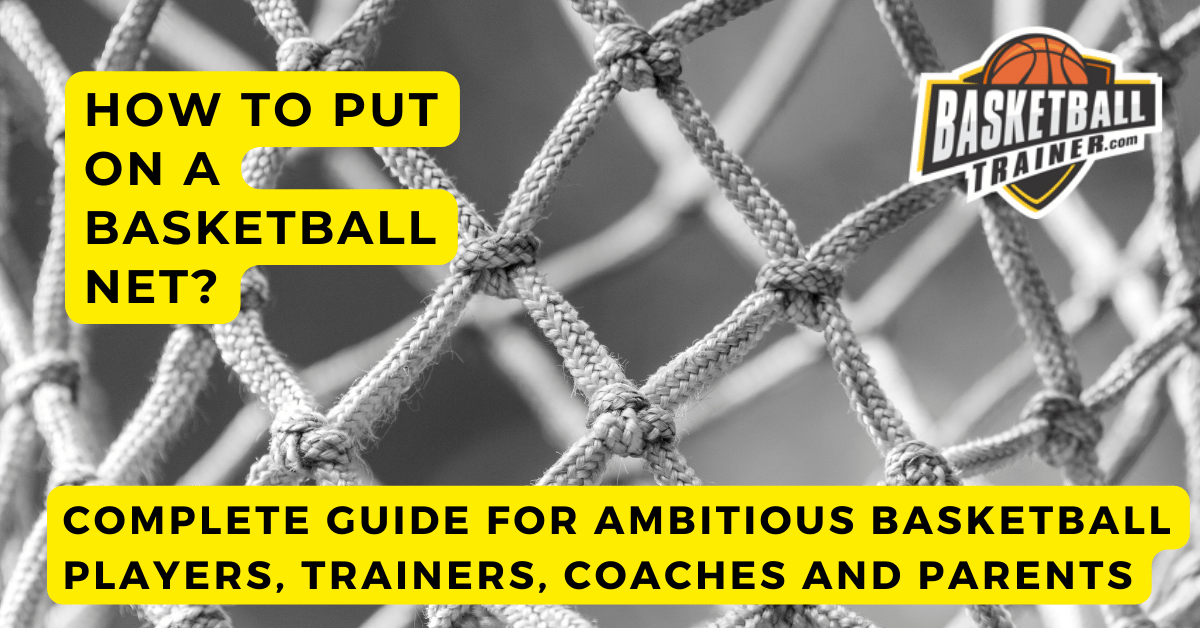 Knowing how to put on a basketball net is an essential skill for any hoops enthusiast, basketball trainer, basketball coach or basketball parent.
The process of installing a new net may seem simple, but it's more than just threading loops through hooks.
If you're not careful with the installation, your game can quickly turn into a frustrating experience of constantly retrieving balls from underneath the hoop instead of shooting them through it.
To avoid such hassles and enjoy a smooth play, learning how to put on a basketball net properly becomes crucial.
Table of Contents:
Pre-Installation Checklist
The process of installing a basketball net begins long before you start attaching it to the hoop. It starts with understanding your options, gathering necessary supplies, and ensuring that your existing equipment is in good condition.  That swish at the bottom of the net on your home court needs accurate shooting, but also can be enhanced by using the right tools and proper order for this easy project.
Types of Basketball Nets: Basic Nylon Net, Chain Basketball Net, Anti-Whip Net
Selecting the right type of basketball net for your needs is crucial. You can choose from three main types: basic nylon nets, which are lightweight and cost-effective but may not withstand harsh outdoor conditions; chain nets made from tougher rope-type materials like steel or aluminum links, offering durability and an appealing sound when scoring points; anti-whip nets, often found in professional settings due to their high-quality materials that prevent whipping motion during play.
Necessary Supplies and Where to Find Them
To install a new basketball net on any standard regulation rim, you will need some essential tools, such as pliers for securing loops onto rim hooks. If you're opting for an anti-whip model, bolts might also be required. You can easily find these supplies at local sports stores or online platforms like Amazon.
Ensuring Your Basketball Rim and Backboard are in Good Condition
Prioritize checking your backboard's condition before installation, as cracks or warping could affect gameplay. Make sure the rim is sturdy with intact hooks where loops will attach, so there are no missing parts when starting this process.
In our next section, we'll delve into safety measures one must consider during the actual installation process, ensuring everything goes smoothly without compromising personal safety or product integrity.
Safety Measures for Installing a Basketball Net
When it comes to setting up your basketball net, safety is not an option but a necessity. The right gear and precautions can make the difference between a smooth installation or potential injury.
The following sections will guide you through the essential steps in ensuring the safe setup of your basketball hoop.
Why Safety Gear Matters
Your hands are crucial tools during this process, hence protecting them with gloves while handling sharp objects like zip ties or bungee cord is vital. Equally important are non-slip shoes that provide stability when climbing ladders beneath the rim. OSHA's guidelines on personal protective equipment.
In addition to these measures, wearing a hard hat shields you from falling debris that might occur during old net removal or adjusting new nets onto large hoops.
Ladder Placement and Assistance Role
A firm ladder placement ensures stable footing as you reach out towards the standard regulation basketball net height. Always place your ladder on flat surfaces where possible to avoid any unnecessary accidents caused by uneven ground conditions.
An assistant plays multiple roles – they help pass required tools such as a tape measure and scissors; hold steady the adjustable hoop if needed; secure ladder positioning throughout the installation procedure, thus mitigating risks associated with elevated work scenarios.  An assistant is more than a good idea… it is very prudent.
Navigating Harsh Weather Conditions & Windy Situations
If weather forecasts predict strong winds or rainstorms, it would be wise to delay installing activities until better climatic conditions prevail. Wet grounds increase slip hazards, whereas gusty winds or strong windZF could destabilize ladders, making material handling at heights challenging and compromising overall safety standards.
Now that we have covered the necessary safety measures, let's transition into the "Initial Setup Steps" where we discuss how to best prepare our location before starting to attach the desired length cut loops onto respective hooks using tie cords or tougher rope-type nets, depending on individual preferences/requirements.
Key Takeaway:
Installing a basketball net requires more than just hoop dreams; it's about safety first. From donning the right gear to stable ladder placement and weather considerations, every step matters in ensuring an injury-free setup. Remember, your assistant isn't just passing tools—they're also your safety net.
Initial Setup Steps
The journey to installing a new basketball net begins with the initial setup. This involves preparing your installation site, removing any existing nets, and taking accurate measurements for the perfect fit.
The First Step: Prepping the Installation Location
To kickstart this process, you need to prepare your installation location. It's crucial that there is sufficient space around your hoop for safe ball play activities and easy maneuverability during setup. Clear away any debris or potential obstacles before setting up a ladder beneath the hoop.
Removing The Old Basketball Net
If an old basketball net already adorns your rim, it must be removed before introducing a fresh one. Safely climb a step ladder and carefully unhook each loop from their respective places on the rim until completely detached. WikiHow provides comprehensive steps for safely removing the net without causing damage to yourself or the equipment involved.
Measuring For The Right Size Net With A Tape Measure
This task can be accomplished by using a tape measure to determine whether a standard regulation 18-inch diameter ring is sufficient or if youth regulations require a different size. You can refer to the NBA official court dimensions for guidance.
This sets the foundation necessary for the actual installation process. Accuracy at this stage ensures smoother subsequent stages.
Prepare now as we delve deeper into detailed instructions in our next segment.
Step-by-Step Installation Guides…
Step-by-Step Installation Guides
Let's delve into the specifics.
Installing a New Nylon Net
To begin with nylon nets, start by attaching the top loop to one hook on your rim and pull through until you reach the second loop. Repeat this for each hoop around your rim.
Installing a Chain Net: Attaching to Rim Hooks
Moving onto chain nets; these can be installed in a similar fashion as nylon ones, but due to their weight and structure, they require additional care during installation. Start by connecting one end of the chain link onto an available hook on your adjustable hoop or on a public court.
You should then work clockwise, ensuring that every other link is securely attached before moving onto subsequent links. Once completed, double-check for firmness since loose chains could affect how well you play ball.
Installing an Anti-Whip Net: The Size of Bolts Required
The anti-whip basketball nets come equipped with reinforced loops and steel cables, which help prevent the whipping effect when shooting hoops. To install these types correctly, you will need bolts typically measuring between 1/4″-5/16″. These bolt sizes fit most large hoops while providing sufficient strength for long-term use.
Basketball enthusiasts will need to thread each cable through corresponding loops, then attach using appropriate-sized bolts at connection points along the edge of rims [source].
Before we proceed further, though, let's take some time out to discuss common pitfalls associated with installations – something both ambitious players and trainers alike must avoid.
Common Installation Mistakes and Solutions
Here's how to tackle some frequent installation errors.
Mistake 1: Using Incorrect Tools
An often overlooked yet crucial aspect is using the right tools for setting up your basketball hoop. A lack of appropriate equipment could lead to improper setup or even damage your new basketball rim.
To avoid such pitfalls, ensure you have all necessary supplies before starting the task at hand – including a ladder that allows comfortable reach to the rim and suitable hand tools like pliers or better yet, wire cutters.
Mistake 2: Ignoring Safety Hazards
Safety hazards during installation are not uncommon, especially when dealing with large hoops on an uneven surface or overlooking the weight of backboards while attaching them onto adjustable hoops. Always ensure that your working area is leveled properly before placing any ladders for safer installations.
In addition, secure mounted hardware firmly; this includes rims as well as backboards so they remain steady throughout use after successful assembly without posing risks later on due to their weight distribution issues.
Mistake 3: Looping Errors
Knotting and looping nets incorrectly around rim hooks can result in unstable baskets which might impact performance during play ball sessions. This error varies depending upon whether it's nylon nets or chain ones being installed because each requires different techniques for knotting loops correctly.
Now we've addressed potential problems encountered while putting together our setups, let us proceed towards examining if everything works fine post-installation by conducting tests.
Assessing and Fine-Tuning Your New Basketball Net
It is crucial to test the functionality and make necessary adjustments for optimal performance during gameplay.
Pull Test: Ensuring Secure Attachment
A vital step after installation is performing a pull-and-tug test on your newly installed basketball net. This involves gently pulling each loop of the net to ensure they are securely fastened onto the rim hooks. If any loops come loose, reattach them firmly until secure.
Shoot Hoops: Evaluating Functionality
To evaluate its practicality, start shooting hoops into your freshly mounted basketball hoop from different angles. Pay attention if all parts – from top of the adjustable hoop down to where the ball exits out after a successful shot – work together seamlessly.
If you notice that shots aren't passing smoothly through large hoops or bouncing unpredictably due to incorrect alignment between these two components, take time to adjust the setup until it improves significantly in terms of the desired length of interaction with the ball upon contact.
Maintenance Tips: Extending Lifespan Of The Net
Your court's longevity depends not just on the initial installation but also regular maintenance (BasketballTrainer.com). Keep an eye out for signs of wear and tear in the remaining net loops; replace promptly when needed to maintain the overall integrity, structure, and function of the court setup.
In addition to ensuring that the correct attachment points are secured properly on a regular basis, consider using tougher rope-type nets which provide extra room to accommodate a larger range of shooting styles. This may extend the lifespan of the product by reducing the stress placed on individual strands under heavy use conditions, such as those experienced in professional play.
We will now delve deeper into optional upgrades and customization options to enhance the gameplay experience even further in the next section.
Key Takeaway:
Installing a basketball net is more than just attaching it; testing and fine-tuning are key. Perform a pull test to ensure secure attachment, shoot hoops from various angles for functionality check, and keep up with regular maintenance for longevity. Consider tougher nets to accommodate different shooting styles.
8. Optional Upgrades and Customization
If you're looking to take your basketball experience up a notch, consider investing in some upgrades for your current system or court setup.
8.1. Upgrading Your Basketball System and Courts
Apart from this, an improved court could provide benefits such as better traction, resistance against weather conditions, and even aesthetic enhancements with line markings for accurate play or installing lighting fixtures for evening games.
8.2 In-Ground Basketball Hoop Options: lb Bags of Dry Concrete Mix Required
In-ground hoops are renowned for their stability and durability that portable systems often lack. The installation process involves digging a hole where the pole is placed before filling it with concrete mix to secure its position firmly into place.
8.3 How to Customize Your New Basketball Net
You might choose different colors representing your favorite team or add unique patterns that stand out from traditional white nets. Apart from these visual changes, you may opt for high-quality materials that increase net longevity while providing smoother ball interaction during play.
As we conclude our discussion on optional upgrades available when setting up a new basketball net at home,
Additional Resources and Learning Materials
The internet is a vast reservoir of knowledge, especially when it comes to learning new skills such as installing a basketball net. For guidance, there are several sources available.
Video Tutorials: A Great Way to Learn
YouTube, for instance, offers countless video tutorials on how to install both standard regulation basketball nets and tougher rope type nets. These videos allow you to observe each step in real time, which can be incredibly beneficial if you're more comfortable learning visually.
You might also find relevant content on other platforms like Vimeo, or even online education websites offering courses related specifically to sports equipment setup.
Manuals and Written Guides: General Instructions
Besides visual aids, written guides are another valuable resource when attempting an installation project. Manufacturers often include detailed instructions specific to their products – from nylon nets all the way through chain nets – within their packaging materials or directly on their website.
Additionally, there's plenty of user-generated content available across various DIY blogs that detail personal experiences setting up different types of hoops; this could prove invaluable while dealing with any potential hiccups during your own process.
Community Tips: DIY Blogs and Forums for Basketball Hoop Installation
For those looking for real-world advice, forums devoted to DIY projects can be a great source of information. Here, people share tips based on actual experience they've had handling similar tasks – including mistakes made along the way so others don't have to repeat them.
There are also numerous sport-focused blogs out there where enthusiasts offer insights into everything from choosing between large hoops versus adjustable ones, right down to adjusting your net loop size after installation.
Key Takeaway:
From YouTube tutorials to DIY blogs, the internet offers a treasure trove of resources for installing your basketball net. Whether you're a visual learner or prefer written instructions, there's plenty of advice available – including tips from community forums based on real-life experiences.
FAQs in Relation to How to Put on a Basketball Net
What's the first thing to do when installing a new basketball net?

The first thing you should do is ensure you have all your basic tools ready. This includes a ladder, pliers, and gloves. Make sure your playing surface is clear to create a safe environment for the installation.

Where is the best place to hook the first loop of a basketball net?

The best place to hook the first loop is usually at the top of the rim where it is most accessible. Starting here ensures that the remaining loops will follow suit in a balanced manner.

How do you deal with longer loops in a basketball net?

Longer loops can be adjusted by tightening them around the rim hook. Make sure each loop is evenly spaced to avoid twisting or sagging of the net.

What size of the bolts should I use for mounting brackets in basketball hoop setups?

The size of the bolts you need for mounting brackets usually depends on the specific basketball hoop setups you have. Always consult the manufacturer's guidelines or consult with basketball goal installers to ensure you're using the right size.

Is a breakaway rim important for a basketball court?

A breakaway rim is a very important part of the game, especially in professional basketball courts. It provides a safer and more forgiving hoop that can withstand dunks, reducing the risk of hand and wrist injuries.

What's the next step after tying the tie cord on the top of the net?

The next step after tying the tie cord on the top of the net is to begin hooking the remaining parts of the net around the rim. Make sure to evenly distribute the loops for superior play systems.

How do I ensure the basketball stand stays put on a flat surface?

You can secure a basketball stand on a flat surface by using cement trowels and stir rods to solidify its base. Lag bolts can also be used for additional reinforcement.

What type of net should I choose for an outdoor hoop?

For outdoor hoops, a tougher rope type net made from synthetic fibers like polyester is generally recommended. These nets can withstand the elements and strong winds better than nylon nets.

Can I install the basketball backboard myself or should I hire independent contractors?

While it's possible to install a basketball backboard yourself using basic tools like a rubber mallet and a pilot hole, hiring independent contractors can make the process quicker and more secure, especially if you're not familiar with the process.

How do I get rid of excess zip ties or pieces of wire after installation?

Once you've confirmed that your net and rim are securely in place, use a pair of pliers to remove any excess zip ties or pieces of wire. This gives your basketball hoop a cleaner look and eliminates safety hazards.11. How to install a basketball net without hooks You can tie the loops of the net directly to the rim using sturdy knots. Make sure they are secure and won't unravel during play.
11. Which way does a basketball net go on?
The wider end of the basketball net goes at the top, attached to the rim. The narrower end hangs down, creating a funnel shape for balls to pass through.
12. How to secure a portable basketball net… but this first
To stabilize a portable hoop, fill its base with sand or water. This weight prevents it from tipping over during gameplay or in windy conditions.  This is a critical safety focus before we obsess on starting our game of basketball on our own court.  In our suburban neighborhood of Circle C in Austin, I have seen many outdoor hoops toppled over because either the base was not properly filled or the water evaporated over time.  The weight of the basketball backboard is significant, please don't skip this safety and maintenance step.
13. How to tie a basketball net knot
Tie each loop of your basketball net onto the hook on your rim using an overhand knot. Make sure each one is tight and secure before moving on to the next loop.
Conclusion
From understanding the types of basketball nets to acquiring necessary supplies, you've learned all about the pre-installation checklist.
Safety measures during installation have been emphasized for a smooth and secure process.
You now know how initial setup steps like preparing the location and removing the old net are crucial before putting on a new one.
We delved into step-by-step guides for installing different kinds of nets – nylon, chain, or anti-whip.
The common mistakes made during installation and their solutions were discussed to ensure you avoid them in your task.
Post-installation testing methods along with tips for longevity have been shared so that your net lasts longer.
If you want to upgrade or personalize your setup, we have got it taken care of! The additional resources can further aid in enhancing your knowledge about basketball hoop installations.
Finally,
As an expert platform connecting ambitious players with professional trainers, we offer extensive insights into player development techniques, including how to put on a basketball net correctly.
Dive deeper into our comprehensive training products, apps, and knowledge base today! Enhance not just your game but also learn essential maintenance skills like installing.