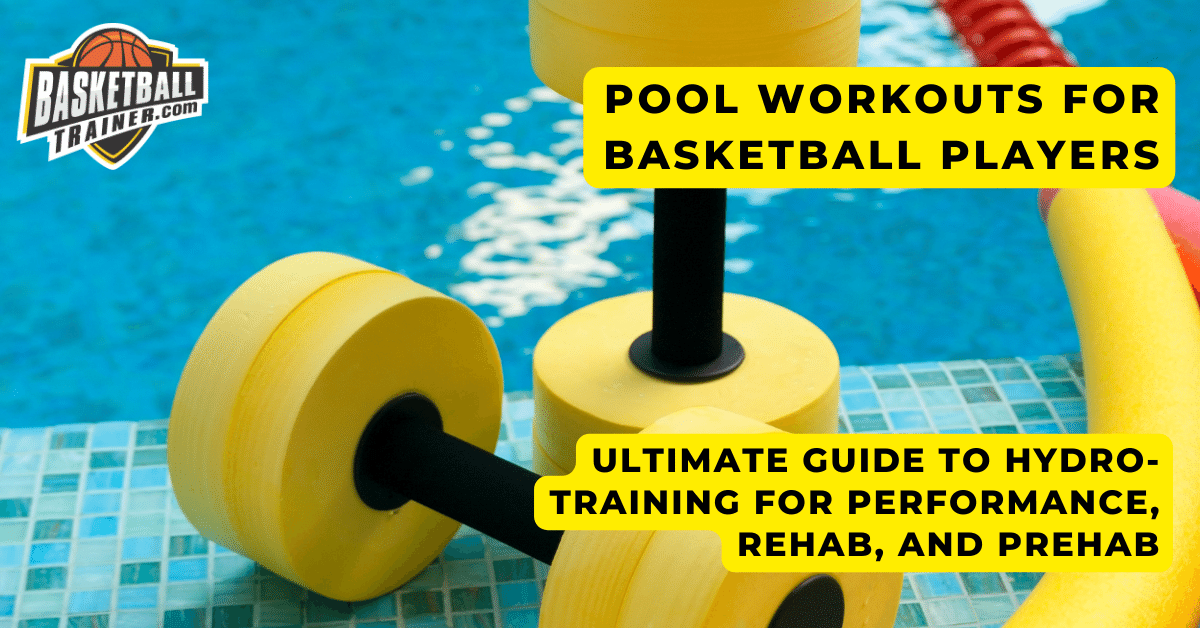 Pool training for basketball is an innovative approach that combines the benefits of aquatic therapy with athletic conditioning. This blog post will delve into the dynamic training science and practicality behind pool workouts specifically tailored for ambitious basketball players.
We'll start by understanding the basics of pool exercises, their significance in a comprehensive basketball training regime, and how they can enhance your on-court performance. The advantages of exercising in water are numerous – from reduced joint stress due to buoyancy to improved cardiovascular fitness through full-body exercise routines.
You'll also learn about key considerations when planning your pool workouts for basketball players such as selecting appropriate depth based on exercise type or choosing suitable swimwear for comfort and efficiency. Pool Training for Basketball isn't just about strength and endurance; it's also an effective method for improving agility, balance, and even assisting in injury rehabilitation.
Table Of Contents:
Pool Workouts for Basketball: Make a Splash in Your Training
Dunking, dribbling, and shooting hoops can be tough on your body. That's where pool workouts come in – they provide a low-impact way to improve your basketball body.
Get Your Feet Wet: Understanding Pool Workouts
Pool workouts are simple: shoulder level water provides resistance that helps build strength and endurance while being gentle on your joints. This makes it perfect for basketball players who need to stay in top shape without risking injury.  Some exercises like lunges can be better at chest level.  And often chest level is what is available.  Don't let the perfect get in the way of the good.  
Swish: Benefits of Pool Exercises for Basketball Players
Improving agility, balance, and quickness can be achieved through exercises such as lateral jumps and treading water. Lateral jumps and treading water are just a few examples of drills that can help you stay light on your feet. Pool exercises offer a fun and unique way to switch up your exercise regimen.
Note: Safety is key when it comes to pool workouts. Always have someone present on the pool deck during your session, just in case.
Benefits of Water-Based Workouts for Basketball Players
Water workouts are a slam dunk for basketball players looking to improve their game. The properties of water make it a safe and effective environment for training, with benefits that can take your performance to the next level.
Buoyancy reduces joint stress
Water's natural buoyancy supports your body, reducing the impact on joints during exercise. This is especially helpful for basketball players who need to protect their knees and ankles from excessive strain.
Water resistance builds muscle strength
Moving against water creates more resistance than air, leading to improved muscle tone and strength. Try water push-ups or pool squats to challenge your muscles in new ways.
Aquatic exercises boost cardiovascular fitness
Engage multiple muscle groups and keep your heart rate up with activities like aqua jogging or high-intensity interval swimming (HIIS). These workouts can help improve stamina and endurance, key factors in basketball performance.
Take the plunge and make a big splash with water-based exercises to give yourself an advantage on the court. So dive in and make a splash.
Key Considerations for Pool Workouts
Maximize your pool workout's effectiveness while minimizing risk by considering these factors:
Depth Matters
Shallow water is safer for beginners, while deep water offers greater resistance for advanced athletes. Check out this guide on shallow vs. deep water exercises.  For most exercises athletic trainers recommend chest to shoulder level would be ideal for your water workouts.  I used to do a hydrotherapy class at Lifetime Fitness here in Austin, and found that wasn't always easy to achieve.  
Stay Safe
Always have someone present during underwater exercises and avoid pushing yourself too hard too quickly. Gradually increase intensity over time.
Choose the Right Swimwear
Choose swimwear that offers comfort and functionality without restricting movement. Selecting a swimsuit that meets your requirements and provides comfort while allowing for unrestricted movement is essential.
By taking these considerations into account, you'll get the most out of your aquatic training sessions while staying safe.
Pool Warm-Up Exercises: Get Ready to Make a Splash.
Before you start your pool-based basketball training, don't forget to warm up. Warming up helps prevent injuries and improves your overall performance. Here are two exercises to get you started:
Treading Water: Keep Your Head Above Water
Treading water is a great way to activate all your muscles and improve your breath control. Just remember to stay afloat.
Find a deep spot in the pool where you can't touch the bottom.

Keep your noggin above the liquid and move appendages in round motions.

Once warmed up, take the plunge and start swimming laps.
Swimming Laps: Dive In and Get Moving
If you're looking for something more dynamic, try swimming laps across the pool. A vigorous exercise that'll really get the heart rate up.
Choose your favorite stroke and maintain a steady pace.

Don't worry about speed; focus on consistency.

Try to complete 4-6 laps, depending on the size of the pool and your stamina.
Remember, warming up is just as important as the main workout itself. So, dive in and make a splash with these pool warm-up exercises and get your swimming workout off to the right start. 
Pool Workouts for Stronger Basketball Players
Want to level up your basketball game? Get in the pool. For basketball players looking to take their game to the next level, water-based exercises provide a low-impact way of developing strength and conditioning in the pool. 
Water Push-ups for Upper Body Power
Forget regular push-ups, try water push-ups instead. These use water resistance to build upper body strength and engage your core muscles.
Stand in waist-deep water facing the pool wall.

Place your hands on the wall slightly wider than shoulder-width apart.

Bend your elbows and lower your chest towards the wall, then push back up.

Attempt 10-15 reps per set, taking a break of 1 min between sets.

If these aqua push-ups don't push you, don't forget that the pool deck can be part of your push-up workout. 
Pool Squats for Lower Body Strength
Pool squats are a great way to work out your quads and glutes without putting stress on your joints. The water provides resistance while buoyancy reduces impact.
Stand in waist-deep water with feet hip-width apart.

Bend your knees until your thighs are parallel with the bottom of the pool.

Rise back up slowly, squeezing your glutes at the top.

Aim for 12-15 reps per set with short breaks between each one.
Plyometric Training in The Pool
As I moved out of back and neck pain, and my knee joints became more stable, I knew I had to ramp things up to get in shape for a Masters Basketball Tournament in Galway, Ireland.   So I began some low risk plyometric training in the pool.  I should say, that the deep water training for basketball players really adds resistance, but also cushioning and a psychological security blanket for athletes recovering from injury.  
Skipping with same knee and hand exploding upward off alternating legs… simulating a strong layup. 

Bounding off two legs and landing on two. 

Bounding off two, sticking a landing on one.  

Hopping forward and back, then side to side. 

Sprinting, focusing on making my first three steps my masterpiece… long and explosive. 

Machine gun jumping, off two feet, arms in the air… landing and jumping without gathering. 

One two step jumping off two feet, simulating a rebound or block.  
 Perform these activities as part of your regular program to build strength and resilience, while avoiding any possible harm. So, jump in the pool and get ready to dominate on the court.  Sure it was intimidating to be the only male in the aqua aerobics class and also one of the few people under the age 65… but frankly the local aqua aerobics class can be a great place to get started. Keep in mind that you can dial up intensity and velocity of the movements to challenge yourself.  
Pool Workouts for Cardiovascular Endurance
Basketball players must remain active, necessitating good cardiovascular health and lung capacity. That means having a healthy heart and lungs. The benefits of pool workouts for basketball players  are vast, but for the the rehabbing player, the pool is a great place to work on your cardiovascular endurance.
Aqua Jogging: Running Without the Pain
Aqua jogging is like running, but without the impact. It's Aquatic workouts for basketball players are perfect to keep their joints healthy. Plus, it's a great way to get your heart rate up.
Put on a flotation belt and stand in waist-deep water.

Move your arms and legs like you're running on land.

Maintain the exercise for at least 20 minutes.
High Intensity Interval Swimming (HIIS): Swim Like a Pro
If you want to take your pool workouts for basketball players to the next level, try HIIS. It's like interval training, but in the water.
Warm up with some easy laps.

Swiftly traverse the pool from one end to the other, then slow down for your return trip. Don't stress on your lack of swimming expertise.  Conditioning exercises in the pool are about cardio, restoration, rehab, and prehab, not making the Olympic Swim Team.  

Take it easy on the way back.

Repeat for 20 minutes or more.  Congrats!  You are now practicing water based training for basketball. 
Try these exercises to maximize your athletic performance and stay in top condition. Give them a try.
Agility and Balance Workouts in the Pool
Basketball players need agility and balance to excel on the court. Luckily, the pool is a great place to train for these skills. Dive into these aquatic exercises to up your game:
Aqua Lateral Shuffle: Sideways shuffling in waist-deep water for quickness and strength.
I like to be chest high for this one, then assume defensive stance, and begin sliding the width of the pool.  To make it tougher, I add resistance bands and do a lap or two.  Watch your slides next time on the court and and celebrate the performance enhancement for basketball players that hydro-training can help you achieve.  
Single-Leg Stance: Standing on one leg in shallow water to improve balance.
Here's an informative article that provides detailed instructions on how to do it right.  Many players come to the pool after an injury.  I can attest that the pool workout is 
Tuck Jumps: Explosive jumps off both feet to improve lower body power and stability.
Check out this comprehensive resource outlining correct technique and benefits of tuck jumps.
Injury Rehab and Recovery Workouts in the Pool
For athletes, injuries are a bummer. But with hydrotherapy, you can bounce back stronger than ever. Hydrotherapy is a gentle approach to injury rehab that uses pool workouts to help you recover.
Hydrotherapy: A Gentle Approach to Injury Rehab
The buoyancy of water reduces stress on joints, making it ideal for rehab exercises. According to a study in The Journal of Physical Therapy Science, hydrotherapy can improve muscle strength and joint function without causing pain.
Aqua Exercises for Different Injuries
Knee & Ankle Injuries: Walking or jogging in water helps strengthen leg muscles without straining the injured area.  Aquatic therapy can be a great place to work basketball movements to build confidence.   I have used the water to help return to walking figure 8s after serious ankle injuries. 
Shoulder & Elbow Injuries: Water resistance exercises like arm circles help restore range of motion and build upper body strength.  Know which stroke makes shoulder injuries worse… and also ask your aquatic therapy specialist for possible modifications.  For me the butterfly stroke seemed to anger an old shoulder injury.  That and my pride at how horrible I looked flailing in the pool going almost nowhere! 
Back Pain: Floating on your back while kicking gently works wonders for relieving back pain while strengthening core muscles.  Coming back from a major back injury, I found to effectively jump start core training in the pool provided me results and safety. Athletic trainers recommend flowing movements to experience the safety that water can help bring as we recover to a more supple state.  The butterfly stroke also seemed to irritate my sciatica in the pool, so again, heed the advice of your aqua instructor, physical therapist, and athletic trainer.  
Before beginning any exercise routine, it is important to consult with a physical therapist for the best course of action tailored to your individual injury.
Maintaining Regularity for Optimal Results
To achieve optimal results from aquatic therapy, consistency is key. For best results, it's recommended to perform aquatic therapy exercises three times a week with professional guidance whenever possible. Mayo Clinic suggests adding variety to your routine to keep things interesting and motivate you towards faster recovery.
Cool Down and Stretching Exercises After Pool Workout
After a killer pool workout, it's important to cool down properly. Cooling down aids in quicker recovery, reduces the chance of soreness, and prepares you for subsequent workouts. Plus, it gets you ready for your next training session sooner.
The Importance of Cooling Down
Flushing out lactic acid, reducing muscle soreness and normalizing heart rate and blood pressure are all benefits of cooling down post-exercise. It's a win-win.
Suggested Cool-Down Activities in Water
Treading water: Take it easy and tread water for about 5 minutes to transition from high-intensity activity back to rest.
Gentle swimming: Swim laps at an easy pace using any stroke that feels comfortable. This will help bring down your heart rate gradually while still keeping muscles active.
Floating: Simply floating on your back can be a relaxing way to end an aquatic workout session as it gives all major muscle groups some well-deserved rest time.
The Role of Stretching Post-Workout
Stretching after workouts, especially those involving water resistance like pool workouts, helps maintain flexibility and range of motion which are essential for optimal basketball performance. Check out Mayo Clinic's guide to stretching for more information.
Some effective stretches include hamstring stretch, calf stretch, or shoulder stretch performed either inside or outside the pool depending on comfort level. Remember to take your time and hold each stretch for around 30 seconds on each side.  I personally love to elongate and actively stretch my muscles in the pool after a weight workout.  I feel a few laps of freestyle removes the tightness and burn and helps me in basketball recovery and restoration.  Unfortunately, I don't have the conditioning research to back up my aquatic training beliefs.  Give it a try and see what you think! 
FAQs in Relation to Pool Training for Basketball
Are pool workouts effective for athletes?
Yes, pool workouts are highly effective for athletes, offering a low-impact alternative to land-based exercises that reduces strain on joints while improving strength and endurance. (source)
What are the benefits of pool exercise?
Pool exercise reduces joint stress due to buoyancy, enhances muscular strength from water resistance, improves cardiovascular fitness, and increases flexibility. Check out the conditioning research!  (source)
Is doing squats in the pool effective?
Absolutely. Pool squats provide similar muscle activation as traditional squats but with less strain on your knees thanks to water's natural buoyancy. (source)
How do you build muscle in the pool?
You can build muscle by performing various resistance exercises like push-ups, pull-ups, lunges, and jumps underwater. Check out this comprehensive guide at BasketballTrainer.com.
Sample Pool Workout for Basketball Players (Free Bonus for BT Readers!)
Warmup
Pool Jumps: Stand in chest-deep water and jump vertically as high as you can, swinging your arms overhead for added momentum. Repeat for 10-15 repetitions.
Tuck Jumps: Begin in a squat position, then explosively jump up while bringing your knees to your chest. Land softly in the water and repeat for 10-15 repetitions.
Split Squat Jumps: Assume a lunge position in the water, with one leg forward and the other leg extended behind you. Jump explosively, switching the position of your legs mid-air. Perform 10-15 repetitions on each leg.
Water Walking Lunges: Walk forward in the pool while performing deep lunges with each step. Aim for 10-15 lunges on each leg.
Pool Push-Ups: Stand facing the pool wall with your arms extended in front of you at shoulder height. Lean against the wall and perform push-ups, using the water resistance to intensify the exercise. Complete 10-15 repetitions.
Leg Flutters: Holding onto the pool's edge, keep your legs extended and kick them up and down rapidly. Perform this exercise for 30-60 seconds, targeting your core and leg muscles.

Water Sprints

: Swim as fast as you can across the pool, simulating a sprint. Rest for 20-30 seconds and repeat for 5-10 repetitions.

Tread Water

: In the deep end of the pool, tread water using a combination of arm and leg movements. Aim to maintain a steady rhythm for 1-2 minutes, gradually increasing the duration as your endurance improves.

Shuttle Runs

: Set up markers on the pool deck, approximately 10-15 yards apart. Run back and forth between the markers, focusing on quick turns and bursts of speed. Repeat this exercise for 5-10 rounds, resting for 15-30 seconds between each round.
Defensive Slides:  Repeat Shuttle Runs above but do them in more shallow water, chest high.  Get in a defensive stance and work great slide technique. Add resistance bands for greater difficulty.
Alternating Walk backwards/Heel Walk: Walk backwards one pool length focusing on toes plant and rolling back off heel.  Then walk back the length walking on your heels only.  
T- Drills: Similar to basketball T drills… start at the bottom of a T formation, sprint forward to the top of the T, then defensive slide to the top right, then back to the top left and to the center of the T. Then jump as high as you can in machine gun fashion, with no gather steps. Repeat 20 times. Then back pedal as fast as you can backwards to the bottom of the T.
Cooldown: Walk back and forth two laps, and also use the water to do some great stretching.
Conclusion
Swish, splash, swish! Pool training is the perfect way to level up your basketball game while keeping your joints happy and healthy all while getting the cardio benefits of a swimming workout. 
Warm up with a few laps or some treading water, then dive into strength and conditioning exercises like water push-ups and pool squats.
For a cardio boost, try making waves with aqua jogging or high-intensity interval swimming (HIIS).
Just remember to stay safe during underwater exercises and wear appropriate swimwear for maximum comfort and efficiency.