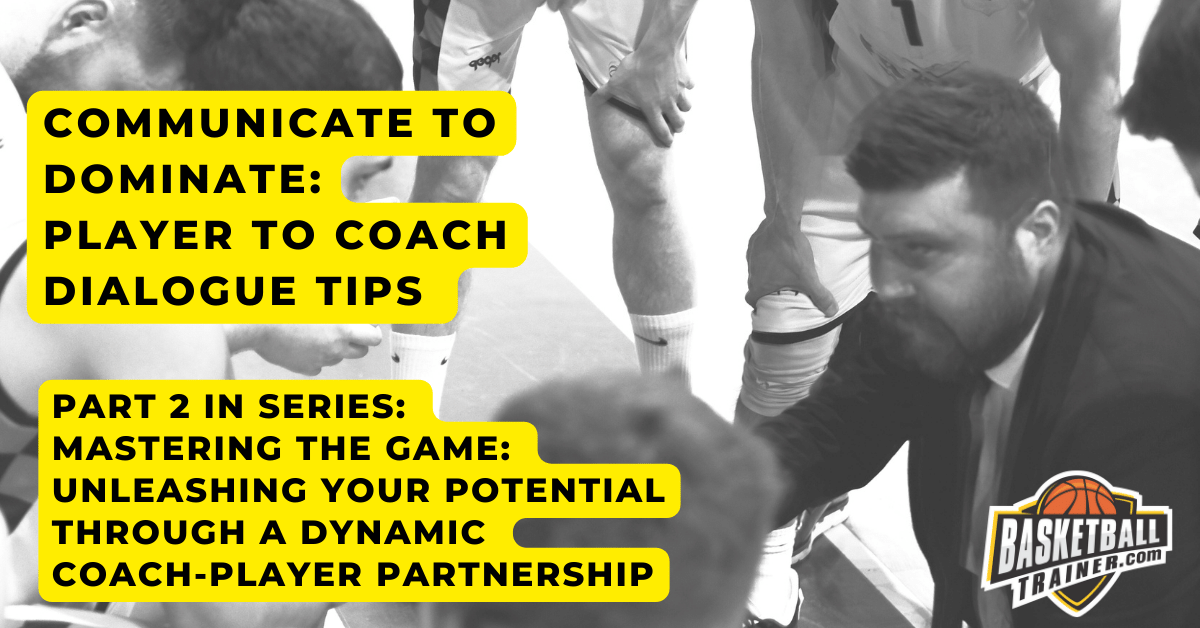 Effective Basketball Player to Coach Communication Techniques in Basketball are pivotal for the success of any basketball team. The essence of this dynamic relationship lies in understanding, respect, and a shared passion for the game. In this blog post, we delve into how open and honest communication can enhance performance on court.
We will also explore active listening as an essential tool that significantly impacts the coach-player relationship. Emphasizing communication is not just about speaking; it's equally about listening attentively to foster mutual understanding.
Further along, we'll discuss constructive feedback's role in player development. A basketball coach plays a crucial part in shaping a player's skills through effective feedback mechanisms.
Last but not least, we'll address overcoming communication barriers and challenges within a basketball team setting. Understanding these Effective Player to Coach Communication Techniques in Basketball can be instrumental for both aspiring players and seasoned professionals alike.
Table of Contents:
The Power of Open and Honest Communication
Effective communication is key in basketball. It builds strong relationships, enhances performance, and fosters team cohesion. Open and honest communication helps players and coaches understand each other's expectations, leading to improved training outcomes.
Why Is Open Communication Important?
Openness creates an environment where everyone feels comfortable expressing their thoughts without fear of judgment. This transparency allows issues to be addressed promptly before they escalate into bigger problems. For instance, if a player is struggling with a particular drill or technique, they should feel confident enough to discuss this with their coach openly.
Honesty: The Key to Trust and Respect
Honesty fosters trust between players and coaches, enhancing respect on both sides. A player who trusts their coach will likely follow instructions more diligently while respecting them as an authority figure in the sport.
Active Listening and Its Impact on the Coach-Player Relationship
In any communication process, active listening plays an essential role. It involves giving full attention to what's being said instead of merely hearing it passively.
The Role of Active Listening in Building Relationships
Ambitious basketball players need trainers who not only instruct but also listen actively during conversations about game strategies or personal concerns related to performance anxiety. When trainers show genuine interest by asking relevant questions after receiving feedback from athletes, these actions demonstrate empathy, thus strengthening bonds further.
Tips for Effective Active Listening:
Maintain eye contact during discussions
Nod occasionally showing understanding
Avoid interrupting when others speak
Active Listening: The Key to Winning in Basketball
Interaction between mentors and competitors is essential for any basketball squad to thrive. Active listening is a skill that can take your coach-player relationship to the next level.
What is Active Listening?
Active listening is more than just hearing words. It's about fully engaging with the speaker, understanding their message, and responding thoughtfully. For basketball players and coaches, it means truly connecting with each other to improve teamwork.
Why Active Listening Matters in Basketball Coaching
Active listening helps coaches understand players' perspectives, whether it's about game strategies or personal development. By attentively hearing what players have to say, coaches can tailor their coaching plans to better suit each individual and the whole team.
Build Trust: Active listening builds trust between players and coaches, boosting team morale.
Promote Open Dialogue: Active listeners create an environment where everyone feels comfortable expressing themselves without fear of judgment.
Solve Problems Efficiently: By actively engaging with problems presented by players, solutions are found faster, leading to improved performance during games.
Tips for Coaches: How to Be an Effective Listener
To improve your active listening skills as a basketball coach:
Maintain eye contact while speaking with your athletes.
Avoid interrupting when they're sharing something important.
Show empathy towards their feelings.
Acknowledge good points made by nodding your head or giving verbal affirmations.
Tips for Players: How to Communicate Effectively with Your Coach
If you're a player looking to build a strong relationship with your coach:
Demonstrate respect towards your coach's expertise.
Briefly summarize main takeaways after discussions.
Come prepared with specific questions regarding tactics, drills, and feedback received from previous games.
Active listening is a powerful tool that can help you win on and off the court. Try out the approach and observe its effects.
Constructive Feedback: The Key to Unlocking Your Basketball Potential
Want to be a basketball superstar? Then you need to embrace constructive feedback. It's not just about hearing what you did wrong; it's about getting actionable advice that will help you improve your game.
The Art of Constructive Feedback for Effective Basketball Player to Coach Communication
Providing someone with the means to attain success is what constructive feedback is all about. In basketball, this means coaches need to be specific about what needs improvement, rather than just criticizing in general.
However, it's not just the content of feedback that matters; its delivery is equally important. Coaches need to be honest but also considerate in their delivery. This helps players understand where they need to improve without feeling discouraged.
Why Feedback Matters
Constructive criticism can make a huge difference in your basketball game. By focusing on specific areas for improvement, you'll know exactly what to work on during practice.
Plus, regular feedback helps you track your progress over time. Becoming aware of your aptitudes and shortcomings will make you a more accomplished athlete.
Tips for Effective Feedback
Be Specific: Instead of saying "play better defense," try "keep your feet moving when guarding."
Praise Effort: Recognize hard work, even if results aren't immediate.
Suggest Solutions: Don't just point out problems; offer solutions too.
Open Communication is Key
For feedback to be effective, coaches and players need to have open communication channels. This fosters trust, respect, and understanding – all essential elements for successful coach-player relationships.
Players should ask questions after receiving feedback to clarify any confusion. And they should be willing to receive critique without taking it personally.
Remember, good communication is a two-way street. Both coaches and players need to actively participate to achieve common goals.
Incorporating constructive feedback into your coaching strategy is the key to unlocking your basketball potential. So embrace it, and get ready to dominate on the hardwood.
Effective Communication in Basketball
Here are some tips to overcome communication barriers:
Speak Clearly and Listen Carefully
Players and coaches should communicate clearly and listen carefully to avoid misunderstandings. Eye contact and body language can also help.
Build Trust
Trust is essential for effective communication. Coaches should be fair and players should be committed to improving.
Don't Be Afraid to Speak Up
Players should feel comfortable expressing themselves without fear of judgment. This creates a safe environment for sharing ideas and opinions.
Use Digital Platforms
Social media apps like WhatsApp and Facebook Messenger can help maintain constant communication outside of practice sessions.
By emphasizing communication, building trust, and creating a safe environment, basketball teams can execute a cohesive game plan and achieve success.
FAQs in Relation to Effective Player to Coach Communication Techniques in Basketball
Effective Communication in Basketball
To win in basketball, you need to communicate effectively with your team using clear language, active listening, and positive feedback, while also paying attention to body language.
The Impact of Effective Communication on Coaching
Effective communication between coaches and players leads to better performance, stronger team dynamics, and a more positive learning environment.
How Coaches Should Communicate with Players
Coaches should be approachable, use open dialogue, provide constructive criticism, and offer praise when necessary to build trust and foster player development.
The Importance of Effective Basketball Player to Coach Communication in Sports Coaching
Effective communication is vital in sports coaching as it facilitates learning, builds trust among team members, and enhances player development. This game is built on that.  And our society should be too.