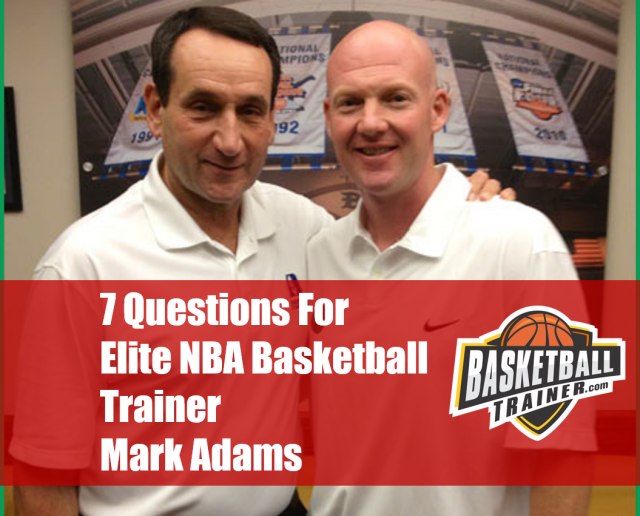 Who Is Mark Adams?
If you have not already heard…Mark Adams is an Elite Basketball Trainer who helps several NBA clients, college teams and the training and camp community.  His portfolio of experience allows him to share a very unique perspective.  He has served as a collegiate assistant at Syracuse, a highly successful high school coach, and was a 1000 point scorer as a player in high school and college.  We were introduced to Mark by BasketballHQ.com partner and South Alabama Basketball Assistant Coach Russ Willemsen who spoke very highly of him.  Mark is committed and passionate about player development and has the growth mindset that the BasketballTrainer.com team looks up to.
BasketballTrainer.com (BT): What is the biggest problem in basketball training today?
Mark Adams (MA): The disconnect between the basketball trainer and the player's coach.  Ideally the basketball trainer should communicate with the players coach and build a relationship. Together they can devise a plan for purposeful training so that the player can maximize time and energy.  The basketball trainer should get as much input and data from the coach as possible and use it to devise specific workouts.
BT:  What is your training approach with a younger player?
MA:  My approach with younger players is simple… I focus on the fundamentals. When working with young players more teaching and explaining often takes place.  Make sure that all the skills and drill work translates to actual game like situations. Young players should learn the importance of competition, but most importantly have fun training.
 BT: Why do you still make time for youth basketball?
MA: I love the game and I enjoy working with young players. It's the truest form of teaching that exists. You can have a huge impact on kids and help them get better.
BT:  If you  could go back in time as a young player, what would you tell yourself?
MA: I would work on all skills and total development of my game. I made the mistake of focusing too much on my position (shooting guard) and didn't develop other skills such as ball handling, passing, etc. Today's players need to be more versatile and multi-skilled.
BT:  Who were your key influences?
MA:  I have been very fortunate to have some of the best in the game as mentors and friends. – My first job was working for Jim Boeheim at Syracuse University.  – Coach K – have been fortunate to have him for advice and counseling over the years.
– Alan Stein and Dee Brown were extremely influential in my decision to become a player development coach full-time.
– Currently, NBA Skills trainer Aubrey McCreary, is my main mentor and like a big brother to me.
BT:  Mark, you have a reputation of being one of America's best camp demonstrators and teachers.  What can campers expect across the nation?
MA: To learn the fundamentals, to be taught and develop skills that translate.  Train extremely hard.  They can expect energy, enthusiasm and passion I want all of my players to
1) Get Better
2) Have Fun
3) Develop Meaningful Relationships
BT:  Where can they find out more information about you and your programs?
MA: 
– twitter – @MarkAdamsBball
– facebook – facebook.com/MarkAdamsBasketball
– email – [email protected]
BT: Finally Mark can you share the qualities you most admire in two NBA Players you have worked with and what younger players could learn from them?
MA:  Ryan Kelly – Los Angeles Lakers – Resilient — Despite numerous injuries, Ryan keeps a positive attitude and continues to work on his game.
– Paul Millsap – Atlanta Hawks – Work Ethic — Paul is a true professional. He has a willingness to go outside his comfort zone to expand his game.  Tremendous off season commitment and takes care of his body.
BT:  Mark – thanks so much for joining us here, you are welcome back anytime and we look forward to catching up on your visit to Austin this summer!!  Also, congratulations on making the list of best basketball websites!