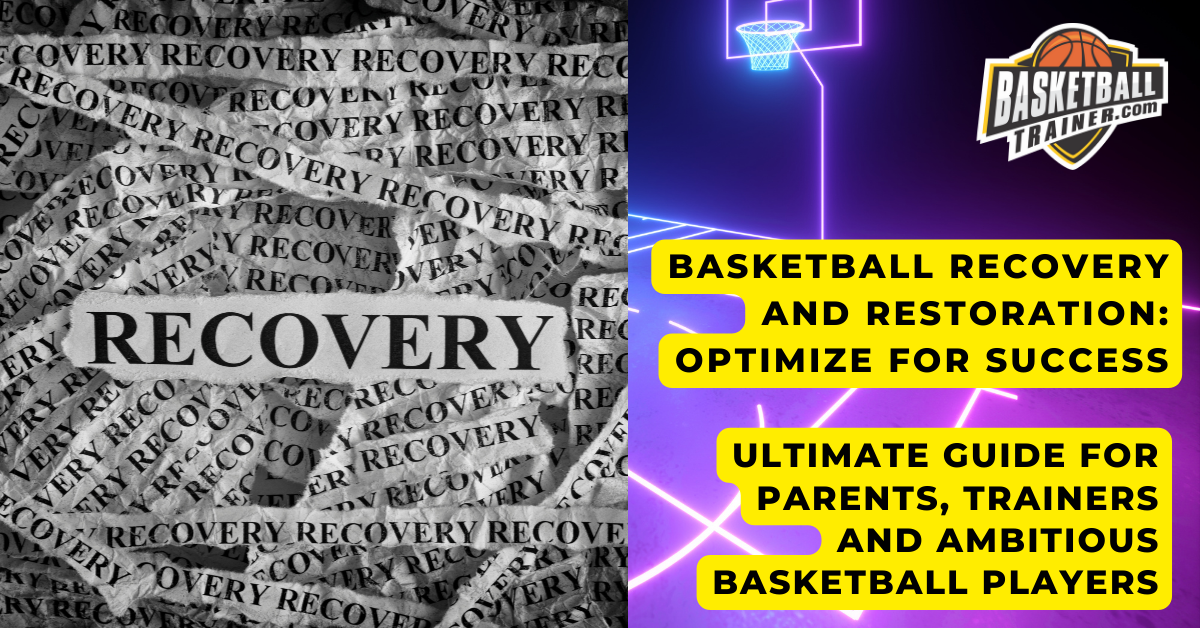 In the highly competitive world of basketball, recovery and restoration are crucial components that often go unnoticed. The capacity to rebound from taxing exercises and matches is what sets apart top competitors from the rest. In this comprehensive guide, we will explore various aspects of Basketball Recovery and Restoration to help you unlock your full potential on the court.
From understanding the importance of rest as a sanctuary for renewal, to fueling your body with optimal nutrition for muscle repair, we delve into advanced techniques such as cryotherapy, compression therapy, and contrast baths for accelerated healing. Furthermore, active recovery practices like foam rolling will be discussed in-depth.
As mental resilience plays a vital role in an athlete's performance, we also shed light on cultivating a strong mindset during the recovery process. Moreover, collaboration with sports science professionals can pave the way for personalized recovery plans tailored specifically to your needs.
To stay ahead of the curve in Basketball Recovery and Restoration strategies, embracing technology-driven solutions can provide invaluable insights into optimizing one's progress. Lastly, building a supportive network around you ensures long-term success both on and off-court.
Table of Contents:
The Art of Recovery: Unleashing the Potential Within
Advanced recovery tactics can have a profound impact on basketball performance, so it's crucial for ambitious players to incorporate a comprehensive and strategic approach to recovery that includes various methods.
Importance of Recovery in Basketball Performance
Resting adequately between workouts is essential for athletes, as it promotes physical and mental well-being, prevents injuries, and helps optimize performance by allowing muscles to repair efficiently. Research backs this up.  I personally watched Derek Fisher of the Lakers work out for years at the Spectrum Club in Manhattan Beach. and his workouts were really dialed in to include recovery time.  I also know stories of Steve Nash always prioritizing nap time.
Balancing Training Load with Adequate Rest
Pushing hard during training sessions is great, but over-training in basketball can be detrimental. Finding the right balance between intense workouts and adequate downtime is vital for optimal results.
Tips for Effective Recovery Strategies:
Nutrition: Fuel your body with nutrient-dense foods that promote muscle growth, repair, and energy production.  Consider foods scientifically proven to reduce inflammation.
Sleep: Prioritize quality sleep as it plays a critical role in hormone regulation, cognitive function, and tissue repair processes.   Turn your sleep into a commitment to excellence.
Mental Resilience Techniques: Incorporate mindfulness practices like meditation or visualization exercises into your daily routine for improved focus and stress management.
Data-Driven Approach: Utilize wearable devices like fitness trackers or heart rate monitors to gather data on your progress so you can make informed decisions about adjusting your recovery plan accordingly.  It can be tough to wear an Apple Watch while playing, but you can use it in training, lifting, sleep etc to help monitor and track your gains in health.
Rest: The Sanctuary of Renewal
Embracing the power of rest and sleep is crucial for revitalizing both body and mind, especially for ambitious basketball players.
Athletes necessitate more slumber than non-athletes, their physical exertions requiring additional rest.
Resting adequately can not only promote muscular restoration, but also heighten cognitive capability, thus leading to more astute choices on the court.
The Importance of Quality Sleep
Muscle Recovery: During deep sleep, your body releases growth hormones that aid in tissue repair and rebuilding.
Cognitive Function: Proper rest improves focus, memory retention, and reaction time – all essential skills for a basketball player.
Mood Regulation: Sufficient sleep helps regulate mood swings and maintain emotional balance during high-pressure games or training sessions.
Tips for Better Sleep Hygiene
Create a consistent bedtime routine to signal your brain that it's time to wind down.
Avoid caffeine or heavy meals close to bedtime as they can disrupt your natural sleep cycle.
Add relaxation techniques such as meditation or deep breathing exercises before bed.
Leverage technology like wearable devices (Fitbit Sense) with built-in features designed specifically for tracking quality slumber patterns.
Prioritize creating an optimal sleeping environment by keeping your bedroom cool, dark, and quiet.
By incorporating these strategies into your daily routine, you'll be well on your way to unlocking the sanctuary of renewal that is restful sleep.
Remember: a well-rested athlete is a high-performing one.
Fueling the Fire: Nutrition as the Catalyst for Recovery
Nutrition is key to optimizing tissue repair and replenishment, essential for basketball players' recovery.
Protein: The Building Block of Muscles
Protein is vital for muscle growth and repair, making it an indispensable component of any athlete's diet.
To ensure muscle growth and repair, athletes must consume protein sources such as lean meats, fish, eggs, dairy products or plant-based alternatives like tofu for essential amino acids.
Carbohydrates: The Energy Source
Carbs are the primary energy source for high-intensity activities like basketball.
Including whole grains, fruits, vegetables, and legumes in your diet ensures enough fuel to power through workouts while aiding in post-exercise recovery.
Fats: The Unsung Hero of Recovery
Fats are essential for hormone production and inflammation regulation – both critical factors in recovery.
Incorporate healthy fats from sources like avocados, nuts & seeds (like almonds), and olive oil into your meals regularly.
Vitamins & Minerals: Supporting Overall Health
Vitamin C: Found in citrus fruits & leafy greens; aids collagen synthesis (crucial for connective tissue health).
Vitamin D: Obtained through sun exposure & fortified foods; promotes calcium absorption for bone health.
Magnesium: Present in nuts, seeds, and whole grains; supports muscle function & relaxation.
Incorporating these essential nutrients into your diet enhances basketball performance and ensures a faster, more effective recovery process.
Speak to a sports nutritionist for assistance in constructing an individualized diet that meets your particular objectives and requirements.
Accelerating Healing and Reducing Inflammation: Cryotherapy, Compression, and Contrast
As a baller, you need to recover quickly and reduce inflammation. Cryotherapy, compression therapy, and contrast therapy can help.
Cryotherapy
Exposing the body to frigid temperatures briefly can help reduce muscle pain and inflammation after strenuous workouts or matches. Whole-body cryotherapy chambers or localized ice packs can be used.  Sure Lebron does it, but I can guarantee his physician signed off on it.   I highly recommend our youth stick to an ice bath before going to cryotherapy without talking to their physician.
Compression Therapy
Apply pressure to specific areas of the body using specialized garments like socks or sleeves to improve blood flow, reduce swelling, and promote faster healing of damaged tissues. I ware a knee sleeve for years after my ACL Reconstruction surgeries… and they definitely helped me warm up an osteoarthritic joint quicker and reduced swelling.  Check out our knee buying sleeve  for basketball guide here.
Contrast Therapy
Alternate between warm and cold baths in cycles of 1-2 minutes each for a total duration of 10-20 minutes to flush out metabolic waste products from muscles while delivering oxygenated blood with nutrients necessary for tissue repair. This flushes out metabolic waste products from muscles while delivering fresh oxygenated blood rich in nutrients required for tissue repair.
By incorporating these advanced recovery techniques into your training regimen, you can accelerate healing and reduce inflammation, allowing you to bounce back faster and perform at your peak potential on the court.
5. Active Recovery: Unleashing the Flow Within
For ambitious basketball players, incorporating low-intensity exercises and mindful movement to enhance circulation and release tension is essential – enter active recovery.
Active recovery can help eliminate impurities, reduce aches and pains, improve suppleness, and keep up a good range of motion.
A. Low-Intensity Exercises for Optimal Recovery
Walking or light jogging: Increase blood flow without adding stress on your joints.
Stationary cycling: Targets different muscles than running or jumping.
Yoga or stretching routines: Enhance flexibility while focusing on breath control and mindfulness.
B. Mindful Movement Practices for Mental Clarity
Mindfulness practices like yoga, tai chi, and qigong cultivate mental resilience during active recovery days.
These practices focus on deep breathing techniques, which can help reduce anxiety levels while improving concentration skills – both crucial aspects of high-level basketball performance.
Integrating active recovery and mindful movement practices into your training routine enhances both physical and mental well-being while maximizing your basketball performance potential.
Cultivating Mental Resilience: A Sanctuary for the Mind
Being an ambitious basketball player requires more than just physical training and recovery; it also involves cultivating mental resilience through mindfulness, meditation, and visualization techniques.
Mindfulness Techniques
Pay attention to the present moment without judgment by practicing mindfulness, which can improve concentration, emotional regulation, and self-awareness on the court.
Focus on your inhalations and exhalations, taking slow, deliberate breaths.
Scan your body from head to toe, noticing any sensations or tension.
Observe your thoughts without getting caught up in them.
Meditation Practices
Reduce stress levels, enhance cognitive function, and increase overall well-being by practicing meditation, which can lead to better decision-making skills during high-pressure situations on the court.
Sit comfortably with a straight back and closed eyes.
Focus on a specific object, like your breathing, while letting go of distractions.
Visualization Techniques
Improve performance and boost self-confidence by mentally rehearsing successful plays or imagining yourself achieving your goals.
Close your eyes and visualize a specific basketball scenario in detail.
Imagine the feelings, sounds, and actions associated with that situation.
Incorporating these mental resilience practices into your recovery routine will not only enhance your basketball skills but also contribute to overall well-being on and off the court.
The Path to Personalization: Collaborating with Sports Science Professionals
As a basketball player, personalized recovery programs are crucial, and collaborating with sports science professionals can optimize your process.
Finding the Right Expertise
Sports Nutritionists: Create a customized meal plan for tissue repair and replenishment.
Athletic Trainers: Guide you through proper warm-up routines, stretching exercises, and post-workout cooldowns.
Sports Psychologists: Develop mindfulness techniques to maintain focus during games and practices.
The Benefits of Collaboration
Expert advice from various fields allows athletes to receive comprehensive guidance towards peak performance.
Better understanding of your body's unique requirements.
Data-driven adjustments based on measurable progress.
Potential reduction in injury risk due to targeted interventions.
Mental strength development for enhanced focus under pressure.
To find qualified professionals near you, consider reaching out to local universities or athletic organizations. Alternatively, online platforms like the National Academy of Sports Medicine (NASM) offer directories where individuals can search for certified practitioners within their area.
Data-Driven Evolution: Embracing Technology for Informed Recovery
Technology is key to optimizing basketball recovery and restoration, with wearable devices and data analytics providing real-time insights into an athlete's physical condition.
Wearable Devices for Performance Tracking
Heart rate monitors, GPS watches, and other wearables offer valuable stats on sleep quality, hydration levels, and muscle fatigue, with popular options including the Fitbit Versa, Garmin Forerunner 245, and Apple Watch Series 7.
Data Analytics for Personalized Training Programs
Data analysis allows trainers to design personalized programs based on metrics like heart rate variability, caloric expenditure, and jump height, using tools like the VERT Jump Monitor System.
Sleep tracking: Built-in sleep trackers on wearables provide valuable information on sleep duration and quality.
Nutrition monitoring: Apps like MyFitnessPal help maintain a balanced diet and ensure necessary nutrient intake.
Recovery assessment: Devices like the WHOOP Strap measure HRV to determine an athlete's readiness for training.
Incorporating technology into basketball recovery strategies empowers athletes with valuable data that can inform decision-making and drive performance improvements, maximizing potential on the court while minimizing injury risk.
United in Recovery: Building a Supportive Network
As a baller, you know teamwork is key on the court, but off the court, having a supportive network is just as crucial for recovery and restoration.
Teammates: Share tips and resources on recovery methods like cryotherapy, compression garments, or contrast baths.
Families: Educate them on proper nutrition, sleep hygiene, and mental resilience to get support at home.
Basketball Coaches & Trainers: Work with experts who know sports science principles and techniques for optimal performance enhancement.
Sports Science Professionals: Collaborate with specialists like physiotherapists or sports psychologists for tailored advice.
Join online forums or social media communities where athletes discuss their experiences with various recovery strategies to learn from others' successes (and mistakes) while also contributing valuable insights from your own journey. By fostering a culture of mutual support around basketball recovery practices, everyone involved benefits – leading not only to improved individual performances but also stronger team dynamics overall.
10. Basketball Recovery and Restoration: The Science Behind Optimal Performance
Restorative practices are essential for basketball players to optimize performance and prevent injuries.
A. Pay Attention to Scholarly Resources and Citations
Are you trying to navigate fact from fiction?  Gurus from Buffoons?   When faced with these dilemmas personally, I like to go to Google Scholar and seek studies that are peer reviewed and more medical or academic in nature.  Beware the supplement guy hanging out at your gym.  Stick with science.
Cold water immersion and compression garments are scientifically proven to improve muscle function and reduce soreness after intense physical activity. (Personal note… I think high compression tights worn after basketball training are a real help, particularly during a nap or sleep.)
Source: Sports Medicine – Open
B. Measuring Gains and Being a Scientist of Your Body
Data Collection: Use wearable devices or apps like MYZONE®i¸ to track your workouts and make informed decisions about your training regimen.
Analyzing Results: Regularly review your data with coaches or trainers to identify trends in performance improvement and areas requiring additional focus.
Making Adjustments: Based on your analysis, adjust your recovery strategies and training program, such as incorporating foam rolling or modifying nutrition plans.
By becoming a scientist of your body, you can optimize basketball recovery and restoration efforts for peak performance on the court.
Statistics and Evidence of Basketball Recovery Increasing Performance
FAQs in Relation to Basketball Recovery and Restoration
Recover from basketball like a pro with these methods
Rest, nutrition, hydration, cryotherapy, compression garments, contrast therapy, active recovery exercises, and mental resilience training are all effective ways to recover from basketball according to research.
Use basketball as an active recovery activity
Low-intensity basketball activities like skill development and light shooting drills can promote blood flow and muscle relaxation without overexerting yourself.  Get intentional, focus in, slow down.. and stop that thumb flick you know is holding your shooting form back.
LeBron James' recovery secrets
Cryotherapy, Normatec compression boots, hyperbaric oxygen chambers, balanced nutrition plans, supplements, sleep quality, and mental conditioning practices like meditation are all part of LeBron James' recovery routine.
How do NBA players recover so quickly?
NBA players have access to advanced sports medicine facilities and personalized treatment plans including platelet-rich plasma injections (PRP) which accelerate healing processes.
Conclusion
Basketball recovery and restoration is a crucial process that requires a holistic approach to achieve optimal results.
Rest, nutrition, active recovery techniques, and mental resilience all play a role in an athlete's ability to recover from injuries or fatigue.
Collaborating with sports science professionals, embracing technology for informed decision-making, building supportive networks, and using data-driven evolution strategies are all key to unleashing a player's full potential on the court.
Whether you're an ambitious player looking to improve your game or a coach/training business owner trying to help your team reach its full potential, focusing on basketball recovery and restoration is essential to performing at your best while minimizing the risk of injury or burnout.