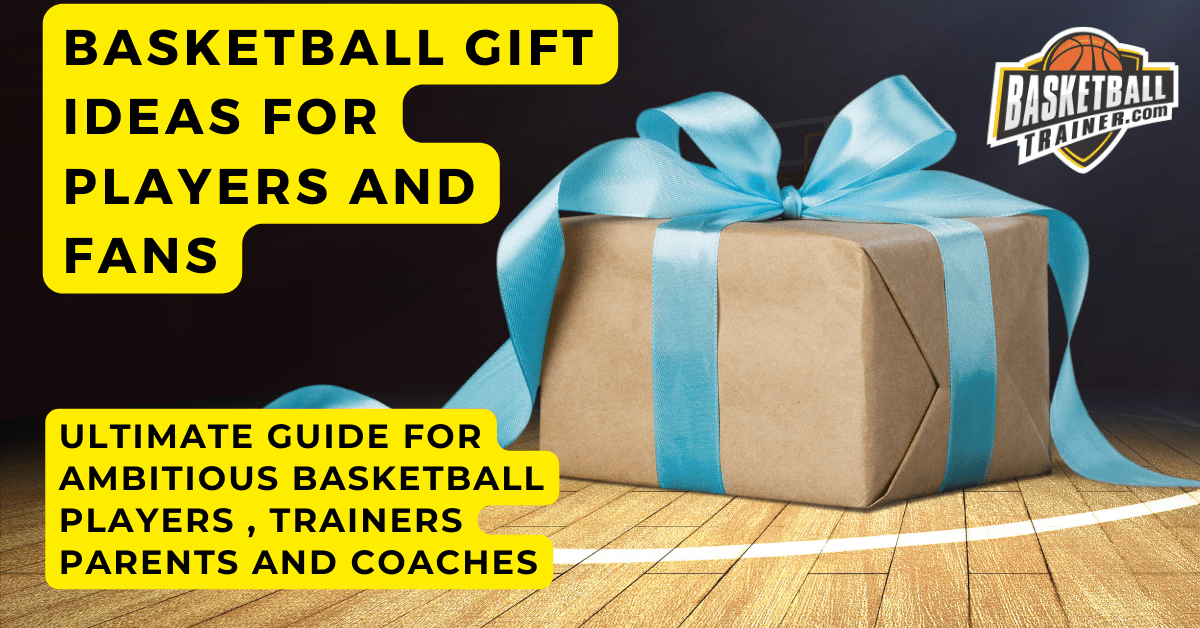 Discovering the perfect basketball gift ideas can be a slam dunk when you know what to look for. In this thorough guide, we'll examine different alternatives that are suitable for dedicated basketball players, sports fans, their families, coaches and supporters alike.
We will delve into personalized basketball gifts that add a unique touch to your present. Additionally, we'll cover functional items such as portable hoops and excellent training tools designed specifically for those passionate about the sport.
Beyond these categories, expect an exploration of memorable memorabilia and exciting experiences tailored towards true basketball lovers. Finally, don't miss our suggestions on stylish home and office décor inspired by the game along with other fantastic gift ideas suitable for all ages.
Table of Contents:
Why Basketball Gifts?
Gifting is an essential part of building and maintaining relationships, as it helps express appreciation, love, and admiration for the recipient. For basketball enthusiasts – be it ambitious players, their families, coaches or fans – choosing the perfect gift can be a challenging task. However, with some thoughtfulness and creativity in selecting basketball gifts, you can make your loved ones feel special while also fueling their passion for the sport.
In this article, we will explore various categories of basketball-themed gifts that cater to different preferences and needs. From personalized items to functional gear and memorable experiences – there's something for everyone who loves basketball.
Importance of Gift-Giving
Show appreciation: A well-chosen gift demonstrates gratitude towards someone who has made a positive impact on your life or supported you through tough times.
Create lasting memories: Unique presents leave an indelible mark on recipients' hearts by evoking fond memories associated with them.
Celebrate achievements: Gifting relevant items such as excellent basketball training tools or signed memorabilia from favorite players serves as a token of recognition for one's accomplishments in the game.
Foster connections: Exchanging gifts strengthens bonds between individuals by conveying mutual respect and affection.
How to Choose the Perfect Basketball Gift
Determine interests: Analyze what aspect of basketball excites your recipient most – playing professionally? Watching NBA games? Collecting rare merchandise? This insight will help narrow down your options.
Consider functionality: Select gifts that are practical and useful, such as portable basketball hoops or high-quality shoes for players who spend long hours on the court.
Personalize it: Add a touch of sentimentality by customizing items with names, team logos or even heartfelt messages. Personalized basketballs and jerseys make excellent keepsakes.
Budget wisely: While splurging on expensive presents may seem tempting, remember that thoughtfulness carries more weight than price tags. Opt for meaningful yet affordable choices like basketball socks or books penned by professional players.
Brief Overview of Gift Categories
To make finding the ideal present for basketball fans easier, we've compiled an extensive range of categories to suit all tastes and preferences. These include personalized items, functional gear, memorabilia pieces from favorite teams or players; experiences like attending NBA games; home décor inspired by basketball themes; coaching clinics; water bottles featuring player's uniform designs – just to name a few. So dive in and explore these fantastic ideas guaranteed to delight any basketball lover.
Gifting basketballers with something that acknowledges their hard work and commitment is a great way to show your appreciation. With personalized options, you can find something that truly reflects their individual style and personality.
Key Takeaway: This article provides a comprehensive guide to finding the perfect basketball gift for your loved ones. From personalized items and functional gear, to memorable experiences like attending NBA games or coaching clinics – there's something here for everyone who loves the game. With thoughtful consideration of interests and budget, you can express appreciation and admiration with an unforgettable present that celebrates their passion.
Personalized Basketball Gifts
To make a basketball gift truly stand out, personalizing it is an excellent way to show thoughtfulness. Customization adds a unique touch that shows thoughtfulness and consideration for the recipient's interests and preferences. Here are some great personalized basketball gift ideas:
Customized Jerseys
A customized jersey with the player's name, number, team logo, and colors can be an excellent way to show support for their favorite team or celebrate their own achievements on the court. This thoughtful present will surely become a cherished keepsake.
Engraved Basketballs
An engraved basketball can carry personal messages or even signatures from teammates and coaches. This one-of-a-kind item makes for an unforgettable memento that any ambitious basketball player would love to receive.
Signature Basketballs
If you want to take customization up another level, consider gifting a signature basketball. These high-quality balls feature exclusive designs inspired by legendary players like Michael Jordan or LeBron James – perfect for fans who idolize these icons.
Custom Artwork and Posters
Create custom artwork featuring your favorite player in action using digital illustration tools like Adobe Illustrator or Photoshop.
Capture memories of a successful season or tournament by creating personalized team photos, complete with player names and positions.
With so many options available for personalizing basketball gifts, you can easily find the perfect present that will make any ambitious basketball player feel appreciated and motivated to continue pursuing their passion.
Personalised basketball presents are a marvellous way to express gratitude for the remarkable baller in your life. For those looking for something more practical, functional basketball gifts may be just what you need.
Functional Basketball Gifts
Finding the perfect gift for a basketball player or fan often means choosing something that not only looks great but also serves a practical purpose. Functional basketball gifts are designed to help players improve their skills, stay comfortable on the court, and show off their love for the game in style. Here are some excellent options:
Basketball Gear
High-performance shoes, sportswear, and accessories make fantastic gifts for any basketball enthusiast. High-tech basketball gear, such as the newest Nike shoes, sweat-wicking shorts and comfy socks can help improve a player's game by providing comfort and improved performance.
Training Equipment
A variety of training tools can help players develop essential skills like ball handling, shooting accuracy, and agility. Some popular choices include:
Basketball return systems: These devices attach to your existing hoop and allow players to practice shots without having to chase down rebounds constantly. The SKLZ Rapid Fire II is an excellent example of this type of product.
Agility ladders and cones: These simple yet effective tools can be used in various drills designed to improve footwork speed and coordination. Check out Profect Sports' Agility Ladder and Cones for a high-quality option.
Jump ropes: Jumping rope is an excellent basketball training tool for building endurance, speed, and coordination. The Crossrope Get Lean Set offers adjustable weighted ropes suitable for all skill levels.
Books and DVDs
Inspiring stories of professional basketball players or instructional guides on improving one's game can make great gifts for those who love the sport. Some popular options include:
.
Functional basketball gifts can help aspiring players reach their goals and elevate their game, while also providing a unique experience. Basketball-related items make an excellent way to honor significant events in a player's journey or thank those who have lent support.
Key Takeaway:
This article provides an array of functional basketball gifts for players and fans, including high-performance shoes and sportswear,
training equipment such as agility ladders and jump
ropes, as well as books and DVDs that can help improve a player's skills. With these thoughtful gift ideas in hand, you'll be sure to
score big
with the basketball fan in your life.
Heading 4: Basketball Memorabilia
Basketball memorabilia is a fantastic gift option for avid fans and collectors. From autographed items to vintage merchandise, these gifts hold sentimental value and can even appreciate over time. For the ultimate gift that will be cherished and stand out, basketball memorabilia is a great choice.
Autographed Items
Signed basketballs and jerseys that bear the signatures of celebrated athletes like Michael Jordan, LeBron James, or Kobe Bryant are highly prized in the realm of sports memorabilia. These items often come with certificates of authenticity from reputable sources like PSA/DNA or Beckett Authentication Services, ensuring their legitimacy. Autographs from legendary players such as Michael Jordan, LeBron James, or Kobe Bryant are particularly valuable and treasured by fans.
Collectible Cards
Basketball cards have been popular collectibles since the early days of the sport. Rookie cards featuring up-and-coming stars can be especially valuable if they go on to have successful careers in the NBA. Limited edition sets like Upper Deck Exquisite Collection or Panini Prizm also offer rare finds that any collector would love to add to their stash.
Vintage Merchandise
Retro jerseys: Classic team uniforms never go out of style. Loyal supporters of legendary teams, like the Bulls from Chicago, Lakers from LA or Celtics from Boston, can express their enthusiasm with classic jerseys that never go out of style.
Historical team memorabilia: For those who appreciate history beyond just player stats and championships won, consider gifting items such as vintage team programs, pennants, or even ticket stubs from memorable games. These pieces of history can transport fans back in time and make them feel like they were part of the action.
When shopping for basketball memorabilia gifts, it's essential to consider the recipient's interests and preferences. If you're unsure about what would be most appreciated, a gift certificate to a reputable sports memorabilia store like Fanatics Authentic could be an excellent choice.
Basketball souvenirs can be a great way to honor the accomplishments of your preferred players and teams, as well as an interesting talking point for any hoop enthusiast. Moving on from that, basketball experiences such as attending games or taking part in camps provide a more immersive experience with the sport.
Key Takeaway: This article outlines great basketball gift ideas, such as autographed items, collectible cards and vintage merchandise. It provides suggestions for unique gifts that will be appreciated by avid fans and collectors alike – a surefire way to hit it out of the park.
Basketball Experiences
For the ultimate basketball aficionado, nothing could be more rewarding than offering an unforgettable encounter. From attending live games to participating in camps and clinics, these unique opportunities can create lasting memories for any passionate player or fan.
Game Tickets
For the ultimate basketball experience, why not treat a fan to tickets for an actual game? Whether it's supporting your local team or scoring tickets to an NBA game, this gift will surely excite any basketball lover. To make it even more special, consider surprising them with courtside seats or VIP access for a truly memorable experience.
Basketball Camps and Clinics
Young players looking to improve their skills should consider attending a basketball camp or clinic. These events provide valuable training from experienced coaches and often feature guest appearances from professional athletes. In addition to honing their abilities on the court, participants also learn essential life skills such as teamwork, leadership, and discipline that they can carry into other aspects of their lives.
Meet and Greets
A chance encounter with a basketball idol can be a dream come true for any fan. Look out for player events and autograph signings nearby to have a chance to meet your idol face-to-face and get an unforgettable souvenir. As a bonus, they might even walk away with an autographed item or selfie that will serve as the ultimate keepsake.
Closing sentence: Basketball experiences are a great way to show someone how much you care and make them feel special. Transition sentence: For those looking for something more permanent, basketball-inspired home and office decor is the perfect gift idea.
Key Takeaway: This article provides a comprehensive overview of the ultimate basketball experience, from attending live games and clinics to meeting their idols. From scoring tickets to courtside seats or VIP access, these unique opportunities can create lasting memories for any passionate player or fan – sure to hit nothing but net with even the pickiest ballers.
Basketball-inspired Home and Office Decor
For basketball lovers, incorporating their passion into their home or office can be a great way to showcase their love for the game. Basketball-themed decor not only adds personality to any space but also serves as an excellent conversation starter. Here are some fantastic gift ideas that will help transform any room into a haven for basketball enthusiasts.
Wall Art
Framed photos of basketball legends, canvas prints featuring iconic moments in NBA history, or even personalized artwork capturing the recipient's favorite player in action make for perfect wall art gifts. These pieces can instantly elevate the ambiance of any room while displaying one's admiration for the sport.
Desk Accessories
Basketball-shaped stress balls: A fun and functional addition to any workspace, these stress-relieving toys allow basketball fans to squeeze away tension while staying connected with their favorite sport.
Pen holders: Practical yet stylish, pen holders designed like mini basketball hoops or featuring team logos add a touch of playfulness to an otherwise mundane desk setup.
Home Furnishings
Basketball-themed bedding sets, team logo rugs, and other furnishings offer numerous ways to infuse one's living space with elements inspired by this beloved sport. From throw pillows emblazoned with famous quotes from professional players to cozy blankets showcasing college teams' colors and mascots – there is no shortage of options when it comes down to selecting unique items that cater specifically towards someone who loves basketball.
No matter what type of home or office decor you choose as your gift idea – whether  wall art, desk accessories, or home furnishings – you can be sure that the basketball fan in your life will appreciate and cherish these thoughtful presents. So go ahead and make their sports fan space a true reflection of their passion for the game.
Expressing your enthusiasm for basketball can be done through the incorporation of home and office decor, such as wall art or furniture. Other basketball gifts are also available for those who want something more unique or personalized. For the basketball enthusiast to the professional basketball player, there are a variety of items available to show their team spirit – from apparel and accessories to toys to plush pillows and memorabilia.
Key Takeaway: This article provides some great gift ideas for basketball lovers, from wall art featuring iconic players and moments to stress balls shaped like a basketball and team-themed furnishings. It's the perfect way to show your appreciation of the sport while making their home or office an ode to their passion.
Other Basketball Gifts
In addition to the traditional basketball gifts, there are many unique and offbeat ideas that can delight any ambitious basketball player or fan. From adult training sessions to coaching clinics and celebrity shout-outs, these gifts offer a memorable experience for the recipient.
Adult Basketball Training and Lessons
For those looking to improve their skills on the court, consider gifting adult basketball training and lessons. These programs focus on developing individual skills such as shooting, dribbling, passing, defense techniques while also emphasizing teamwork. This present is an ideal choice for athletes seeking to enhance their game.
Basketball Celebrity Birthday Shout Outs
A personalized birthday message from a favorite basketball star can make anyone's day extra special. Websites like Cameo allow you to book video messages from popular athletes including NBA players. Imagine your loved one's excitement when they receive a personal greeting from their sports idol.
Basketball Court
Think big.  Whether a custom full sport court in your backyard to turning your driveway into a Mecca of Hoops… this comes with a big budget but someone is worth it!  If this doesn't fit your land footprint or your budget, consider 2 of the sklz pro mini basketball hoops.   You will be shocked how grown adults find their love again with this setup and great idea for indoor play.
Coaching Clinics
If you know someone passionate about coaching or interested in pursuing it as a career path, consider gifting them access to an exclusive coaching clinic. These events provide valuable insights into various aspects of coaching such as strategy development, team management techniques and effective communication with players.
Dr. Dish Shooting Machine
The Ultimate Gift: A Dr.Dish shooting machine is the ultimate gift for any serious basketball player. This high-tech training equipment helps players perfect their shooting skills by providing instant feedback on shot accuracy and consistency. Check out Dr.Dish to learn more about this innovative product.
A Worthwhile Investment: Though it may be a pricier option, investing in a Dr.Dish shooting machine can significantly improve a player's performance on the court, making it an invaluable addition to their training regimen.
If this isn't in the budget, reconsider the also fun but cheaper
With so many unique and thoughtful basketball gifts available, you're sure to find something that will delight your ambitious basketball player or fan. Remember to consider their personal preferences and needs when selecting the perfect gift.
Other basketball gifts can range from apparel to training aids, and even video games. This summary serves as a great starting point for finding the perfect gift for any aspiring basketball player or fan in your life. Next up, we'll explore some of the best options available on the market today.
Key Takeaway: This article outlines various gift ideas for basketball players and fans, from adult training sessions to celebrity shout-outs. A Dr. Dish shooting machine is suggested as a worthwhile investment for those looking to take their game up a notch – making it the ultimate present.
Summary
Finding the perfect basketball gift for ambitious players, their families, and coaches can be a challenging task. However, with this comprehensive guide to various categories of basketball-themed gifts, you are sure to find something that will delight any basketball lover in your life.
From personalized jerseys, engraved basketballs, and custom artwork to high-performance shoes like Nike's latest best basketball shoes releases, sportswear accessories such as elbow sleeves or jump ropes, and excellent training tools like portable hoops or agility ladders – there is no shortage of options when it comes to functional gifts that help improve a player's game.
Basketball Memorabilia: Autographed items from favorite NBA stars or limited edition collectible cards make fantastic gifts for die-hard fans who love collecting unique pieces related to their favorite teams and players.
Basketball Experiences: Tickets to an exciting NBA game or enrollment in a skills clinic provide unforgettable memories or a birthday gift for those passionate about the sport. Meeting a pro baller in person is something that true basketball fanatics won't soon forget.
Basketball-inspired Home & Office Decor: Wall art featuring iconic moments on the court or desk accessories shaped like mini hoops add personality and style while showcasing one's love for the game. Basketball-themed bedding sets are another great gift idea that brings comfort along with team spirit.
Other Unique Gifts: Adult training sessions led by expert trainers at places like BasketbalTrainer.com or even a birthday shout-out from an NBA celebrity can make any basketball enthusiast's day extra special.
By considering the recipient's interests, preferences, and needs, you can select the perfect gift that not only showcases their love for basketball but also helps them develop as players. Top basketball gifts can be more affordable if the whole team pools their shopping list.  Don't forget to explore options like personalized books about their favorite teams or water bottles featuring team logos – these thoughtful touches go a long way in making your present stand out.
The Summary provides an overview of the project and its goal to connect ambitious basketball players and their families with expert trainers, teams, camps, training products and apps. Now let's move on to explore some frequently asked questions about gift ideas for basketball enthusiasts.
Key Takeaway:
This guide provides a comprehensive range of basketball-themed gifts, from personalized jerseys and engraved
basketballs to training
tools like agility ladders. Whether you're looking for something functional that helps improve the game or memorabilia that celebrates favorite teams and players, this guide has got you covered – just tailor your selection based on the recipient's interests, preferences, and needs for an extra special gift.
FAQs
For those looking to purchase the perfect basketball-related gift for an enthusiast, this section will provide helpful answers to frequently asked questions.
What are the best basketball gifts for players?
The best basketball gifts for players include personalized items such as customized jerseys, engraved basketballs, and custom artwork. Additionally, functional items like high-performance shoes, sportswear, accessories, and training equipment make excellent choices. Basketball books or DVDs featuring biographies of professional players can also be inspiring presents.
What are the must-have basketball training equipment?
Basketball return systems
Agility ladders
Cone drills
Ball handling gloves
Jump ropes
Dribble goggles or glasses li >
ul >Which basketball shoes are the best for players ?
The best shoes depend on an individual's playing style , position , foot shape , and personal preferences . Some popular brands that offer quality performance footwear include Nike , Adidas , Under Armour , Reebok , Puma . It is essential to choose a shoe with proper cushioning support stability traction comfort durability . For more guidance selecting right pair of check out our article "Top Basketball Shoes Players."What is the best basketball hoop for outdoor play ?
The best hoops depend on factors such as available space , budget , portability . Some top options include portable systems like Spalding Portable Basketball Hoops , in – ground Goalrilla Goals Lifetime Systems . For younger players or limited spaces mini are great alternatives . Make sure to consider durability weather resistance when choosing an outdoor hoop.What are the best basketball gifts for fans ?
Fans love items that showcase their favorite teams players . Consider gifting memorabilia such as autographed jerseys signed balls collectible cards vintage merchandise . Additionally themed home office decor wall art desk accessories furnishings make excellent choices those who want to display passion sport everywhere they go.

Where can I find basketball team merchandise and apparel?

You can find official NBA team merchandise and apparel at the NBA Store, while college basketball gear is often available through individual university websites or local sports stores. Many popular brands also offer licensed products featuring team logos and colors.

What are the best basketball memorabilia for collectors?

The most sought-after memorabilia includes autographed items, rookie cards, limited edition sets, retro jerseys, and historical team artifacts. Collectors may also be interested in unique pieces of history like game-worn uniforms or championship rings.

What are the best basketball toys and games for kids?

Kids will enjoy playing with miniature versions of their favorite sport through toys like mini-basketball hoops, action figures depicting famous players, board games based on real-life stats or strategy video games from franchises such as the NBA 2K series.

What is the recommended basketball hoop for kids?

A good choice for younger children would be an adjustable, portable basketball hoop that can grow with them. Some popular options include Little Tikes Easy Score Basketball Set and Step2 Shootin ' Hoops Pro Basketball Set.

Where can I find basketball – themed clothing for kids ?
Many major sports retailers carry youth sizes in popular team apparel . You may also find unique items on websites like Etsy , where independent designers create custom designs featuring favorite teams players . Additionally , consider checking out local stores or online shops specializing in children's sportswear.
Responding to queries is a vital part of any basketball present-giving system, as it can help guarantee that the recipient gets something they will relish and utilize. Now let's look at some great ideas for gifts to give babies who are just starting out on their journey with basketball.
Key Takeaway:
This article provides an overview of the best basketball gifts for players,
training equipment
, shoes and memorabilia for collectors as well as toys and games for kids. It also suggests some must-have items such as adjustable hoops or team apparel to help you hit a
slam dunk
when it comes to finding the perfect present.
Best Basketball Gifts for Babies
From adorable clothing to nursery decor and toys, there's something out there that will bring joy to both baby and parent. Here are some of our favorite basketball-themed gifts for little ones:
Basketball-Themed Clothing
One great way to introduce the love of basketball early on is through basketball-themed clothing. You can find cute onesies with team logos or funny sayings, as well as tiny jerseys featuring your favorite player's name and number. Don't forget about socks and hats – they make excellent accessories.
Nursery Decor
Create a cozy atmosphere in the baby's room with basketball-inspired nursery decor. Consider wall decals featuring popular players or team logos, crib bedding sets adorned with basketballs, or even personalized name signs designed like a court.
Basketball Toys & Games
Basketball toys and games are not only fun but also help develop motor skills in young children. Soft plush balls are safe for babies to play with while learning how to grasp objects. As they grow older, consider introducing them to mini hoops or age-appropriate shooting games.
Personalized Storybooks Featuring Your Baby's Name
A wonderful keepsake gift idea is a personalized storybook that incorporates your baby's name into a basketball-themed adventure. These books are not only entertaining but also help develop early reading skills and create lasting memories.
Basketball-Themed Stuffed Animals
For the basketball-loving parent, a plush mascot or soft toy shaped like a basketball makes an ideal snuggle buddy for their little one. Choose from plush mascots representing popular teams or soft toys shaped like basketballs – either way, they'll make great snuggle buddies for your little one.
When selecting the perfect gift for babies with basketball-loving parents, consider their interests and needs as well as what will bring joy to both parent and child. Finding the perfect present for an infant with hoop-crazy parents is a breeze, with countless selections to pick from that will be treasured forever.
Key Takeaway: This article provides a comprehensive list of the best basketball-themed gifts for babies, ranging from clothing and nursery decor to toys and games. Whether it's an adorable onesie or personalized storybook featuring their name, there is something special out there that will be sure to hit nothing but net with both parent and child.
FAQs in Relation to Basketball Gift Ideas
What to gift someone that likes basketball?
A basketball fan would appreciate a personalized jersey, a signed ball from their favorite player, or tickets to an upcoming game. They could also benefit from training equipment such as a portable hoop and net, jump rope for agility drills, weights for strength training, and basketball-specific shoes. For those looking to take their game to the next level, private coaching sessions with experienced professionals can provide a great opportunity for growth.
What to buy kids who love basketball?
Basketball-loving kids need the right tools to reach their full potential. Invest in quality basketballs, hoops, and training aids such as weighted vests or ankle weights for strength building. Look into virtual reality apps that simulate game situations and offer real-time feedback on shooting accuracy. Additionally, enrolling them in clinics or camps run by experienced coaches can help hone skills while having fun with peers. Young players can use these tools to significantly improve their game.
What do you get a NBA fan for Christmas?
A NBA fan would appreciate a gift that will help them stay connected to the sport they love. Consider gifting tickets to an upcoming game, team merchandise such as jerseys or hats, or basketball-related accessories like a ball signed by their favorite player. If you want something more unique, consider getting them access to exclusive training videos and tutorials from top coaches in the league. For tech-minded folks, why not get them a subscription to an app that keeps up with the news and data concerning their favorite squads and players?
What do hoopers want for Christmas?
Hoopers want the same thing for Christmas that any athlete would: to get better at their sport. Hoopers might desire fresh gear, like a basketball hoop or shoes, but what they truly long for is access to knowledge and resources that can help them achieve their ambitions. This could include things like private training sessions with experienced coaches, online courses on how to improve technique and performance, or even specialized equipment tailored towards specific skillsets. With the right guidance and tools in hand, hoopers can make huge strides during the holidays.
Conclusion
Expressing your admiration for basketball and its players can be done through gifting them with items related to the sport. From personalized items to functional ones, or even just something fun – you'll be sure to find the perfect basketball gift for any fan. With so many options available when it comes to basketball gift ideas, you can find something special that is tailored specifically to their interests and needs. So go ahead – surprise them with the perfect present.
Take your basketball game to the next level with BasketballTrainer.com! Our experts provide tailored training solutions and player development resources that will help you reach peak performance on the court.